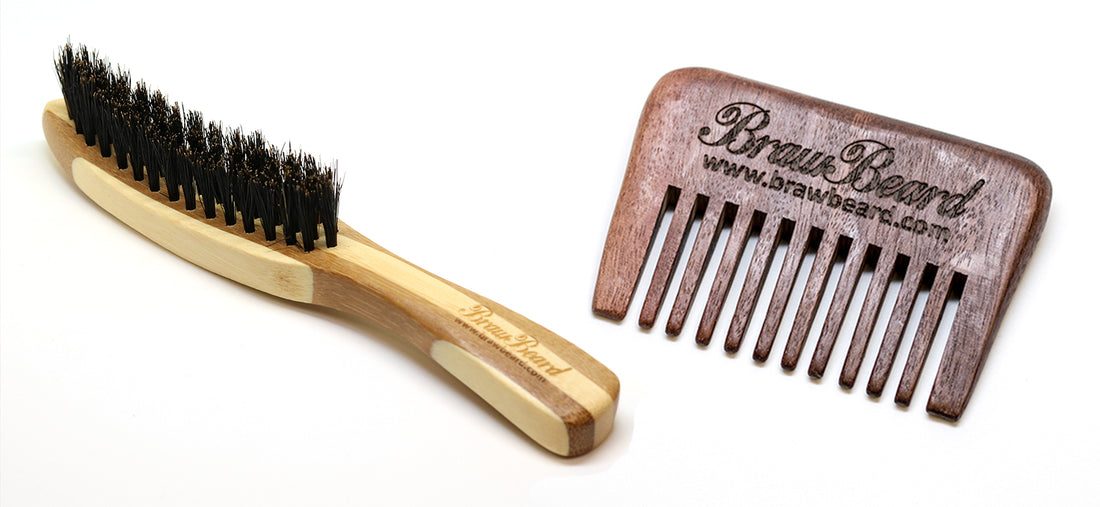 Beard brush or comb? Which is best?
One topic that comes up often and can be confusing is, which is best,
beard brush
or
comb
? I totally understand why people ask this question. With so many beard care products on the market today, it's difficult to choose what's right for you. Personally, I use both and I'll explain why soon. But let me first explain the difference between them and why to choose a beard brush or comb....or both.
The Braw Beard Brush.
There are lots of beard brushes to choose from on the market, but we've already done the research and hard work for you. At Braw Beard we have tried several types but we knew exactly what we wanted in a great
beard brush
. First, the material, we prefer natural products over plastic so we chose a nice smooth bamboo handle which fits comfortably in your hand. Plastic can have ragged edges which can catch, snag or snap your hair, not ideal. Secondly, the bristles, we use medium strength boar bristles. We chose medium strength because stiff bristles felt like they were damaging the hair, skin and follicles when brushing. Then soft bristles were just bending on contact and not doing the job intended. Our bristles are curved with the handle to fit the shape of your face too, a nice wee touch. Lastly, size. Our
beard brush
is pocket sized so that you can take it out with you if required. You know that feeling when the beard is sitting nice and perfect before you leave the house..... step outside and the wind hits you. At least with a pocket sized beard comb, you can quickly brush it back into shape. This is where
beard butter
comes in handy too.
What customers say:
"So after leaving my cheap beard brush in a hotel I decided to buy one from braw. At first I seen it and thought it's half the size of my last one. After the first use I was amazed at how well it worked. The shape just fits really well into you hand and contours your face well."
- Lee L.
"I have had my brush for almost a year now. I use it daily, sometimes a few times a day, and it is still in great condition. It is great for spreading your oils and butter evenly through your beard, and for general day to day beard grooming."
- Ben G.
The Braw Beard Comb.
Again, there are lots of versions of beard combs on the market. Beware of cheap plastic combs! They are usually made in a mould and still have the ragged edges on the teeth from the press. These rough edges will give you an unwanted beard trim and not a pretty one. We're onto our 4th comb at Braw Beard, I'm open about that. The first one was a large comb, great teeth spacing but it was too big to keep in your pocket. The 2nd comb was great, it was pocket sized with smaller teeth spacing but it was thin and some began to snap. The 3rd one was a flick comb style, again small and pocket sized, the teeth were narrower but on reflection, they were too narrow. Now we have the ideal
beard comb
in our opinion. The overall size is great, it fits in your pocket no problem. The teeth spacing is great for gliding through the coarse beard hair. The teeth are slightly rounded too to avoid hair damage (which square edges will do). The beard comb is made from thick sandalwood which is strong and it comes with a protective sleeve too.
What customers say:
"The comb is very well designed with no jagged edges. It is perfect for long beards."
- Robert C.
"This comb is amazing. Glides through my beard effortlessly after an application of Braw Beard oil. I have tried several combs from several other companies and they come nowhere close to this one. I get quite a lot of split ends but can tell they will be a thing of the past with this braw comb in my arsenal!"
- Jamie M.
But what's best for me? Beard Brush or Comb?
I feel that
beard brushes
are a useful tool for every bearded person. But they are ideal for someone with a short beard. The bristles reach down to the skin, exfoliating the skin as you begin to brush the hair. This process helps to remove dry skin (dandruff). The thousands of bristles evenly distribute the
oil
/
butter
and separates the hair giving the beard more volume. The
beard comb
is better used on longer beards (3+ inches). The teeth are used for detangling the hair, beard hair is coarse so it becomes knotted easily. Using a beard comb in the morning will help detangle snags in the hair from sleeping. My morning routine using the beard comb and brush. 1 – I wash my beard in the shower with
Braw Beard Wash
. 2 – Once gently towel-dried, I apply some
Braw Beard Oil
. 3 – Then
comb
it through to detangle any snags. 4 – Next I apply some
Braw Beard Butter
(which also acts as a moisturiser for the follicles) 5 – Finally brush through with the
Braw Boar Bristle Brush
to evenly distribute the butter, giving hold and a fuller look. I hope this helps explains why to choose a beard brush or comb...or both. Thank you for reading. JJ Join the #Brawtherhood
P.S. Use code – brawblog – at www.brawbeard.com for 10% off
Follow Braw Beard: Instagram –
http://instagram.com/@brawbeardoils
Facebook –
http://facebook.com/brawbeardoils/
Twitter –
http://twitter.com/@brawbeardoil
Subscribe to the Braw Beard Youtube channel for more videos.
https://www.youtube.com/brawbeard
Scottish beard care.
Born in Scotland, enjoyed Worldwide.