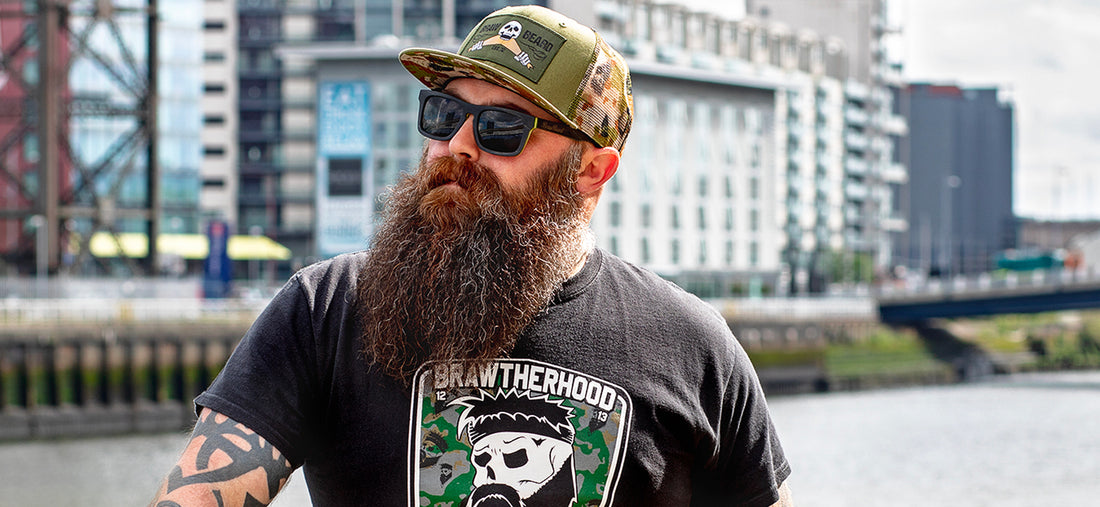 Got An Itchy Beard? Here's How To Soothe The Irritation
Do you suffer from the infamous itchy beard? We often meet men who want to shave because they are sick of having an itchy beard. When asked if they use a natural beard oil, the answer if usually no. If they're using a beard oil, it's normally a cheap one bought from a supermarket somewhere. With so many beard oils on the market, it can be confusing and some people tend to just pick up the cheapest one, not realising the damage the chemicals inside can do. Cheap beard oils often contain chemicals and alcohol to extend shelf life but these can dry out the skin and hair, leading to irritation and an itchy beard. It is worth investing in a good quality beard oil. Braw Beard oils are 100% natural and our 50ml bottles can last 4-8 months (depending on beard length). Great value for around £20.
How do Braw Beard oils soothe an itchy beard?
Our main ingredient is hempseed oil which we chose for it's nutritional benefits & topical benefits when it is used to moisturise the skin and hair. It also adds a protective layer to the skin, helps prevent rashes and provides relief for acne. Hempseed oil also helps to enhance the growth of hair in a number of ways. Among these is through the omega 3, 6 and 9 fatty acids, which are necessary in stimulating growth. Hair is made of keratin, of which up to 90% is a protein. Hempseed oil is able to provide this protein during growth as a basic element of the hair. We also use Jojoba oil which is an oil extracted from the seeds of the jojoba plant. It is rich in vitamins and minerals too. This oil is mostly used as a moisturiser which is great for the scalp to reduce dandruff, itchiness and irritation. Also added is Vitamin E. The antioxidants in vitamin E oil have been known to repair damaged hair follicles and hair shafts. It is a deep moisturiser for your hair and skin which reduces dry skin and irritation. Vitamin E oil has been known to protect your hair from the elements too. The fragrances in Braw Beard oils are built from essential oils (extracted from plants). We don't use synthetic (man made fragrances) in our beard oils. See
THIS ARTICLE
to see the benefits of every Braw Beard oil. As you can see from the ingredients listed, we chose them to combat the dreaded beard itch.
How to use Braw Beard care products to beat the irritation.
Braw Beard oil can be used as a standalone product when applied to facial hair but the routine I personally use is as follows;
• In the morning, I jump in the shower and wash my beard thoroughly with Braw Beard Wash (I use Braw Beard Wash every 2nd day and rinse with water every other day). • Afterwards I apply some beard oil after gently towel drying my beard. • Then I use a wooden beard comb to detangle any snags in the hair. • Next, I apply some Braw Beard Butter to moisturise the skin at the roots of the beard hair, the beard butter also keeps and wispy hairs in place. • Finally I use a boar bristle brush to evenly distribute the beard oil and butter throughout my beard, this makes the beard appear more full too. At the same time, the boar bristles exfoliate the skin, keeping beard dandruff away.
That is my routine, have an experiment and see what works best for you. Some customers experience results instantly, others feel the benefit after a few days use of Braw Beard oil.
Paul Haggerty
Here's what our customers say
"I've been using the beard oils for a few months now and I've gotta say they've not only made my beard feel amazing. But I had dry flakey skin on my cheeks and after rubbing some of the oil in while using on my beard has made it none existent now" - Dean R. "Purchased this over a week ago and the products are the best I've used, the hat is super comfy, the oils and butter smell great and the face fluff is getting better. I wish I found Braw sooner, thanks guys" - Chris L. "This was one of my first Braw purchases (Heather), very strong lavender smell which is Awesome, only using a small amount lets you get the full beard covered and smelling fantastic. With the oil being made from all natural ingredients it is great for the skin under the beard, if you suffer from dry skin under the beard this will definitely help." - Kevin A
These oils are a cut above the rest
"I've tried oils in the past, various different smells and brands. When I came across Braw, I expected much the same... An engineered smell...pine forest...coffee...autumn rain... What can I say, I was very surprised. These oils are a cut above the rest, and this fragrance, for me, is a favourite. Subtle and sweet, goes great with Thrilla Vanilla butter. Not only is Braw the only brand for me, but Heather oil will always be my 'go-to' in the range" - SilentPete. "Add this to a freshly washed beard, using Braw Beard Wash, and you've got an amazing smelling, non -itchy and full beard that doesn't get clogged down like most other oils. Amazing stuff!!!" - Jenksruss.
If you're looking to freshen up your facial hair, use Braw Beard care.
Thank you for reading and I hope this article has helped give an insight into soothing your itchy beard. JJ Join the #Brawtherhood.
P.S. Use code – brawblog – at www.brawbeard.com for 10% off
Follow Braw Beard: Instagram –
http://instagram.com/@brawbeardoils
Facebook –
http://facebook.com/brawbeardoils/
Twitter –
http://twitter.com/@brawbeardoil
Subscribe to the Braw Beard Youtube channel for more videos.
https://www.youtube.com/brawbeard
Scottish beard care.
Born in Scotland, enjoyed Worldwide.