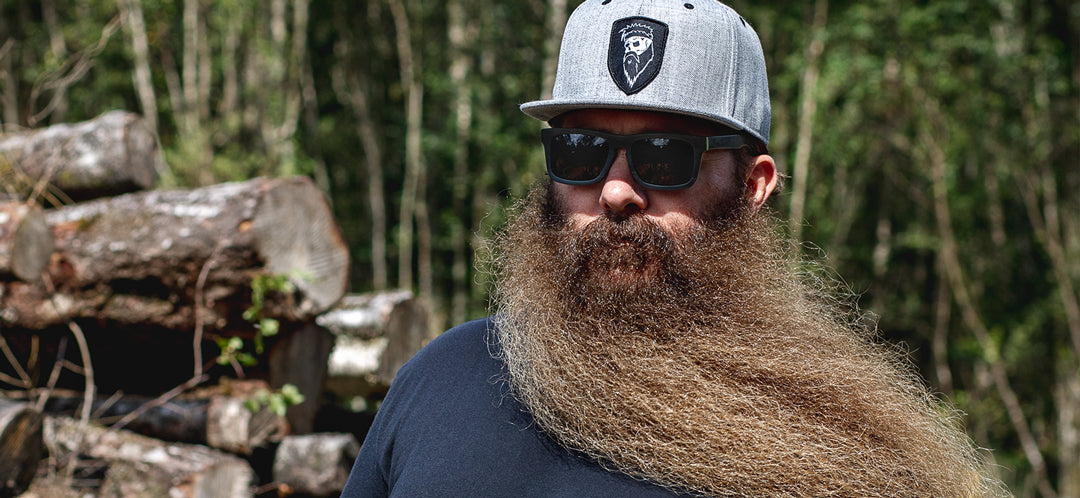 Needing beard care tips? Let us offer some advice.
At the moment with COVID-19 circulating, a lot of us are spending time in the house, on social media and feeling a bit off with not being in a normal routine. On social media, it's easy to get caught up comparing yourself with others, don't. In beard related groups on social media, I am seeing a lot of guys unhappy with how their beard is looking and it's getting them down. Let us offer some simple beard care tips that can lift the mood. • Firstly, are you using your usual beard care routine? Or have you let that slip? If you're out of your usual beard care routine, get back into it. Every morning, do what you used to do to get your beard in shape.
Beard care tips
• If you're like me, when I'm stuck in the house, I never drink as much water as I normally would at work. This is bad for your beard, if you are dehydrated, your beard will feel dry, brittle and straw-like, you will probably feel lethargic too. Make sure you are drinking enough water. • Is your diet suffering? We've just come out of the Easter weekend and I'm not afraid to admit, I ate my bodyweight in chocolate too. Make sure you are getting nutritious food in your body, good nutrition fuels a healthy beard and body. I'm not a doctor/nutritionist so I can't recommend which foods to eat, but you know the difference between healthy food and junk food. Eat less junk. • Don't stress about your beard looking a little untidier than usual at the moment. Barbers are closed during this coronavirus lockdown, I've seen some guys online trim their own beards in the meantime, some have done amazing jobs, while some have fucked it. I don't trust myself to trim my own beard. So, I choose to let it keep growing until the time comes when barbers get back to work. Don't get worked up about your beard getting wild, embrace it, it's not like we have any social gatherings to attend just now anyway. • Use a quality beard wash in the shower or bath. Organic beard shampoo actually benefits your hair and scalp, it can enrich and infuse skin cells and hair follicles with natural oils, vitamins and minerals, resulting in soft and glossy hair. It may facilitate your body's production of oil from the glands and follicles – this oil makes your hair thicker and shiny in appearance. Unlike silicone or alcohol based products it infuses quicker with hair and scalp, and actually provides nutrients.
One of the main problems
• One of the main problems men face when growing a beard is irritation. They get the dreaded beard itch then shave it off. Using a quality beard oil like
Braw Beard oil
, will reduce the itchiness and irritation and let you get on with growing a great beard. The base oils above are known as moisturisers that are absorbed, so they will not sit on the hair leaving it feeling greasy. •
Combing
your beard will help reduce irritation too. Even just applying a little
Braw Beard oil
and
combing
through will detangle the hair leaving it feeling smoother and less snaggy. If you've ran your fingers through your beard and caught a snag and pulled the hair, you'll know the pain.
Combing
will avoid this. • If your beard is feeling straggly and dry, sort that mess with
Braw Beard butter
. It's a solid state product which is melted down with the heat in your hands. Once it becomes liquid, you apply it to your beard just like you would with beard oil and it will set slightly which gives the hair some hold. Ideal if you have a naturally messy beard or spend a lot of time outside. It works as a great moisturiser too which can make your beard feel softer. • I like to
brush
afterwards with the
boar bristle beard brush
which even distributes the product from root to tip. The bristles separate the hairs from each other adding volume to the beard, making it appear fuller.
These are some simple beard care tips I use often and I hope they help you out. Take care of your beard, it may seem simple, but these wee steps can put a little swagger back in your step. Thanks for reading my beard care tips. Stay safe. JJ Join the #Brawtherhood
P.S. Use code – brawblog – at www.brawbeard.com for 10% off
Follow Braw Beard: Instagram –
http://instagram.com/@brawbeardoils
Facebook –
http://facebook.com/brawbeardoils/
Twitter –
http://twitter.com/@brawbeardoil
Subscribe to the Braw Beard Youtube channel for more videos.
https://www.youtube.com/brawbeard
Scottish beard care.
Born in Scotland, enjoyed Worldwide.