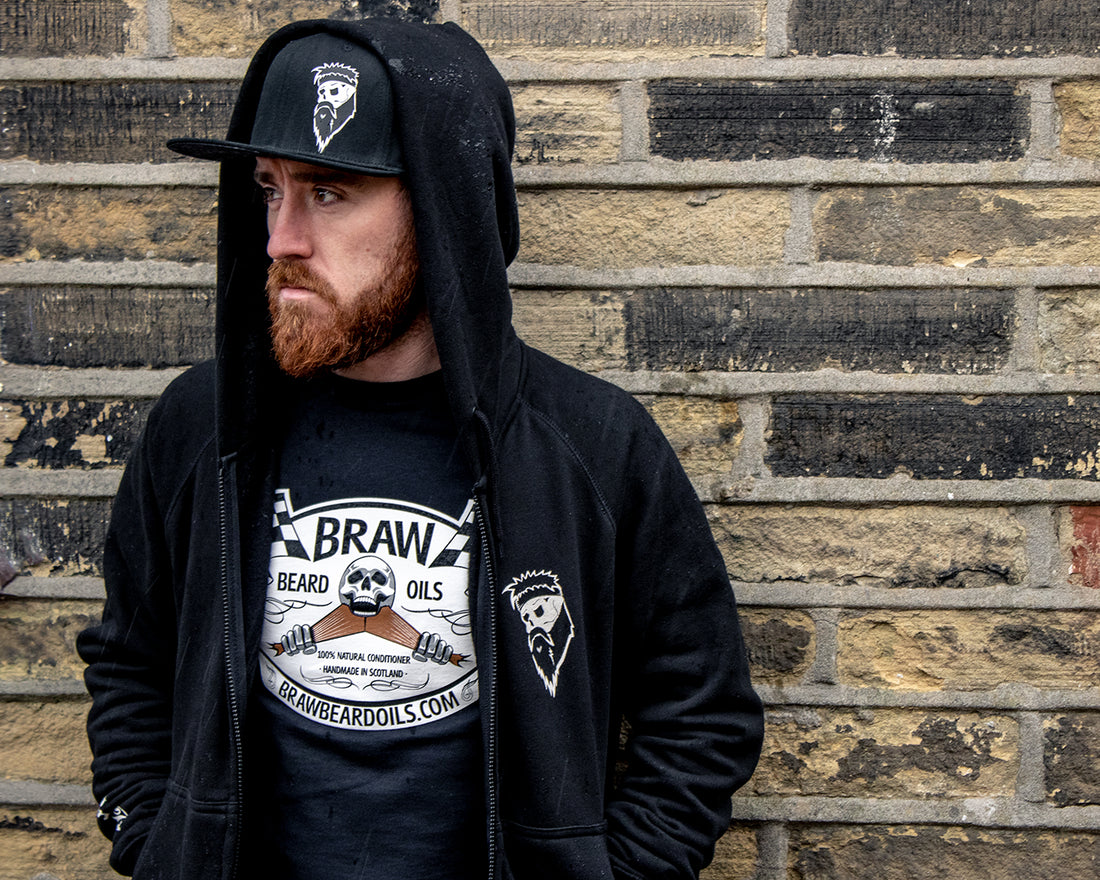 Short beard maintenance and the tools you need
Our previous article focused on maintaining long beards, today, we look at the short beard. With facial hair being more acceptable in the workplace in recent times, short beards are a popular choice. Although easier to look after than long facial hair, they still need care and attention.
Why do I need to look after a short beard?
Often, people with a short beard think they don't need a beard care routine because the length doesn't justify it. But, short beards can still produce dandruff, itchiness and irritation just like any other facial hair. These issues are caused by dry skin below the facial hair. Dirt and grime can also block pores which may lead to spots and pain. Luckily, BrawBeard produce products that can help you. Let us explain below.
Which products will help short beards?
BrawBeard Wash
BrawBeard Wash is our specially formulated organic shampoo for facial hair. It has aloe vera added and is made with organic ingredients, leaving your beard feeling soft instantly. Which means it helps reduce dandruff while cleaning your beard effectively. You will have smooth, soft and manageable facial hair. BrawBeard Wash is unscented to avoid interfering with your favourite BrawBeard Oil scent. Available in full size
250ml bottles & travel size 100ml bottles
.
What our customers say:
"Excellent beard wash, leaves it soft & looks fuller. Definitely recommend it." – Mark D "Having tried a few so called beard shampoos over the years I have finally found one that I always go back to. Cleans up well and leaves it feeling fresh and does not leave any residue which can cause dry skin. Comes in travel size too so no excuse for manky facial hair even on your travels." – Paul S. Check out more customer reviews
HERE
Read more about
Braw Beard Wash HERE
BrawBeard oil
BrawBeard oils are a 100% natural
conditioning oil
to nourish facial hair which are handmade in small batches in Scotland. Hempseed oil base, the main ingredient, may enhance growth. Argan oil can reduce irritation, inflammation and itchiness in the skin below under your facial hair. It has only natural ingredients, chosen for their beneficial properties. Which means it nourishes the facial hair from root to tip without leaving a greasy residue. So that you can have an attractive beard that will not itch or leave dandruff on your shirt. Our
50ml bottles
last 3-6 months depending on length. Available in
10ml sample sizes
too.
What our customers say:
"The oil has kept my beard softer and better looking, than previous oils and balms that I've used before. Definitely give it 5 stars. I would highly recommend this oil to any one with a beard." – Joseph M. "Braw was the first beard oil i ever used, then i tried some of what the competition had to offer. long story short, Braw have the best beard oil out there. i prefer the natural oil without any fragrance and it keeps my beard soft & helps with skin dryness. get yourself some!!"- Alan B. Check out more customer reviews on individual oil pages
HERE
Read more about
Braw Beard oil HERE
BrawBeard Brush
For shorter beards, a brush is a better choice than a comb. Combs are designed to detangle hair, which shouldn't be a real issue with short hair. The BrawBeard Brush will do the detangling if needed but also exfoliates the skin below. This eliminates dandruff and removes the dead skin cells allowing the pores to breath as normal. The BrawBeard brush is made from bamboo with medium strength boar bristles to avoid damaging hair & skin below. The pocket sized brush has a curved handle for comfort and the bristles evenly distribute product throughout. We have been getting great results with this
brush
for a fuller looking beard. Just apply oil or butter to your facial hair then
brush
for best results. Check out more customer reviews
HERE
Read more about the
Braw Beard brush HERE
BrawBeard Butter
While this product is a styling aid to tame wild beards, many of our customers with short facial hair love the moisturising properties from it. It's designed to provide hold for unruly beards whilst maintaining a natural look Being made with natural ingredients, it provides s a soft feel once applied (not waxy) while holding wispy hairs in place. Available in vanilla, chocolate orange or unscented, it offers various scent options when used with BrawBeard oil too.
What our customers say:
"Smells ace and helps control those stragglers!" – Alasdair S. "I love the Thrilla in Vanilla beard butter. The scent is amazing and keeps my beard smelling great all day, and the butter helps keep my beard under control and looking great." – Andrew M. Check out more customer reviews
HERE
Read more about
Braw Beard butter HERE
Robert Whiteford
I hope this article provides an insight into looking after short beards. Thank you for reading. JJ Join the #Brawtherhood
P.S. Use code – brawblog – at www.brawbeard.com for 10% off
Follow BrawBeard: Instagram –
http://instagram.com/@brawbeardoils
Facebook –
http://facebook.com/brawbeardoils/
Twitter –
http://twitter.com/@brawbeardoil
Subscribe to the Braw Beard Youtube channel for more videos.
https://www.youtube.com/brawbeard
Scottish beard care.
Born in Scotland, enjoyed Worldwide.