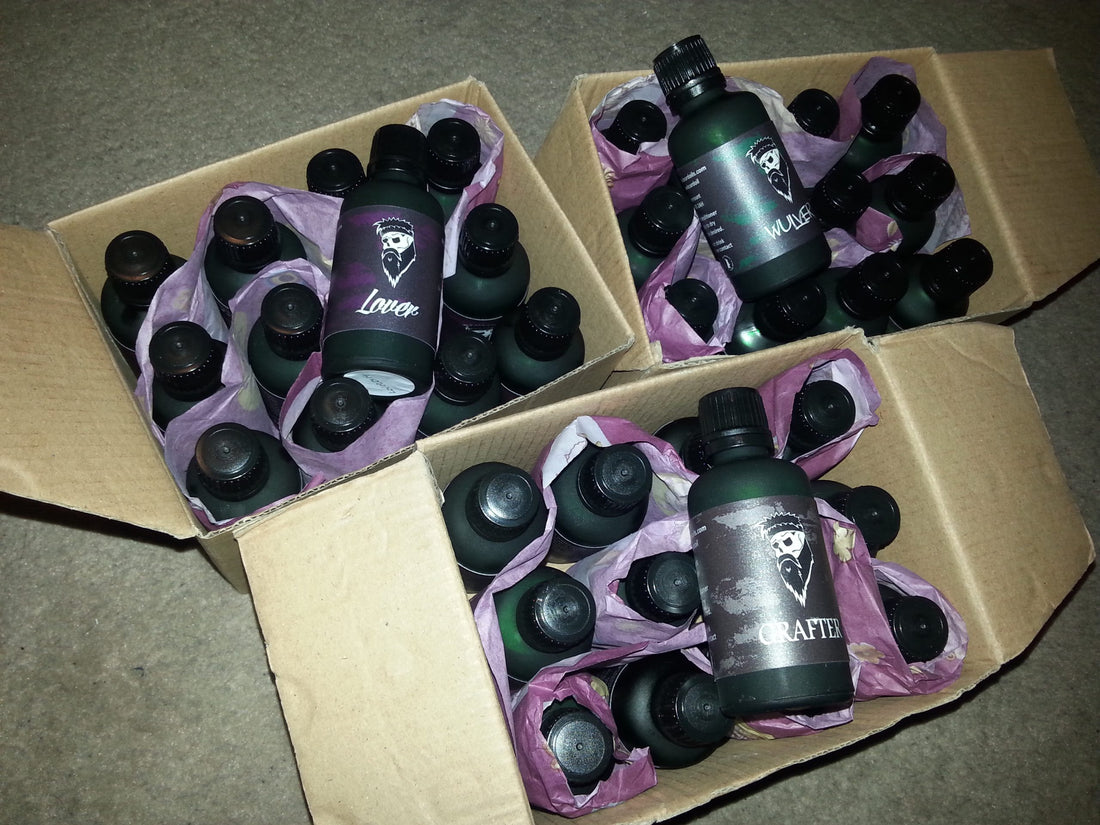 That Day In October 2012 - Stories From The Road.
It was a day in October 2012 when I sat down and made the 1st finished bottle of oil that would become Wulver. I don't remember the exact day because I didn't expect anything to come from it, other than a conditioner for my facial hair. I do remember being sat on the sofa, the tv was on to my left and the coffee table was cluttered with various bottles of oil.
In the months between breaking my back (MORE HERE) in July 2011 through to October 2012, I had been studying sports massage therapy, acupuncture, TuiNa and more under Richard White in Musselburgh. The courses were great and I loved studying the anatomy, how muscles work, where they connect etc. That knowledge helped me understand the recovery process and help with my training in the gym now. Making massage oils was part of the work so there were various essential oils and base oils lying around from the coursework.
In knowing the skin benefits of the natural oils, I wondered if I could create a mixture that would soothe the beard irritation I was suffering. To be honest, I had assumed that was just part of the process in growing a beard, dandruff and itchiness. My girlfriend at the time (now wife) was using hair oil so I figured I could make a version for my beard.

I know, I know, it's bad eh. This was Pre-Braw Beard.
I had 3 base oils in my possession along with a handful of essential oils, including patchouli and marjoram. Feeling like a mad scientist, so I got to work.
Hempseed oil is known as a great skin moisturiser which was used to keep skin soft and supple in massage oils. It is known to soothe dry skin but also has hair repairing qualities.
Jojoba oil is another oil which is great for the skin, it has a variety of healing properties which may help scars and stretch marks. Jojoba soothes irritation and reduces dandruff.
Vitamin E oil is good for use on sensitive skin. With that, this oil is ideal for reducing itchiness and irritation under the facial hair.
How did they perform on facial hair?
Hempseed on its own - it is heavy on the hair and too dry.
Jojoba on its own - feels heavy on the hair and too greasy.
Vitamin E oil on its own - too light.
So, the mixing process began, it took many, many attempts to get a base oil I was happy with. It was frustrating but fun, tweaking the recipe ever so slightly to get the best feel. The only problem was I was beginning to run out of bottles to test in. But one day, the recipe worked! The beard dandruff was gone, the itchiness and irritated skin, gone.
I have always had various styles of facial hair and which got irritated with sweat underneath my full face mountain bike helmet. That was the main reason for attempting to create a beard conditioner, to solve that problem, and it did. I was buzzing! This wee product that I had put together done the job!
There are 2 sweet spots in the mix that Braw Beard prides itself on getting right. The base oil mix and then the essential oil : base oil ratio. Many companies fail to get this right and it affects the performance of their final product.
Anyway, back to that day in October 2012, I had the base oil mix dialled in, now to add fragrance and complete the process. I took the wild opposites of patchouli and marjoram (in a suitable ratio) and mixed them in. I let that settle for a few hours and also to allow my nose to re-adjust to normal smells away from fragrance.
When the cap was unscrewed to test, it smelt incredible. That was it. DONE. The scent choices were a gamble but that first waft was beautiful. The earthy notes of patchouli, then the punch of marjoram just worked (admittedly, it has been improved slightly since). Immediately I was shaking the bottle, dropping oil into my left palm, rubbing the hands together and rubbing it in around my face rug. I was definitely walking around that day with a swagger, all chuffed with myself haha.
What next?
I have a few bearded friends and family members so naturally I made bottles for them as gifts (and to be test subjects...).
After receiving positive feedback, I was encouraged to start a business to sell the product. I had never ran a proper business before. Always wanted to but was clueless. The thought of it scared the crap out of me. Looking back, that anxiety about it is probably what made me enrol in a business management degree in 2019. Currently I am still studying with 1 year to go.
Yo, future JJ! Did we pass?!
Then the hard work came - insurance (nightmare because no-one had really heard of beard oil in 2012, as far as I am aware, Braw Beard oil was the 1st of its kind in Scotland), safety assessments, documentation and registration, business start-up advice, a website to sell it, inventory, a logo and of course, a name!
Braw is a word in Scotland that means great, attractive, anything positive really. Driving in my car, it just came to me, Braw Beard Oils. It flowed nicely, so that was it. I drew a very rough version of the logo while watching tv. Then it was sketched into shape and finally finished in vector format on the computer.
The oil was named Wulver after the famous Scottish werewolf who would fish in Shetland and feed the poor from his catch, good guy. I quickly got to work on 2 other options which became the sweet scent, Lover and the wood scent, Grafter.
Once all the formal documentation was complete and registered, we launched the website and nothing happened...
Until one day a few weeks later...
PING!
"You have received an order"
What a feeling! The buzz, the butterflies in the stomach, the nerves. Someone outside my wee world wanted a Braw Beard oil! Will they like it? Is it perfect? What if the label peels? Have I done everything right? Will the posties trip at the last minute and smash it?
I felt so proud taking my wee homemade product to the post office, nervously asking them for suitable packaging, scurrying over to the wee desk to bundle it up and handwriting the customer's address on the package. Off it went.
That was an intense few days.
Over the next few weeks more gradually started coming in. PING!
From this point Elaine and I started working late into the night pouring oils into mixing jugs, funnelling that into 50ml bottles, making the labels by hand. Those were very time consuming! I designed the labels with all the legal requirements on. Because we never had money to outsource, we'd print the labels off in paper on a desktop office printer. Then laminate them with a seal to protect the paper from the oil. Next, we would apply double sided tape to the back of the paper and trim the final labels out. When they were finished, the labels were so thick they were tricky to apply to the bottles! They felt more like a bookmark than a bottle label. Luckily we used super strong tape.
As word spread, the orders started to flow in which took us by surprise. We had to adapt and reinvest the money to get more stock, build the business and get better labels!
The Braw Beard journey was about to begin.
I hope you enjoyed this wee entry into the blog from October 2012. I intend to share some stories from the road in more detail, from the beginnings of The Brawtherhood, photoshoots, dinner with Fred Durst, performing a wedding ceremony and lots more.
Thank you for reading.
JJ
Join the #Brawtherhood
Scottish beard care.
Born in Scotland, enjoyed Worldwide.
P.S. Use code – brawblog – at www.brawbeard.com for 10% off
Follow Braw Beard:
Instagram – http://instagram.com/@brawbeardoils
Facebook – http://facebook.com/brawbeardoils/
Twitter – http://twitter.com/@brawbeardoil
Subscribe to the Braw Beard Youtube channel for more videos. https://www.youtube.com/brawbeard
Catch up on the Braw Cast podcast HERE
Youtube – HERE
Spotify – HERE
Apple Podcasts – HERE
Google Podcasts – HERE