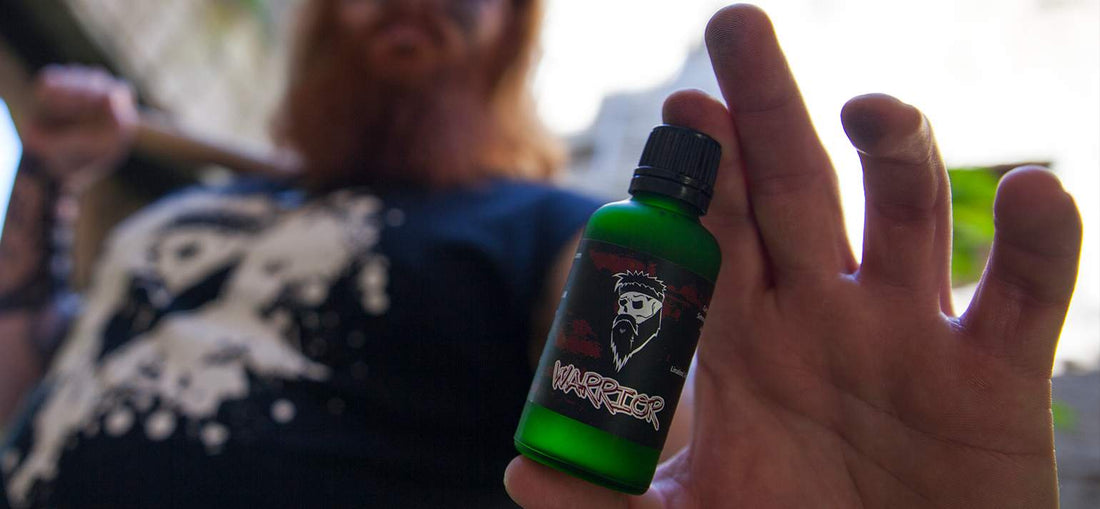 Warrior Beard Oil: The Best Of Nature's Resilience And Quality
For centuries, men have sought the perfect beard as a mark of distinction and character. To achieve and maintain such a beard, you need the right tools and products that cater to its unique needs. Inspired by the strength and resilience of a true warrior, Braw Beard introduces Warrior Beard Oil, a blend of nature's finest ingredients designed to condition, nourish, and protect your beard. This blog post delves into the beneficial elements of this exceptional beard oil.
Warrior Beard Oil Ingredients.
Hempseed Oil: The Nourishing Powerhouse
Hempseed oil, extracted from hemp plant seeds, is a rich source of omega-3 and omega-6 fatty acids. These essential nutrients promote healthy hair growth, prevent dryness and flakiness in your beard, and maintain the skin underneath. By reducing inflammation and irritation, hempseed oil assures your beard always looks its best.
Argan Oil: The Liquid Gold
Argan oil, often referred to as "liquid gold," comes from the kernels of the argan tree native to Morocco. Packed with vitamins, minerals, and antioxidants, argan oil offers powerful hydrating and nourishing capabilities. It works to repair damaged hair, tame frizz, and foster a soft, silky beard texture. Its natural conditioning properties make argan oil a crucial ingredient in beard care.
Jojoba Oil: The Beard's Best Friend
Jojoba oil, a key ingredient in many skincare products, resembles the natural oil (sebum) our skin produces. This similarity makes it an excellent moisturiser and conditioner for your beard. Jojoba oil aids in preventing beard itch, dandruff, and irritation while promoting a healthy shine and softness. Its non-greasy texture allows quick absorption, leaving your beard smooth and well-nourished.
Vitamin E Oil: The Antioxidant Guardian
Vitamin E oil is a powerful antioxidant that protects your beard and skin from damage caused by free radicals. It promotes healthy hair growth by supporting hair follicles and improving blood circulation to the scalp. Vitamin E oil also helps repair damaged hair, foster a healthy, strong beard, and retain moisture, preventing split ends and promoting a thicker beard.
Patchouli: The Earthy Soother
Extracted from the leaves of the patchouli plant, patchouli oil is famed for its distinctive, earthy aroma and many skin benefits. With anti-inflammatory and anti-fungal properties, it aids in preventing beard itch, dandruff, and skin irritation. Patchouli oil helps balance oil production, keeping your beard and skin in optimal condition. Its grounding scent adds an appealing depth to the Warrior Beard Oil.
Rosewood: The Gentle Protector
Rosewood oil, derived from the rosewood tree, is known for its sweet, woody scent and numerous skin benefits. It possesses antibacterial and antiviral properties that help protect your skin from infections. Furthermore, rosewood oil stimulates cell regeneration and tissue elasticity, promoting healthier and more robust beard growth.
Ginger: The Revitalising Stimulant
Ginger oil, extracted from the ginger root, is a revitalising ingredient in beard care. It's known to stimulate blood flow, improve hair growth, and has anti-inflammatory properties that can soothe irritated skin beneath your beard. Adding ginger oil to Warrior Beard Oil introduces a warm, spicy note to the fragrance, making it an exciting choice for your beard care routine.
The result
Warrior Beard Oil is not just a beard conditioner but a tribute to the warrior's spirit, offering the strength and nourishment your beard needs to grow strong and resilient. Ingredients like hempseed, argan, jojoba, vitamin E, patchouli, rosewood, and ginger work harmoniously to provide comprehensive care for your beard. These natural ingredients offer unique benefits, from promoting healthy hair growth and reducing irritation to delivering a captivating, lasting scent.
Warrior Beard Oil is committed to quality and respect for nature's powerful resources. Whether you're growing your beard for the first time or seeking to enhance your existing beard's health and appearance, Warrior Beard Oil offers the nourishment, protection, and conditioning your beard deserves.
The path to a magnificent beard is one of dedication and patience, akin to the journey of a true warrior.
Embrace this journey with Warrior Beard Oil by Braw Beard, and let your beard reflect your strength and resilience at https://brawbeardoils.com/product/warrior-beard-oil-conditioner-50ml/
Thank you for reading; I hope it has been helpful.
JJ
Join the #Brawtherhood
Scottish beard care.
Born in Scotland, enjoyed Worldwide.
P.S. Use code – brawblog – at www.brawbeard.com for 10% off
Follow Braw Beard:
Instagram – http://instagram.com/@brawbeardoils
Facebook – http://facebook.com/brawbeardoils/
Twitter – http://twitter.com/@brawbeardoil
Subscribe to the Braw Beard Youtube channel for more videos. https://www.youtube.com/brawbeard
Catch up on the Braw Cast podcast HERE
Youtube – HERE
Spotify – HERE
Apple Podcasts – HERE
Google Podcasts – HERE