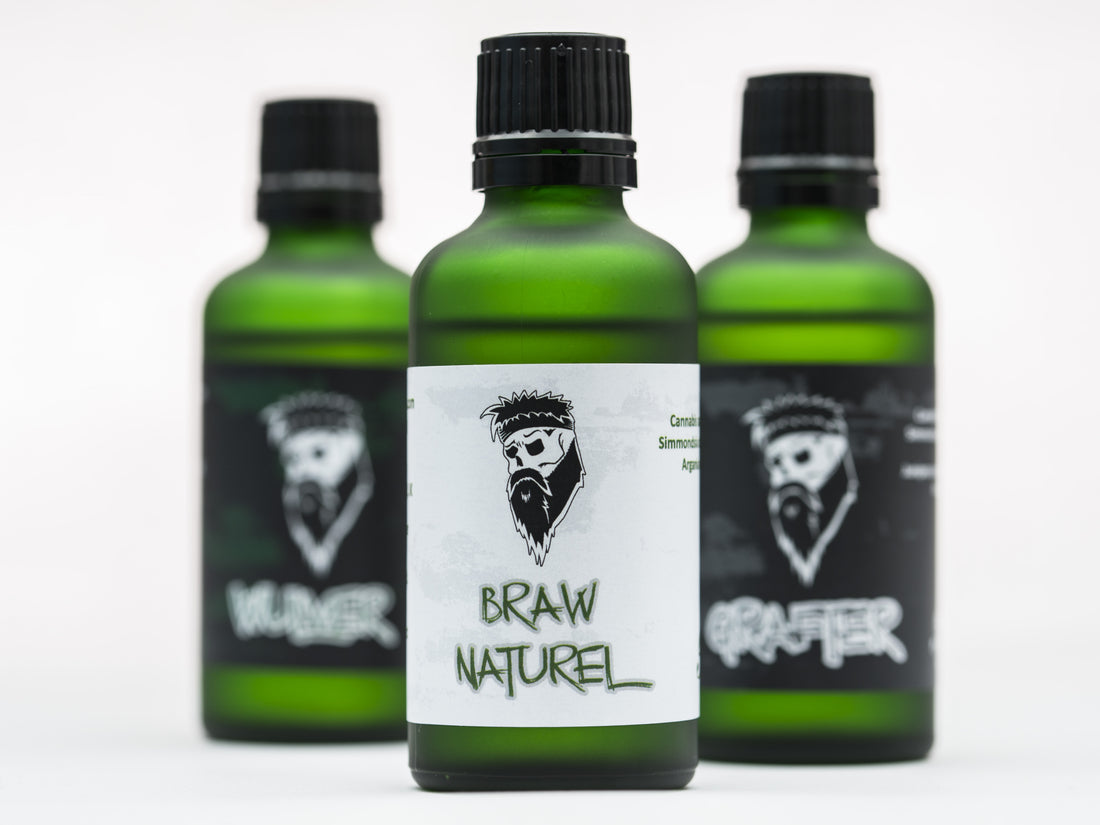 What Is Beard Oil And How To Use It Properly
What is Beard Oil?? Why do I need that shit?? Yeah, we get asked that with a look of confusion quite often. See, that shit has many benefits that will improve your beard health, beard life and probably the life of others who come in contact with it.
A familiar scenario at events we attend is, a wife will drag her big, bearded, biker looking husband over to our stand. He will stand looking uninterested, she will ask us lots of questions, whilst smelling the beard oil options. He will buy one to keep her happy. THEN when he gets home and actually uses the beard care products, he will notice a difference in the health and appearance of his beard.
Then we usually get an email thanking us for making a great product and how his wife loves the smell and enjoys kissing him more now, because his facial hair is soft and doesn't smell of his dinner.
Every few months, we will see his name appear in the order list. This happens more than you'd think.
So what is it?
Beard oil is one of the most important tools you can have in your bathroom's box of tricks. Our motto is - For Stubble To Skiffin' Rubble - our beard oil can be used on anything from a 5 o'clock shadow to a beard scraping the ground.
To put it simply, beard oil is a cosmetic oil used to make your facial hair more attractive and manageable. Once you use it, you'll wonder why you never did before. There are synthetic and natural options available on the market.
Braw Beard Oils are 100% natural, our ingredients include hempseed, argan, jojoba, vitamin E oils and essential oils for scenting. Scents range from sweet to musky manly smells.
Synthetic oils are actually not great for your beard, the chemicals added to extend shelf life can dry your beard out, making it brittle and weak. Always use natural products, if used daily, the bottle will run out before the shelf life expires anyway.
Why use Braw beard oil?
Beard oil keeps your beard looking, smelling and feeling great. The natural oils and nutrients keep the hair follicles hydrated. If you are like us and stay in a fairly cold, damp and windy environment like Scotland, the facial hair can be stripped of it's natural oils which will then be left dry and brittle.
Beard oil mimics the bodies natural oils, supplementing what is lost. Keeping your face hydrated is key to keep the hair moisturised, whilst stopping dry skin, irritation and the dreaded beardruff (beard dandruff).
Would you be happy getting close to someone knowing your head is flaking dandruff everywhere? No? It's the same scenario with your beard. You want that thing nice, smooth, clean and flake-free, no-one wants to snuggle a furry snowstorm.
When growing a beard, you may have experienced dry skin, irritation and beardruff, this usually is enough for someone to shave their facial hair off. But using the correct beard care products, all that can be dealt with easily.
If you have a new car or bike, you look after it, you keep it clean because you are proud and want to show it off. Why should the hair sitting on your face be any different? Treat it with care.
When is the best time to apply Braw beard oil?
The best time to apply is after washing in the shower/bath (with
Braw Beard Wash
), the hot water will have opened the pores, leaving them in an ideal state to absorb the beard oil.
How to apply Braw beard oil
Gently towel dry your beard, don't rub it too much, this will potentially pull out your hair. Then dispense a few drops of your chosen Braw Beard Oil into the palm of your hand, rub your hands together to get full coverage. Next, glide your hands over your beard, the underside too whilst massaging the beard oil down to the roots and skin underneath (this will moisturise any dry skin).
Once you are happy with the beard oil amount in your facial hair, take a comb or brush and gently start to comb/brush the oil through for more even distribution. For more info on the best beard brush or best beard comb, check out our articles below... The Best Beard Brush The Best Beard Comb You will notice a nice difference after one day, but for the best effects, use this routine daily. You will enjoy the compliments and attention.
I hope you have found this article useful.
Thanks for reading.
JJ
Join the #Brawtherhood
P.S. Use code – brawblog – at www.brawbeard.com for 10% off
Follow Braw Beard: Instagram – http://instagram.com/brawbeardoils
Facebook – http://facebook.com/brawbeardoils/
Twitter – http://twitter.com/brawbeardoil
Subscribe to the Braw Beard Youtube channel for more videos. https://www.youtube.com/brawbeard
Scottish beard care. Born in Scotland, enjoyed Worldwide.