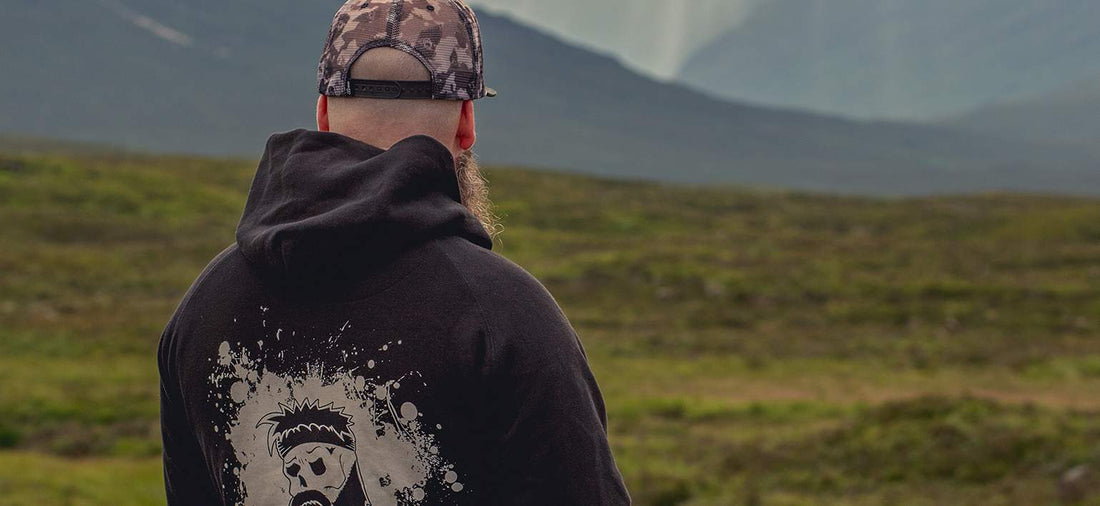 When Your Beard First Starts to Grow...
Growing a beard seems quite simple, doesn't it? All you need to do is not shave it off, right? Sadly, it is more complicated than that if you want to achieve a beard that you can be proud of. However, you probably already realised that, otherwise you wouldn't be here. But what can you do when your beard starts to grow?
Stage 1: When your beard starts to grow – the stubble.
It comes as no surprise that beard growth doesn't happen overnight. In the first 2 weeks, you will be able to foresee where and how quickly your beard will grow. If your genetics were kind to you, your beard stubble will cover all your facial hair area. However, if you did not get the easy way, in this first stage you will see where and how patchy your beard will become.
Nevertheless, if you experience the stubble being patchy there is still no reason to worry, as there are several ways you can fix that. Read Here
Stage 2: When your beard starts to itch – the stage everyone wants to skip.
After the second week, the itching starts. These few weeks are no one's favourite; however, it is a natural stage in the beard growth journey. This annoying time might discourage you from growing a beard but I would urge you to not give up. There are many things that you can try to stop that beard itching:
1. Wash with Braw Beard Wash.
2. Brush with Braw Beard Brush.
3. Condition daily with Braw Beard Oil when your beard starts to grow.
4. Hydrate to flush out toxins.
You can find these steps in more detail by reading this article How To Stop Beard Itch.
Stage 3: One month mark – when you can finally say you have a beard.
One month after the start, the difficult part is over in the beard growing process. If you got this far that means you defeated the itchiness and the urge to just shave it all off.
At this point, you should already have a full beard, however, if it isn't so, there is no need for concern. Beard growth is different for everyone and might take longer for you than for others.
Even though the itchiness should not be a huge issue by this time, grooming your beard is still very important. Just as you have (hopefully) done so in the previous stage, you need to wash, condition, and brush. Otherwise, it will easily look uncared for. Just think: what would it tell about you if you went to work with dirty nails, greasy hair, or bad breath. It is no different with your beard. Keep it tidy and groomed!
Don't touch!
Yes… running your hand through your beard can seem like a great side of having a beard. It's just like having glasses. It makes you look smarter like you always have something clever on your mind. So why would I discourage you from this? Despite the visual benefits, constantly running your hands through your beard and pulling on your beard can not only result in accidentally pulling out hair but can easily break whiskers which will cause them to fall out.
Stage 4: Are you now finished with your beard growth?
After the 2nd month (yes, I know it seems like a long time), you should already have a beard that you can rightfully be proud of. This is the stage when you can finally trim your beard if you wish so, to make it look how you imagined it to be. But don't forget… achieving the beard you dreamed of doesn't mean the work is over. Continuing your beard care routine is essential to keep your beard attractive and to allow your beard to keep growing.
Thank you for reading, I hope it has been useful.
Lilia Braw
Join the #Brawtherhood
Scottish beard care.
Born in Scotland, enjoyed Worldwide.
P.S. Use code – brawblog – HERE for 10% off
Follow Braw Beard:
Instagram – HERE
Facebook – HERE
Twitter – HERE
Subscribe to the Braw Beard Youtube channel for more videos. HERE
Catch up on the Braw Cast podcast HERE
Youtube – HERE
Spotify – HERE
Apple Podcasts – HERE
Google Podcasts – HERE