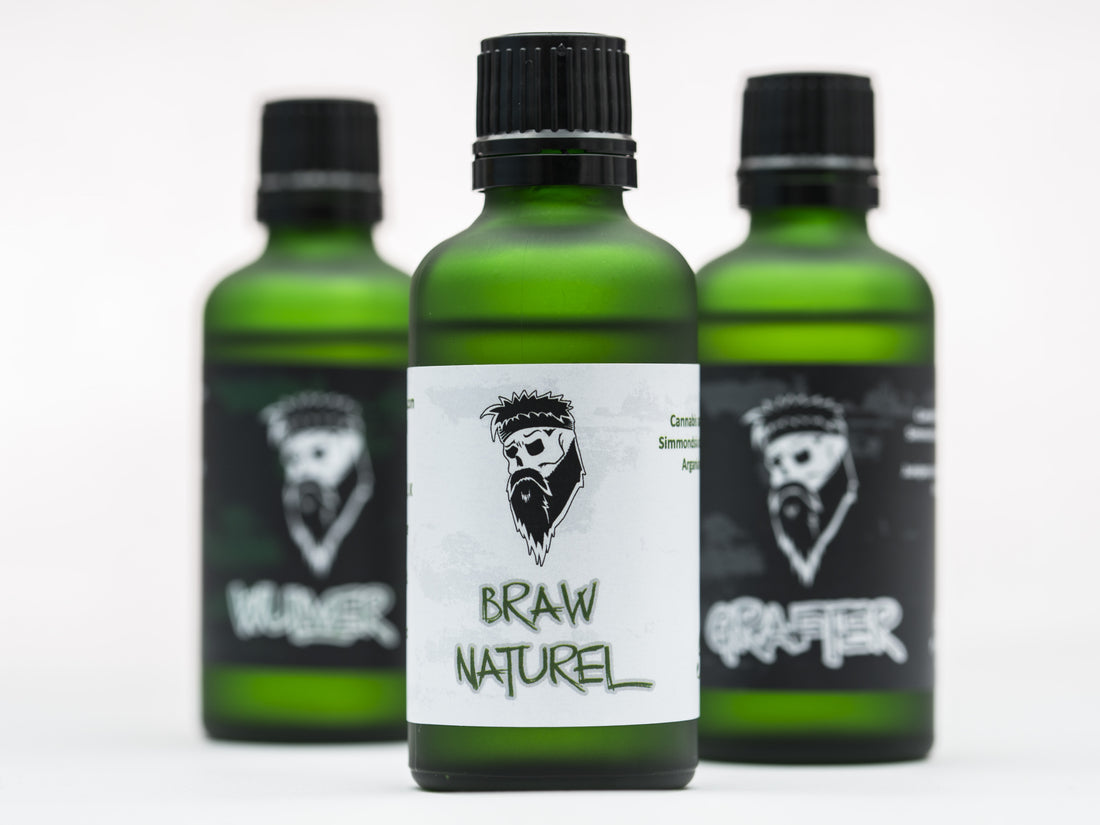 Simple But Effective Beard Oil That Works.
If you are new to the beard care scene, you may have asked yourself already, why beard oil? It is a question we are asked often by new customers.
Beards grow just fine without it right? Yes, they do, BUT Braw Beard oil will make the process of growing a beard much more enjoyable.
Ok, so why beard oil?
When growing out facial hair, many people are affected by itchiness and irritation on the skin where the hair grows from. This can be caused by a number of things, the hair initially breaking through the skin, dry skin, dirt, grime, dandruff etc.
Braw Beard oil moisturises the skin under the beard to keep it soft and supple with its 100% natural ingredients. The main ingredient, hempseed oil is great for soothing irritation and re-hydrating dry skin which reduces the chances of wanting to shave due to itchiness. It also keeps the hair feeling soft and smooth without leaving it greasy which is why beard oil is beneficial.
There are several very cheap versions on the market so do your research before buying. If it is cheap, there is a high chance it is rammed full of chemicals to prolong shelf life. These products can actually do more harm than good by drying out the hair and skin rather than nourishing it like the high quality Braw Beard oil does.
What makes Braw different?
Our beard oils are 100% natural and the fragrances are built with essential oils (plant based) rather than fragrance oils (synthetic). Our ingredients are:
Hempseed oil – contains omega 3, 6 and 9 fatty acids which may stimulate hair growth. The oil promotes blood circulation on the scalp too, it's easily absorbed by the hair which can help strengthen the hair, reducing breakages.
Jojoba oil – it's an oil extracted from the seeds of the jojoba plant. It is rich in vitamins and minerals too. This oil is great as a moisturiser which is good for the scalp to reduce dandruff, itchiness and irritation.
Vitamin E – the antioxidants in vitamin E oil have been known to repair damaged hair follicles and hair shafts. It is a deep moisturiser for your hair and skin which therefore reduces dry skin and irritation. Vitamin E oil may protect your hair from the elements too.
Argan oil (not in Grafter, Lover or Wulver) – is produced from the kernel in the argan tree. Known as liquid gold, argan oil helps repair damaged hair and split ends. It is a great leave-in conditioner (which our beard oil is anyway) which can help reduce irritation, inflammation, sores and itchiness in the skin below under your facial hair.
In addition, the fragrances are made from essential oils which are extracted from plants too. More details on these can be found HERE.
To find out more about Braw Beard oils uses, CLICK HERE
What our customers say:
"Best scent, best for dry skin! Second time buying the Heather beard oil, for me it's the best for dry/itchy skin! Buy the brush also!" – Nicky A.
"WOW, what a wonderful scent love the feel in the beard, the hint of the orange, and the cinnamon, just enough not over powering, got a winner here, great oils JJ you knocked this one out of the park, great job…." – Darryl H.
"This is my favourite beard oil. I have been using Braw Beard Products for years and would certainly recommend their oils over any other brand. I certainly know the difference on my beard and skin if I forget to apply it." – Alan D.
"As always, these guys are great. Quality product at a good price. Easily the best beard oil I've used; good for skin and beard." – Dermot O'C.
""I have been using Braw Beard wash and oil products for several years now. Unlike other products, I have never had any problems with skin irritation and my beard feels in great condition. Only natural ingredients are used in all the products and are keenly priced compared to similar products. Shipping from the manufacturer (based in Scotland) is very quick and direct prices are better than elsewhere. Highly recommended and I will continue to use this company for as long as I have my beard!!" – Richard P.
"My favourite beard oil yet. A slightly thicker/heavier oil which works really well in my beard, which is white and quite dry. This oil tames it superbly and keeps it looking sleek and shiny, rather than dry and frizzy. The scent is also brilliant. Brilliant product. Five stars." – Kenneth P.
Want to read more?
There are far more customer reviews on each of the product pages at www.brawbeardoils.com
Thank you for reading
JJ
Join the #Brawtherhood
Scottish beard care.
Born in Scotland, enjoyed Worldwide.
P.S. Use code – brawblog – at www.brawbeard.com for 10% off
Follow Braw Beard:
Instagram – http://instagram.com/@brawbeardoils
Facebook – http://facebook.com/brawbeardoils/
Twitter – http://twitter.com/@brawbeardoil
Subscribe to the Braw Beard Youtube channel for more videos. https://www.youtube.com/brawbeard
Catch up on the Braw Cast podcast HERE
Youtube – HERE
Spotify – HERE
Apple Podcasts – HERE
Google Podcasts – HERE