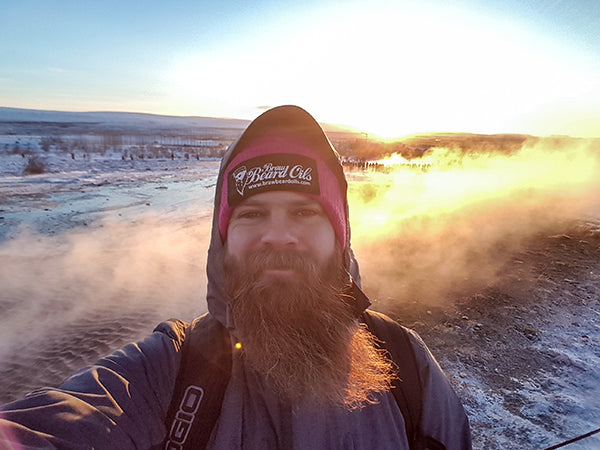 Is your winter beard ready? Prepare your chinsulation.
It seems to have taken longer than normal but the temp is now well below zero, is your winter beard ready? It sounds daft, I know. BUT there are very good reasons to extra care of your beard in the cold weather.
Prepare your winter beard.
The harsh weather can strip your hair of natural oils. With lack of moisture in the strands, they will become weak and brittle, leading to breakages. If you are out and about for the day, it is worth taking a
beard oil
with you to top up if required. The
beard oil
will add extra nutrients to protect and condition the hair, keeping it looking healthy.
With high winds, your beard may also end up in a tangled mess with knots. Many people will just yank a comb or brush through harshly and break and dislodge hair. Please take your time when combing your beard, start slowly with a little
beard oil
applied, then once the hair is snag free, use a
boar bristle brush
to evenly distribute your chosen beard care product.
Look after your skin too! The winter weather can also dry out your skin as well as your hair. Use a good natural skin moisturiser like
Battle Scar Skin and Stubble Moisturiser
to keep your skin hydrated in the winter. Consider using
Beard Wash
every morning, with a good
beard oil
afterwards. It's worth taking a beard oil & comb out with you if the weather is harsh to keep topped up.
Being from Scotland, we know harsh weather VERY WELL. That's why we have introduced a range of soft
beaniehats
and very warm
hooded tops
for ultimate comfort. They both even stood the test in Iceland at Christmas and New Year! Thank you for reading. JJ Join the #Brawtherhood
P.S. Use code – brawblog – at www.brawbeard.com for 10% off
Follow Braw Beard: Instagram –
http://instagram.com/@brawbeardoils
Facebook –
http://facebook.com/brawbeardoils/
Twitter –
http://twitter.com/@brawbeardoil
Subscribe to the Braw Beard Youtube channel for more videos.
https://www.youtube.com/brawbeard
Scottish beard care.
Born in Scotland, enjoyed Worldwide.