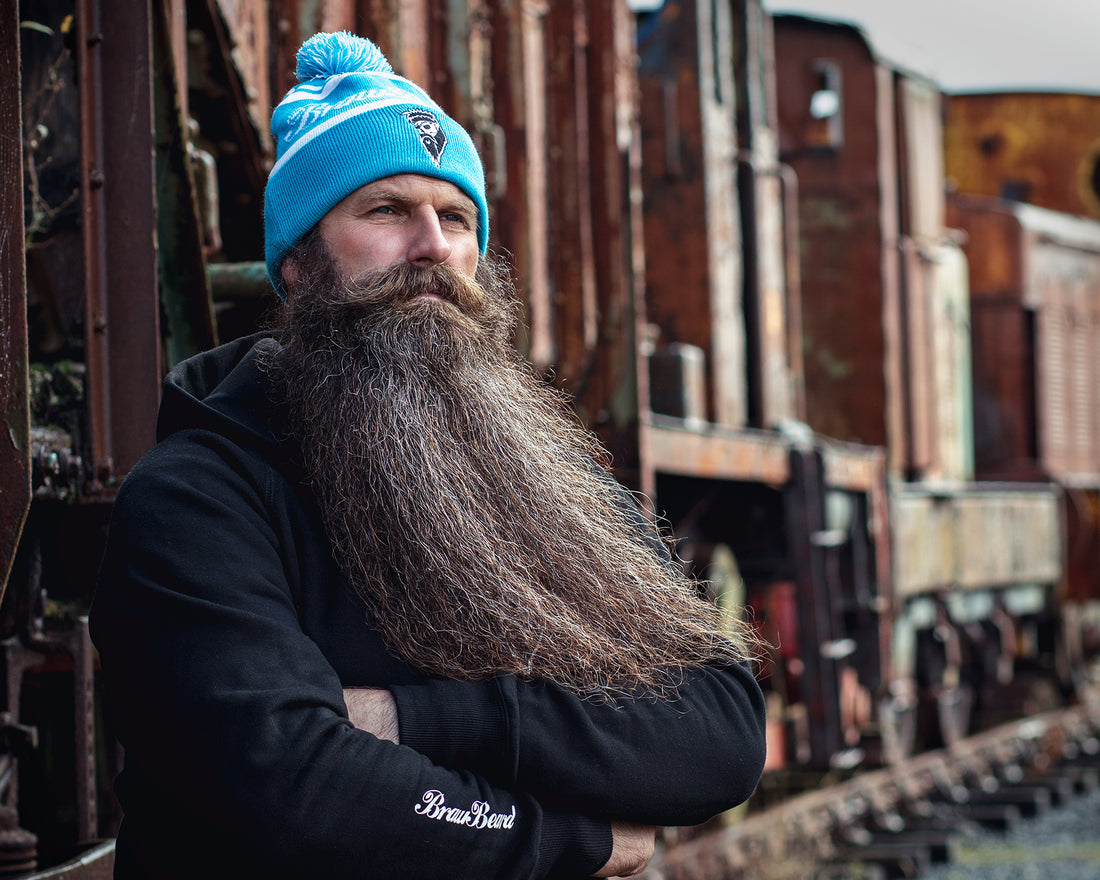 Facial hair growth and managing it for the best results
We've been told in the past that the best way to grow a beard is just to let it grow. That is true, however, you need to manage that facial hair growth too. Otherwise it's going to get wild. Managing your beard as it grows sounds like a big task, but it's really just small consistent steps. These will make the experience much more enjoyable. I'll explain why below.
Managing facial hair growth.
Let's start at the beginning, as if you were clean shaven.
As the hair starts to grow and sprout from the follicles, it can often feel tender or irritated. This is due to the hair breaking through the skin, or in some cases, caused by an ingrown hair. Dirty skin can cause block pores which may cause hair to grow inwards or sideways rather than out. This can be very painful. To read more about ingrown beard hair, click on THIS ARTICLE.
Keep your face clean and consider using a brush. I know it sounds daft but lightly brushing your skin may help keep the pores clear to allow the hair to grow as intended. Also, a good skin moisturiser like Braw's Battle Scar Skin and Stubble Moisturiser will soother irritation and moisturise dry skin.
Starting to get facial hair growth.
As your beard starts to grow, now is a key time to start looking after it. Itchiness and irritation are still a potential issue at this stage, so adding a good quality beard oil and shampoo is wise. Braw Beard Wash is a specially formulated shampoo for beard hair. Because facial hair is thicker and more coarse than head hair, the ingredients have been chosen to suit. We added aloe vera too which is a great moisturiser to keep irritation at bay.
Skin Moisturiser
The Skin and Stubble Moisturiser mentioned above is cream based so it's great for your skin. But as the hair grows longer, you should move to an oil based moisturiser, such as Braw Beard oil. The beard oil's natural ingredients moisturise the skin beneath the hair, keeping the skin supple and soft. It is designed to be non-greasy which leaves your beard hair feeling soft and smooth too, rather than dry, brittle and wiry.
Again, using a brush here will help too. The brush, as mentioned before, exfoliates the skin which removes dead skin (dandruff) and evenly distributes the beard oil throughout your hair for maximum effect.
My morning beard care routine recommendation at this stage would be:
Braw Beard Wash in the shower.
Gently towel dry my beard.
Apply Braw Beard oil.
Brush through.
As your beard gets longer.
When your beard starts to get some length on it, around 2+ inches, there are some other products that are worth considering.
Braw Beard butter is a styling product which is designed to keep stray wispy hairs in place. The butter is a solid state product but very quickly melts down in the heat of your hands. Then once applied to the facial hair, it sets slightly to provide hold. It doesn't leave a waxy residue and still leaves the hair feeling soft. It is also made with natural ingredients which are great moisturisers too.
As the facial hair growth gets longer, the hair may start to snag on itself, especially after washing. If you have this issue, a Braw Beard comb is your friend here. The comb is designed to gently detangle the beard hair without tugging/snagging. The teeth of our combs are rounded to avoid damaging the hair. Using Braw Beard oil before combing will help the comb glide through the hair easier.
My morning beard care routine recommendation at this stage would be:
Braw Beard Wash in the shower.
Gently towel dry my beard.
Apply Braw Beard oil.
Comb my beard to detangle the hair.
Apply Braw Beard butter to provide maintain shape.
Brush through to evenly distribute the products and add volume.
When your beard gets even longer, you may notice it growing unevenly. This is totally normal, but if it bothers you, visit a good beard barber for advice on shaping. They will be able to even up the hair to give you a more symmetrical shape.
I hope this article has helped offer advice for managing facial hair growth.
Thank you for reading.
JJ
Join the #Brawtherhood
P.S. Use code – brawblog – at www.brawbeard.com for 10% off
Follow Braw Beard:
Instagram – http://instagram.com/@brawbeardoils
Facebook – http://facebook.com/brawbeardoils/
Twitter – http://twitter.com/@brawbeardoil
Subscribe to the Braw Beard Youtube channel for more videos. https://www.youtube.com/brawbeard
Scottish beard care.
Born in Scotland, enjoyed Worldwide.