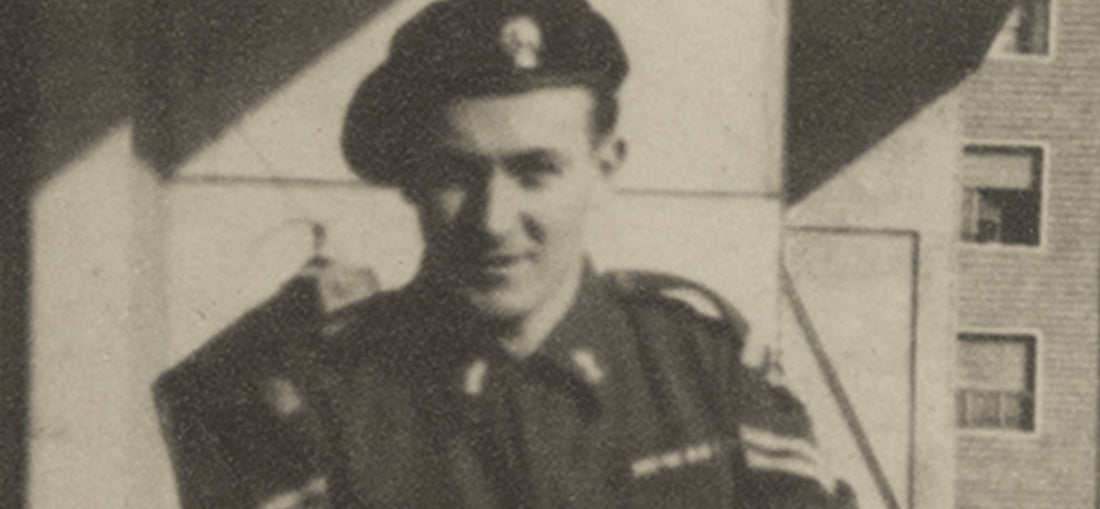 The Grand Eckson 1918 Beard Oil: Honouring Lifetime Valor
The Grand Eckson 1918 beard oil gets its name from my Grandfather, Alex (Eck) Jackson, who left an indelible mark with his life and was a figure close to my heart. The name splits the word Grandson with Eck and includes his birth year.
Born in 1918, Eck worked on farms in the Scottish Borders until he was called up in 1939. Serving as a Corporal with The Lothians and Border Horse Yeomanry during the Second World War, he participated in several significant battles. Post-war, he stayed in touch with his comrades, becoming part of a veterans' organisation. After a brief stint as a retired pensioner, Eck returned to work, leading a fulfilling life around his family, friends, and passions like motorcycling and fishing. This true veteran's robust, enduring spirit, who enjoyed good health till his final day, is the inspiration behind "The Grand Eckson 1918." The beard oil is a tribute to his resilience, strength, and undying love for life. His spirit of resilience lives on through this meticulously crafted beard oil, empowering men worldwide to wear their beards with pride, strength, and dignity.
The Grand Eckson 1918 Beard Oil
Hempseed Oil: The Nourishing Powerhouse
Hempseed oil is derived from the seeds of the hemp plant. It is rich in omega-3 and omega-6 fatty acids, which promote healthy hair growth. It helps reduce dryness and flakiness in your beard and cares for the skin beneath. The oil's anti-inflammatory properties help reduce irritation, ensuring your beard looks and feel its best.
Argan Oil: The Liquid Gold
Known as "liquid gold," argan oil is famous for its intensely moisturising properties. It hydrates and softens hair, promoting smooth, shiny, and manageable growth. Argan oil also helps reduce frizz and split ends, paving the way for healthier, fuller, and thicker beard growth.
Jojoba Oil: The Beard's Natural Ally
Jojoba oil, often hailed as the skin's best friend, closely resembles the skin's natural oil (sebum). Its likeness to sebum makes jojoba an excellent moisturiser for your beard. It prevents beard itch, dandruff, and irritation while promoting a healthy shine and softness to your beard. The oil is non-greasy and quickly absorbed, leaving your beard nourished and smooth.
Vitamin E Oil: The Protector
Vitamin E oil is a potent antioxidant that protects your beard and skin from damage caused by free radicals. It also supports healthy hair growth by improving blood circulation to the scalp and nourishing hair follicles. Furthermore, vitamin E oil helps repair damaged hair and prevents moisture loss, leading to a more robust, healthier beard.
Cypress: The Tonic for Vigour
Cypress oil is known for its refreshing aroma and ability to stimulate blood flow. It contributes to healthier and faster beard growth while regulating excess sebum production. This makes cypress oil an excellent ingredient for maintaining the health of your beard and the skin underneath.
Ylang Ylang: The Balance Restorer
Known for its sweet, slightly fruity scent, Ylang Ylang goes beyond just providing an aromatic experience. It stimulates hair growth, enhances hair thickness, and helps manage split ends. Additionally, its oil-balancing properties ensure optimal skin and beard health.
Patchouli: The Earthy Elixir
Patchouli oil, derived from the leaves of the patchouli plant, is loved for its earthy aroma. Besides its scent, it is revered for its anti-inflammatory and antifungal properties and its skincare benefits. Patchouli oil helps combat beard itch, dandruff, and skin irritation, making it an essential part of the beard care regimen.
Ginger: The Warm Revitalizer
Ginger oil is known for its warming and stimulating effects. It improves circulation, leading to healthier hair follicles and promoting robust beard growth. Its antioxidant properties also help in protecting your beard from environmental stressors.
The result
The Grand Eckson 1918 Beard Oil pays tribute to Eck's spirit and courage, blending potent natural ingredients to cultivate a product designed to boost your confidence and invigorate your everyday life. Each time you apply this oil, let it serve as a gentle reminder of the bravery Eck stood for and the legacy he left behind.
For more information and to get your hands on the Grand Eckson 1918 Beard Oil, visit here.
Thank you for reading; I hope it has been helpful.
JJ
Join the #Brawtherhood
Scottish beard care.
Born in Scotland, enjoyed Worldwide.
P.S. Use code – brawblog – at www.brawbeard.com for 10% off
Follow Braw Beard:
Instagram – http://instagram.com/@brawbeardoils
Facebook – http://facebook.com/brawbeardoils/
Twitter – http://twitter.com/@brawbeardoil
Subscribe to the Braw Beard Youtube channel for more videos. https://www.youtube.com/brawbeard
Catch up on the Braw Cast podcast HERE
Youtube – HERE
Spotify – HERE
Apple Podcasts – HERE
Google Podcasts – HERE