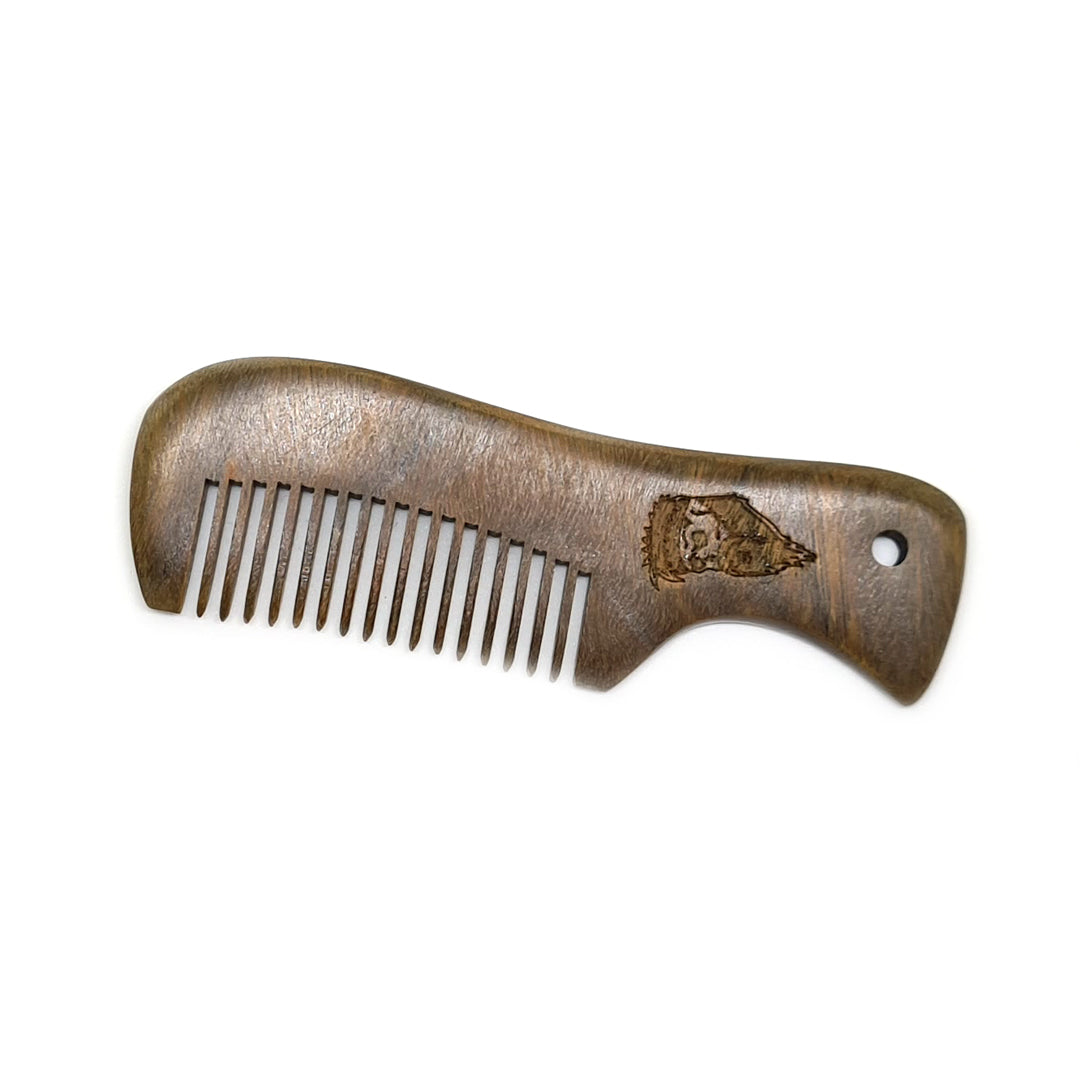 Get Improved Results From Wooden Beard Combs Now
There are so many beard combs on the market now with lots of different material to choose from. We've seen plastic, wood, aluminium, carbon fibre, steel etc. Is there a difference in performance? Yes. At Braw Beard, we prefer a wooden beard comb and I'll explain the reasons.
Plastic and some metal combs are often made in moulds, which can leave a ragged edge on the finished product if not checked properly. This rough edge can slice your facial, either damaging the strand or simply cutting it short so we steer away from those options.
We have 2 wooden beard comb options
A combs purpose is to detangle hair but there a few small features that you need to consider in a beard comb. Beard hair is generally curlier and more coarse than head hair, so a fine toothed comb will snag and tug the hair. Done too aggressively, this may pluck hair! Not ideal.
With this in mind, we chose to go with a wide tooth option for our wooden beard comb. Plus, the rounded teeth allow the comb to glide through the hair, detangling easily without damaging it. We've seen cheap combs with square edges, again like the mould line, this can damage the hair shaft.
The Braw Beard comb is made from sandalwood which is light but very robust, it smells great too. Additionally, the comb is wedge shaped for comfort and is pocket sized so it's easily carried with you if needed. It combs with a protective pouch too.
What our customers say:
"Having used any generic comb before I didn't think I was doing any harm to my beard. Now using the Braw Beard comb as advised it's great and it's handy I can just fire it in my pocket." - Martin R.
"Wide teeth and keeps my beard in tip top shape. Excellent product." - Gary C.
"The comb is very well designed with no jagged edges. It is perfect for long beards." - Robert C.
The Braw moustache comb is small at 75mm x 25mm and has narrow teeth spacing designed to tackle moustache hair. It works great on short beards too.
Due to your top lip being a relatively small surface area, the Braw Beard comb won't work effectively there. This is where the moustache comb comes in.
Moustache hair is generally straight in comparison to beard hair so narrow teeth spacing works well on the moustache. The small size of the comb allows easy access to your top lip under your nose. Plus, the handle on the comb helps for manoeuvring too.
Like the beard comb, the teeth on the moustache comb are slightly rounded to avoid damaging the hair when combing. Also, we added a curved profile to the teeth ends to add comfort when combing your top lip.
On the handle is a 3mm hole which can be used to attached to a keyring if required, although the comb is actually small enough to fit in your wallet for safety. It is made from sandalwood too and is very sturdy.
These are our comb options, I hope this article helped explain the features of the Braw wooden beard combs.
The beard comb is available HERE
The moustache comb is available HERE
Thank you for reading.
JJ
Join the #Brawtherhood
P.S. Use code – brawblog – at www.brawbeard.com for 10% off
Follow Braw Beard:
Instagram – http://instagram.com/@brawbeardoils
Facebook – http://facebook.com/brawbeardoils/
Twitter – http://twitter.com/@brawbeardoil
Subscribe to the Braw Beard Youtube channel for more videos. https://www.youtube.com/brawbeard
Scottish beard care.
Born in Scotland, enjoyed Worldwide.