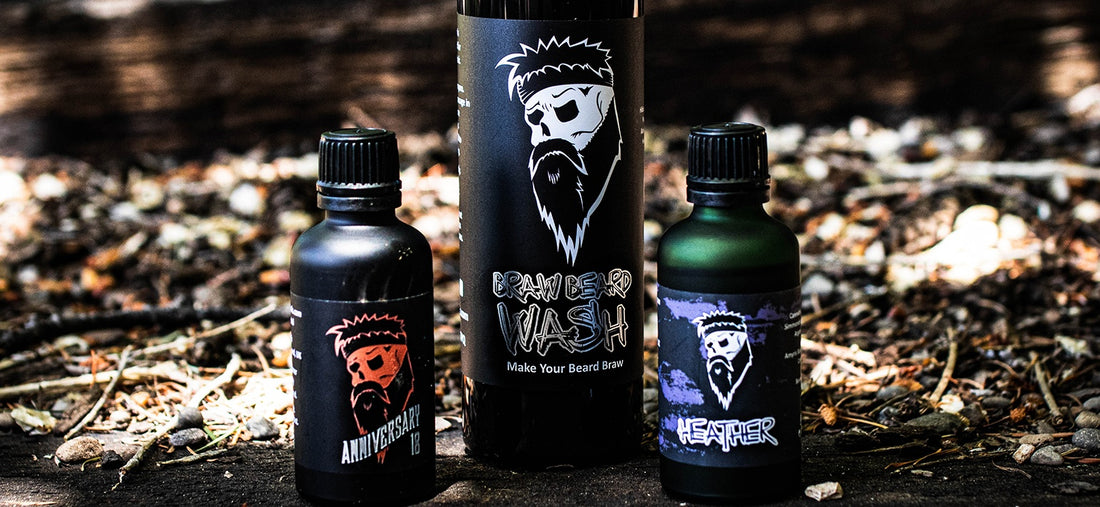 Beard Oil And Shampoo. The 2 Essentials Broken Down.
There are so many products on the beard care market now, it can be very confusing trying to figure out what you need. Beard oil, beard wash (shampoo), conditioners, butters, balms, waxes, creams etc etc. But if I were to recommend just two products to get started with, it would be beard oil and shampoo.
A good beard oil like Braw Beard oil is a natural leave-in conditioner anyway so that rules out the need for a wash out conditioner. We don't sell a conditioner because our beard oil does that job.
Braw Beard wash is a shampoo that has been made to deep clean your facial hair.
I'll explain more below.
Beard Oil And Shampoo.
Braw Beard Wash
During the process of creating Braw Beard Wash, we wanted to add aloe vera. Aloe vera has been known to have skin repairing qualities, which can help reduce dandruff. It can also promote hair growth and make it smooth and shiny. It is also very soothing on irritated skin.
Also included is coco glucoside, this is natural and biodegradable, obtained from coconuts. It is a natural conditioner and surfactant which lathers up without the need for chemicals which are often found in high street shampoos.
Organic hibiscus flower extract is added too for its moisturising and deep conditioning benefits. It is rich in amino acids and vitamin C which may combat hair loss.
Sodium coco-sulfate is made from the fatty acids of a coconut. It does a great job of breaking down dirt and grease to leave an extremely clean beard.
We chose to keep it unscented because we didn't want a fragrance that would interfere with your favourite Braw Beard oil scent. Rather than buying 10+ shampoos to match individual oils, we'd rather you bought one.
What our customers say about Braw Beard Wash;
"Nice and natural, leaves my skin underneath so much better than everything else I've tried" - Andrew B.
"My first venture into the Brawtherhood - The brand was very appealing overall however the proof is in the product of course - it arrived quickly, a good quality bonny presentation - however the product itself has been a welcomed surprise and although I suspected it would be good it exceeded my expectation and I've since ordered another Braw Beard product and will keep an eye out for others as my existing products are used up. Highly recommend this particular beard wash, doesn't leave greasy hair, lathers up really well (despite the description saying otherwise) and I feel gives a good wash" - Ross M.
"Braw stuff, buy it, use it and buy more." - Gordie F.
"Great Beard wash, I switched recently to this as my other wash was leaving my beard feeling dry and like straw. This beard wash leaves my beard feeling smooth and clean." - Dean A.
Braw Beard oil
Braw Beard oil is an all natural facial hair conditioner designed to moisturise the skin beneath your beard. The ingredients also leave your beard feeling super soft and smelling great! The moisturising properties of the oil help reduce dry skin, itchiness and irritation. The beard itch is one of the main reasons people shave it off. Using a good beard oil will help soothe that.
To read more about Braw Beard oil in depth, THIS ARTICLE will help.
What our customers say;
"Good texture and feel. The fragrance is different from most other oils in the best possible way. Some oil fragrances can feel really artificial and contrived, but this one feels very natural - really nice to see. No complaints whatsoever, and will definitely be buying again." - Stewart J.
"Loved using the Braw Beard oil. It's been good for my skin, my beard is feeling softer and fuller. Additional benefit is my wife likes the smell! Follow up order placed, thanks!" - Gregor S.
"Very positive. Hemp seed makes the perfect carrier. I have Parkinson's, and one of the symptoms is seborrheic dermatitis. A good oil like this is an essential weapon in the fight to maintain tip-top beard health, and to keep the condition at bay. My face thanks you!" - Martin B.
"Getting Started at age 58. Had a short beard for 30 years when I was younger and never used anything. Nowadays hair is a grey and a good bit dryer. A great product with a very pleasing scent. Easy to use and great for the skin too. I will be back for more. Got it under control. Cheers." - Cummings R.
In conclusion
As you can see from the few testimonials above, Braw Beard Wash and Braw Beard oil are the perfect combo to look after your facial hair. We do sell other products which are very useful but if you are just getting started and looking for the essentials, all you need is Braw Beard oil and shampoo. There are 800+ reviews at www.brawbeardoils.com if you would like to read more before buying.
I hope this article has helped?
Thank you for reading
JJ
Join the #Brawtherhood
Scottish beard care.
Born in Scotland, enjoyed Worldwide.
P.S. Use code – brawblog – at www.brawbeard.com for 10% off
Follow Braw Beard:
Instagram – http://instagram.com/@brawbeardoils
Facebook – http://facebook.com/brawbeardoils/
Twitter – http://twitter.com/@brawbeardoil
Subscribe to the Braw Beard Youtube channel for more videos. https://www.youtube.com/brawbeard
Catch up on the Braw Cast podcast HERE
Youtube – HERE
Spotify – HERE
Apple Podcasts – HERE
Google Podcasts – HERE