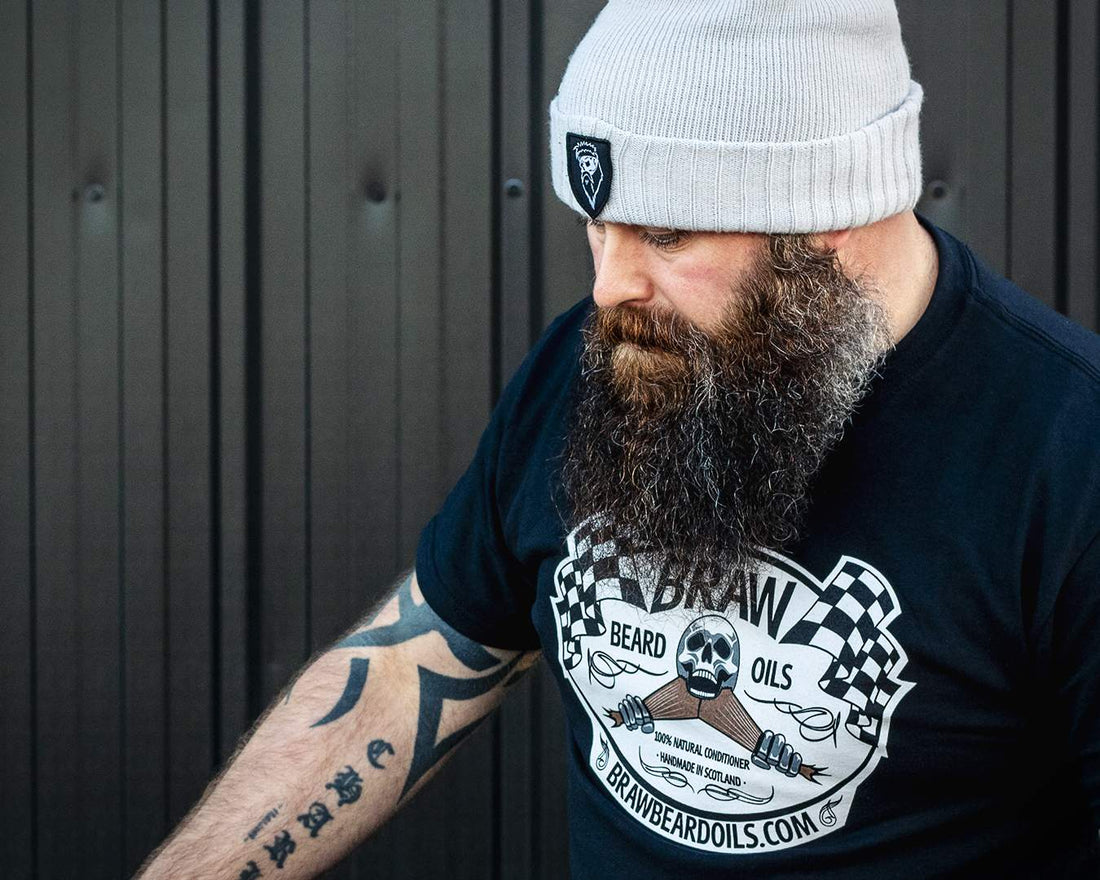 Beard Shampoo vs Regular Shampoo
Beard shampoo vs regular shampoo? Is beard shampoo really a thing? Is there a difference? Yup. Let me explain why we created our beard shampoo, Braw Beard Wash. Have you ever used your partner's shampoo on your beard? Besides getting a slap for using their expensive shampoo on anywhere other than your head (personal experience), it's probably full of chemicals which can cause issues for your beard. Yeah, your beard probably feels cleaner and a little nicer than before you stepped in the shower, but there are better alternatives.
Why not regular shampoo?
Shampoo bought from high street supermarkets contain chemicals to lengthen shelf life. They are often made with alcohol and silicones which can dry the hair out, making it brittle which can lead to damage and hair breakages. Now that beard care is becoming so popular, some brands are producing chemical filled beard products, so be careful when choosing. When we used regular shampoo on our beards here at Braw HQ, we did start to notice dandruff and the hair feeling brittle. Head hair is finer, so these issues may not be so obvious on your head.
Things to look out for...
Alcohol based products, alcohol dries out the moisture from hair and skin. This happens when you use alcohol based shampoos, but people get caught in the trap of using more to combat the dryness, not realising the damage done. You know the hungover feeling after absorbing copious amounts of alcohol hours earlier, now imagine how your hair is feeling after being doused in the shit, not ideal for growing glorious locks is it?
Silicone based products, it can create the illusion of healthy, smooth feeling hair. But actually what it does is coat the hair and stops any nutrients from your Braw Beard oil penetrating and nourishing the hair shaft. If you suffocate the hair, it will get damaged and break, or fall out.
Really cheap shampoo. I know, shampoo shouldn't be expensive right? But, if it's cheap, it is probably mass-produced, rammed full of chemicals to keep a long shelf life and will most definitely not be good for your hair. Cheap shampoos have been known to strip colour and natural oils from your hair. Avoid them.
How to pick the best beard shampoo
When choosing a
beard shampoo
, try to find a natural one. Not one that contains the nastiness mentioned above. During the process of creating Braw Beard Wash, we wanted to add aloe vera. Aloe vera has been to known to have skin repairing qualities, which can help reduce dandruff. It can also promote hair growth and make it smooth and shiny, (better than silicone's attempts right?). Also included is decyl glucoside, this is natural and biodegradable, obtained from 100% renewable raw materials such as corn and coconuts. It retains moisture in the hair and skin and is also known for reducing dandruff (better than alcohol based shampoo, right?).
Braw Beard Wash is unscented. The reason for this is so that you can use any Braw Beard oil to scent afterwards. We have customers who prefer no fragrance at all, we also have customers who have a large collection of Braw Beard oils. Why would you want to have a shelf full of different scented shampoos to suit each oil? So we made it unscented for full flexibility.
Choose an organic beard shampoo
Organic beard shampoo actually benefits your hair and scalp, it can enrich and infuse skin cells and hair follicles with natural oils, vitamins and minerals, resulting in soft and glossy hair. It may facilitate your body's production of oil from the glands and follicles – this oil makes your hair thicker and shiny in appearance. Unlike silicone or alcohol based products it infuses quicker with hair and scalp, and actually provides nutrients. You see where I am going with this? There are better alternatives for your beard than regular shampoo. To pick the best beard shampoo, look no further than Braw Beard Wash.

Fred Durst took Braw Beard Wash on tour with Limp Bizkit to maintain appearance.
In the shower/bath, dispense 1 or 2 pumps into you hand, apply to your wet beard and massage in for around 30 seconds. Braw Beard Wash will not lather up as much as conventional shampoos due to the lack of chemicals to do so. But depending whether you are in a soft water or hard water area, (lather) results may vary. Make sure you wash all of the shampoo residue out of your beard. Once you have gently towel dried it afterwards, apply your favourite Braw Beard oil to condition for the rest of the day and enjoy.
What do our customers say about it?
"I never really bothered with a beard wash, I was always one of those people that would use their Mrs shampoo and conditioner and didn't see the benefit of actually using a beard wash. How wrong was I? After watching numerous YouTube videos on beard care, I decided to purchase Braw's beard wash. Now, 3 bottles in, a soft beard, instant improvements from the day I started using it. I use mine about 3-4 times a week. Anyone growing a beard that isn't using a beard wash, my advice would be, get one! My beards now in the best condition it's ever been in. The best thing for me is, it's got no scent. So I get maximum smell from my beard oil".
- Jason Jones
"I decided to try this beard wash for a while before reviewing, and what a product! From the first wash, like many other reviewers, it soothes itchy skin, makes the beard look full and creates a great foundation for oils and butters. I can't find a fault, apart from the packaging...but that's just personal taste. Buy some...for you, your mates, anyone who's growing a beard!!!"
- Jenksruss
"Having tried a variety of different beard wash products over the past few years, this by far outshines any others, softens the bears and is gentle on the skin, I found that it helped my with dry skin problems. I would highly recommend this Beard Wash. I use daily and my bead remains soft throughout the day, used in combination with Braw Beard Oil to get the best results."
- Kevin Allan
If you would like to try Braw Beard Wash, you can grab a bottle HERE Thanks for reading, I hope this has helped.
JJ
Join the #Brawtherhood
P.S. Use code – brawblog – at www.brawbeard.com for 10% off
Follow Braw Beard:
Instagram – http://instagram.com/@brawbeardoils
Facebook – http://facebook.com/brawbeardoils/
Twitter – http://twitter.com/@brawbeardoil
Subscribe to the Braw Beard Youtube channel for more videos. https://www.youtube.com/brawbeard
Catch up on the Braw Cast podcast HERE
Youtube – HERE
Spotify – HERE
Apple Podcasts – HERE
Google Podcasts – HERE