Regular price
Sale price
$35.00 USD
Unit price
per
Sale
Sold out
Drenched in the rich tapestry of history, Grand Eckson 1918 is more than just an exquisite blend; it is a homage to a hero. A tribute to Alex (Eck) Jackson, a dauntless soldier who bore the scars of World War II, from the first gunshot to the last echo of battle. A survivor of the harrowing Monte Cassino, a liberator of Narni, and above all, a doting family man until his last breath in 2014. His memory, his spirit, and his undying legacy are captured in this bottle - a tribute from a grandson to his formidable grandfather.
A Legacy Etched in Every Ingredient:
Cypress: Emblematic of endurance, its smoky and spicy notes echo the tenacity and resilience of a wartime spirit.

Ylang Ylang: Delicate yet intense, much like the paradox of a soldier's heart, it captures the essence of love, sacrifice, and passion.

Patchouli & Ginger: A dance between earthy masculinity and spicy vigour, painting a vivid picture of the landscape of war and peace.
The Grand Oath:
Purity in Blend: Unadulterated, 100% natural oils combine to craft an elixir worthy of its namesake.

Armoured against Grease: Every application assures a shine without the grease, reflecting the polish of a true gentleman.

The Scottish Touch: Each drop is crafted with love and care in Scotland.
Infused with an intricate blend of cypress, ylang ylang, patchouli, and ginger, The Grand Eckson 1918 promises to enrich your beard from root to tip, ensuring it's as storied and majestic as the legend it's named after. Ward off itching and keep dandruff at bay, ensuring your beard tells a tale of allure and charm.
In our 50ml bottle, let the legacy of Grand Eckson shine through for 3-6 months, depending on the grandeur of your beard. Let the spirit of history, valour, and devotion be with you every day, with every drop of Grand Eckson 1918.
Ingredients: Cannabis sativa seed (Hempseed) oil, Argania spinosa kernel (Argan) oil (Argan) Simmondsia chinensis seed (Jojoba) oil, Tocopherol (Vitamin E), Cupressus Sempervirens (Cypress), Cananga Odorata (Ylang Ylang), Zingiber Officinale (Ginger), Pogostemon Cablin (Patchouli), Limonene*, Linalool*, Benzyl benzoate*, Benzyl salicylate*, Geraniol*, Farnesol*.
*(naturally present in the essential oils)
Shipping & Returns

Free Royal Mail shipping on UK orders over £50 & fast international shipping with DHL.

14 days return if you aren't satisfied. See T&Cs
Share
View full details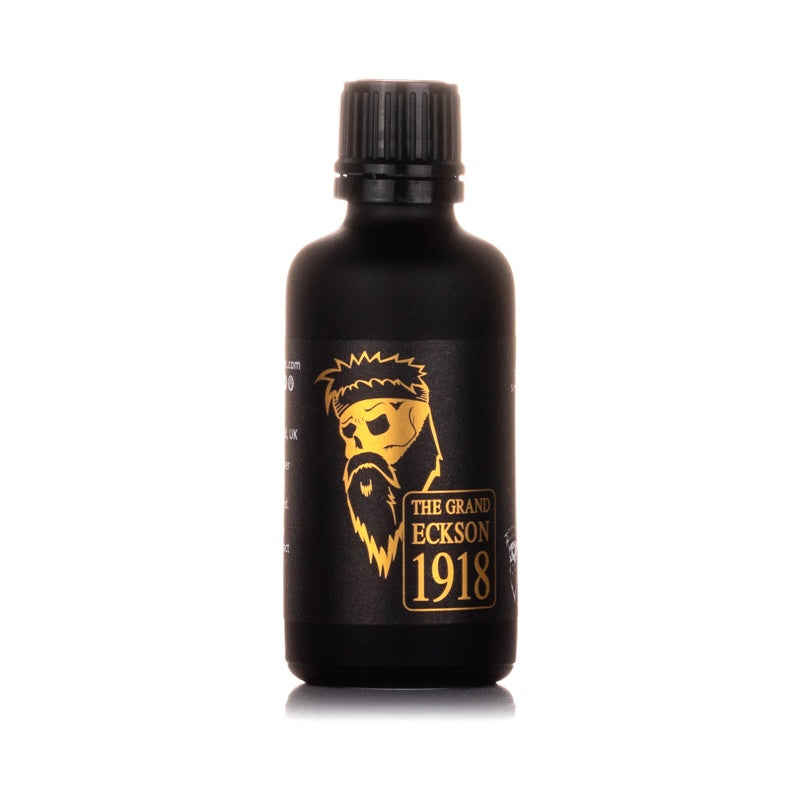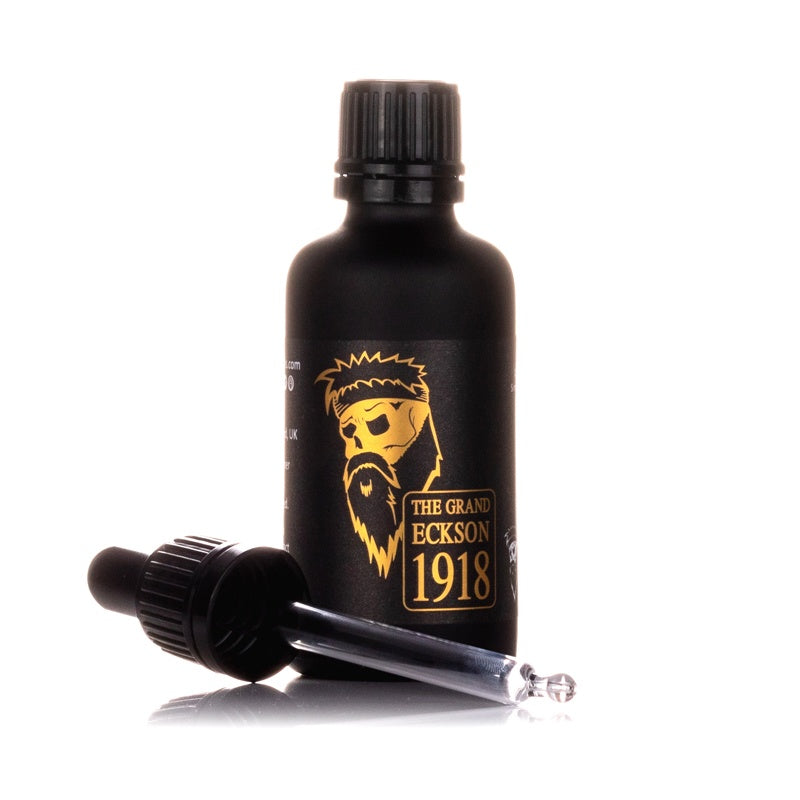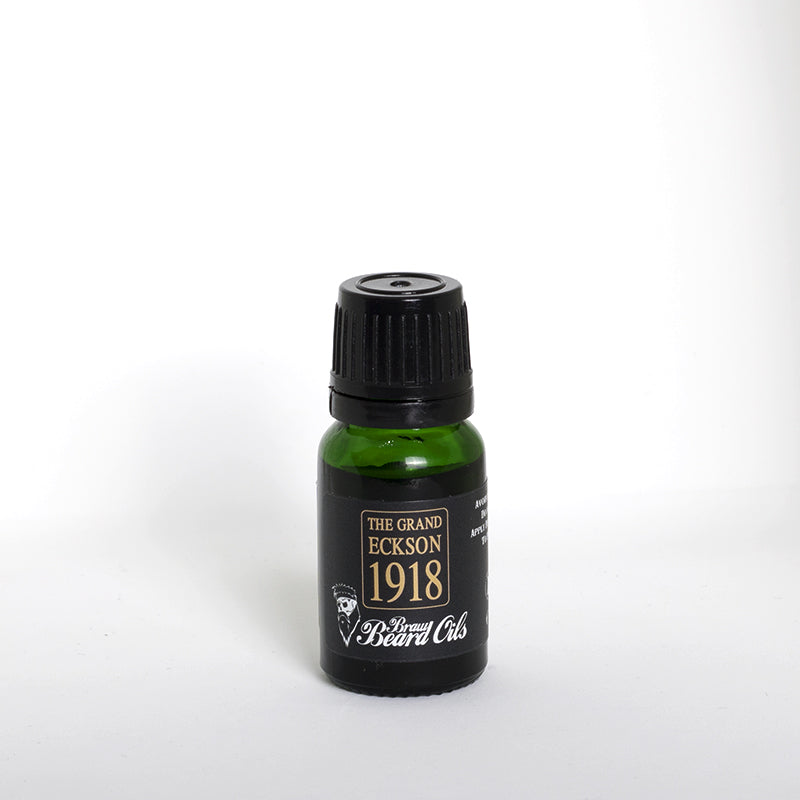 Grand Eckson
Grand Eckson is the best and only beard oil I use!
Great smelling oil
Nicely packaged,easy to use ,easy to apply and smells great as well,I feel it does soften by beard as well,I wear my beard short ,have purchased this one before grand eckson
This is incredible man!!!!!!!!
New customer from France ;) not a fake review, I am not affiliated. I will give you my opinion regarding Brawbeard products my rating: 10/10. I bought The Jarls Northman and The Grand Eckson oil, the wash, the brush and the pocket wood comb. 1) The jarls northman oil: Just WOW!!!!!!!! what an experience. A very very pleasant scent of forest, yes it is the smell of a forest, it's very pleasant, the beard is super soft really it's sincere, it smells so good, the oil doesn't leave your hands greasy. This oil is impressive really. Same thing for The Grand Eckson Oil. 2) Brush and braw pockets wood comb: Once again it's a wow!!! I know that's may sound a bit exaggerating but it's my opinion, I had the artius man wood comb, fibercarbon chicago comb (Horrible for me), for years, it was good the artius man comb but it pulled my beard too much and at the same time The result is not at all pleasant. And with Brawbeard Pocket Comb, no more pulling of hair, no more tearing out, it slides into my beard which is nevertheless hard to comb in general but this one is the perfect one. Same thing for the brush. The format of the comb and brush are really ideal. 3) Brawbeard Wash: , I have tried several in my beard (Octane, Johnnie ray, beardbrand, beardedchap, scotch porter, and so on, also i've tried different wash from france also which i think is the worst products there for us bearded. ) they are very generally speaking good products, i mean seriously they are (octane, johnnie ray, beardedchap) but but Brawbeard is a unique experience in my opinion and which I personally prefer than the others. My beard thanks you John. ;) Ps: In France it's a little hot with taxes but really, your products are so excellent I can only be satisfied.
Best Beard Oil Ever
Have been using for just under a week, beard feels and smells amazing! Have already placed an order for a few different bottles. 5 stars all day long. 👍Thanks JJ
The Grand
Another awesome beard oil from JJ, smells great and feel in beard is second to none.