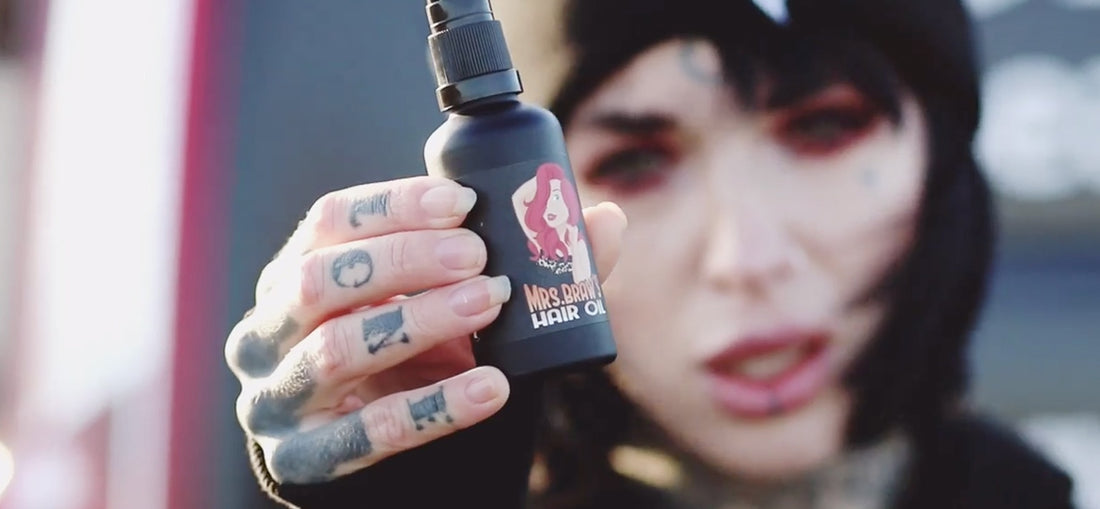 How To Make Beard Oil Effective On Head Hair
We're often asked can beard oil be used on hair? It seems obvious but I can understand why because head hair is different in texture and thickness than beard hair.
In fact, before Braw Beard was a company, I was making hair oil for my wife after studying sports massage therapy. Part of the course was to make massage oils which left me with excess oils to play with. She was using expensive hair oil at the time so I decided to make her some natural hair oil. I had facial hair so I began to use it on my beard which worked, but tweaked the recipe ratios slightly to suit the beard hair and Braw Beard oils was born.
Using beard oil on hair?
Yes, many of our customers use Braw Beard oil on their hair. Any extra oil on the hands from beard application gets run through their head hair (or skin if they're like me and have no head hair). Throughout the Braw Beard journey, many women have become fans of using Braw Beard oil in their hair too. So much so that we released the Mrs Braw's Hair Oil range in 3 versions, Lover, Heather and Anniversary18 scents. Mrs Braw's Hair Oil uses the same ingredients, just the ratios are slightly tweaked to suit thinner hair.
Base ingredients
Hempseed oil – contains omega 3, 6 and 9 fatty acids which may stimulate hair growth. The oil promotes blood circulation on the scalp too, which the hair easily absorbs. This may strengthen the hair, reducing breakages.
Jojoba oil – it's an oil which is from the seeds of the jojoba plant. It is rich in vitamins and minerals too. This oil is great as a moisturiser which is good for the scalp to reduce dandruff, itchiness and irritation.
Vitamin E – the antioxidants in vitamin E oil may repair damaged hair follicles and hair shafts. It is a deep moisturiser for your hair and skin which therefore reduces dry skin and irritation. Vitamin E oil may protect your hair from the elements too.
Argan oil (not in Grafter, Lover or Wulver) – is produced from the kernel in the argan tree. Known as liquid gold, argan oil helps repair damaged hair and split ends. It is a great leave-in conditioner (which our beard oil is anyway) which can help reduce irritation, inflammation, sores and itchiness in the skin below under your facial hair.
In addition, the fragrances are from essential oils which come from plants too. More details on these can be found HERE.
Mrs Braw's Hair Oil
Mrs Braw's hair oil is a blend of lightweight oils and essences. Whether you use this as an everyday product, add the glimmer you need to rule the world or freshen up after a day on the trails, gym or in the elements, this will become your must-have product. You'll wonder how you ever managed without it.
Uses
On towel-dried before blowdrying and heat-styling to protect
As a conditioning treatment in the bath or shower
A styling product to nourish and smooth hair
Use as a serum to provide luminous shine and defrizz hair
Use as a refresher to quickly restyle hair later in the day if needed.
Benefits:
Hair has an awesome shine
Is silky smooth and frizz-free
Great condition feel and soft
May protect from heat-styling and the elements
Hair will smell amazing!
Pump cap for dispensing ease
Available in 3 of Braw Beard's signature scents as chosen by our customers.
Firstly, Anniversary18 – scented with orange (zesty, tangy, citrus) & juniper (woody, fresh, crisp).
Secondly, Heather – scented with ylang ylang (sweet, floral) & sandalwood (musk, wood).
Thirdly and most popular, Lover – scented with lavender (floral, fresh) & rose geranium (rose, citrus).
If you would like to try Mrs Braw's Hair oil, it is available HERE
In conclusion, Braw Beard oil can be used on head hair with great results but if you don't have a beard and are looking for a hair oil, the Mrs Braw's range may be the best option.
Thank you for reading
JJ
Join the #Brawtherhood
Scottish beard care.
Born in Scotland, enjoyed Worldwide.
P.S. Use code – brawblog – at www.brawbeard.com for 10% off
Follow Braw Beard:
Instagram – http://instagram.com/@brawbeardoils
Facebook – http://facebook.com/brawbeardoils/
Twitter – http://twitter.com/@brawbeardoil
Subscribe to the Braw Beard Youtube channel for more videos. https://www.youtube.com/brawbeard
Catch up on the Braw Cast podcast HERE