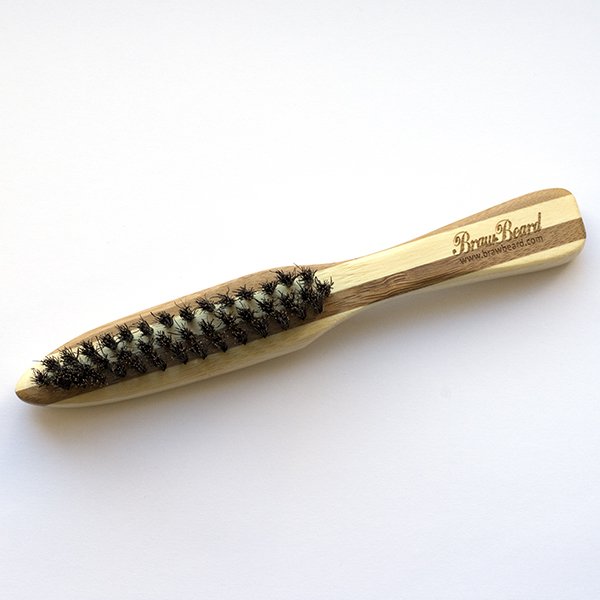 How To Clean Your Beard Brush
Hey, it's JJ here. I've had a few questions recently, about how to clean your beard brush.
After a few days of use, you will notice a small buildup of loose beard hairs. If you are worried about losing a lot of beard hair, check out THIS ARTICLE
Cleaning your beard brush is a quick and straight forward process.
Clean your beard brush - quick method.
If you take the Braw moustache comb (CLICK HERE TO GET ONE) and run it through the bristles like below. The teeth spacing is perfect for catching the excess hairs that are caught in the bristles.
Run it through a few times and you'll notice all the hair comes out and is attached to the comb. This is the quickest way to clean your beard brush by removing loose hairs.
Cleaning with Braw Beard Wash.
Then if you feel that there is excess oil or butter on the bristles, remove this by using Braw Beard Wash, our beard shampoo.
Squeeze out a small amount on to your finger and then run it over the bristles.
For instance, lightly run your finger over the top of the bristles first to distribute it. Then massage the Braw Beard Wash into the bristles.
After that, run it under the tap. Warm water is perfect. Be sure to concentrate on the bristles and not soak the wood.
Finally stand the brush up like in the photo to let the water run off the bristles away from the wood.
I hope this has helped explain how to clean your beard brush easily.
Thank you for reading.
JJ
Join the #Brawtherhood
Scottish beard care.
Born in Scotland, enjoyed Worldwide.
P.S. Use code – brawblog – at www.brawbeard.com for 10% off
Follow Braw Beard:
Instagram – http://instagram.com/@brawbeardoils
Facebook – http://facebook.com/brawbeardoils/
Twitter – http://twitter.com/@brawbeardoil
Subscribe to the Braw Beard Youtube channel for more videos. https://www.youtube.com/brawbeard
Catch up on the Braw Cast podcast HERE
Youtube – HERE
Spotify – HERE
Apple Podcasts – HERE
Google Podcasts – HERE