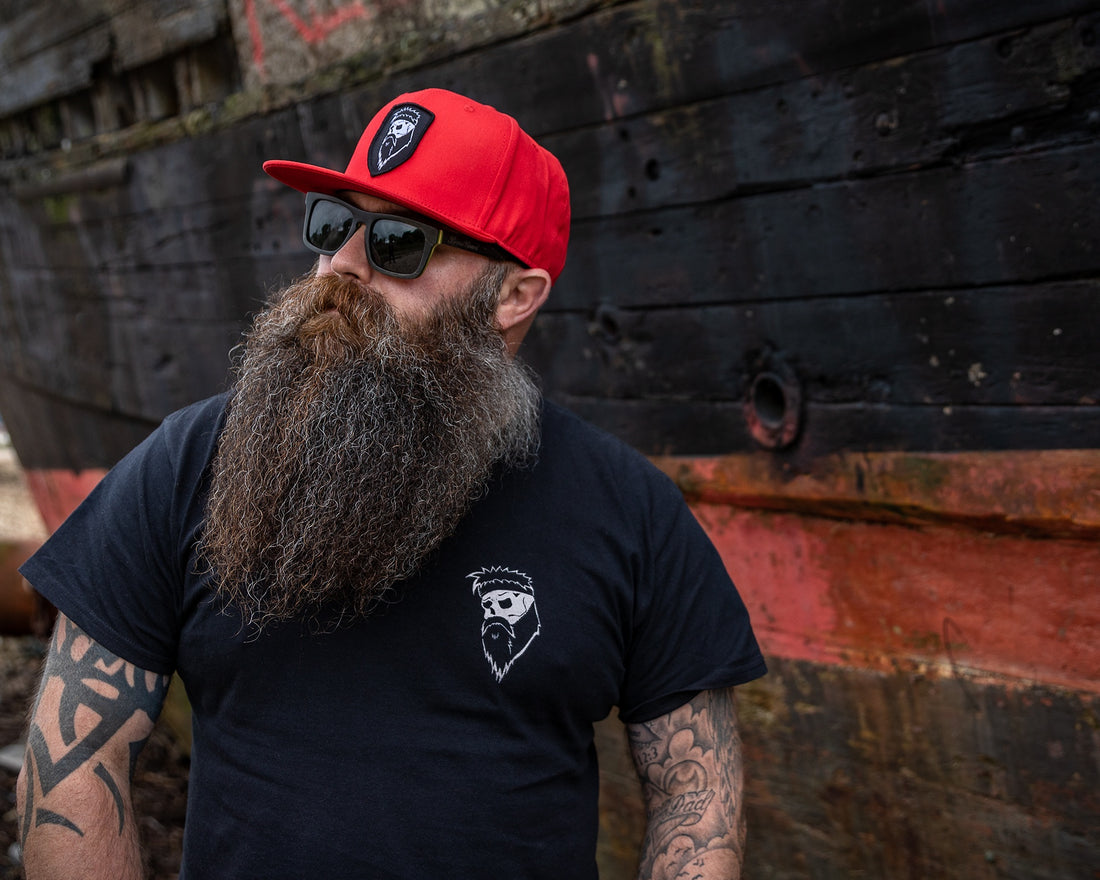 Hot Under The Collar? 5 Tips To Avoid Trimming.
The hot weather has arrived!! But for some of us, it does mean dealing with the occasional sweaty beard. It can be annoying but let me share with you a few tips that may help for comfort.
When the hot weather arrives, some people decide to trim their beard shorter. This can go both ways, for some, it is ideal but for others, there is instant regret.
Beards don't just grow... ok they do, but they also take some maintenance to look their best and the majority of beardies take great pride in their mane. So, to have to trim it back in the summer is usually the last resort.
Let me offer some tips to help ease the sweaty beard WITHOUT trimming:
1. Low neck clothing
I know it sounds simple, but you'd be surprised how many people don't think about it. Under the jawline is where people suffer the most with a sweaty beard, right in the area where a shirt or polo shirt collar will sit. This invasion of space just adds to the heat and discomfort, if you can, wear a regular t-shirt of low collar option to allow the neck to breath. Also, with the need to wear face coverings at the moment, some people keep their snoods around their necks when they are not in use. This builds up heat and sweat around your beard, twist the snood in a figure of 8, double it up and wear it on your wrist instead.
2. Wash
Keep you beard clean in the warm weather. Again, it sounds obvious but some people are set in their ways of only washing their beard every 3-7 days. As sweat builds up in there, you really want to be washing your beard daily with Braw Beard Wash to keep it fresh. Excess buildup of sweat can lead to discomfort, irritation and smell. If you have been sweating under your beard during the day, wash it in the evening before going to bed.
3. Brush
Brushing your beard will help the situation too. For a similar reason as above, the lack of washing in hot conditions may lead to dirt and grime building up on the skin's surface. This can block pores, leading to spots, itchiness and irritation. Brushing daily will help keep the pores clear on the surface because the bristles act as an exfoliator on the skin. Our tip is to brush towards the jawline, so from the neck/collar up and out towards the jawline, then the cheeks downwards to the jawline.
4. No butter or balm on the underside
When it comes to volume in the beard, we normally recommend using beard butter/balm all over the facial hair for full coverage. However, in warm, muggy conditions, we have a different suggestion. If you suffer beard sweat under the jaw, consider using your butter/balm on the outside of your beard only to tame the wispy hairs and maintain shape. Due to butter/balm being heavier and thicker than beard oil, it may add to the discomfort under the beard along with sweat.
5. Hydration
Are you drinking plenty of water throughout the day? Although the amount of water needed to function properly varies for everyone, the NHS recommend drinking 1.2 litres per day. For those in warmer climates or exercising, more is required. Drinking plenty of water will flush out toxins which helps your body run smoothly, every cell, organ and tissue requires water to operate properly. Your hair follicles need hydration for optimal performance, dehydration will stall hair growth. Often if you are dehydrated you will feel lethargic and your skin feels irritated, this may lead to you itching and damaging the hair.
If you're like us and have beards all year round, you will face a sweaty beard now and again but we get on with it. The beard means too much to trim it back. I hope these little tips have helped you. There's nothing groundbreaking there but those are points that are often overlooked.
Thank you for reading
JJ
Join the #Brawtherhood
Scottish beard care.
Born in Scotland, enjoyed Worldwide.
P.S. Use code – brawblog – at www.brawbeard.com for 10% off
Follow Braw Beard:
Instagram – http://instagram.com/@brawbeardoils
Facebook – http://facebook.com/brawbeardoils/
Twitter – http://twitter.com/@brawbeardoil
Subscribe to the Braw Beard Youtube channel for more videos. https://www.youtube.com/brawbeard
Catch up on the Braw Cast podcast HERE
Youtube – HERE
Spotify – HERE
Apple Podcasts – HERE
Google Podcasts – HERE