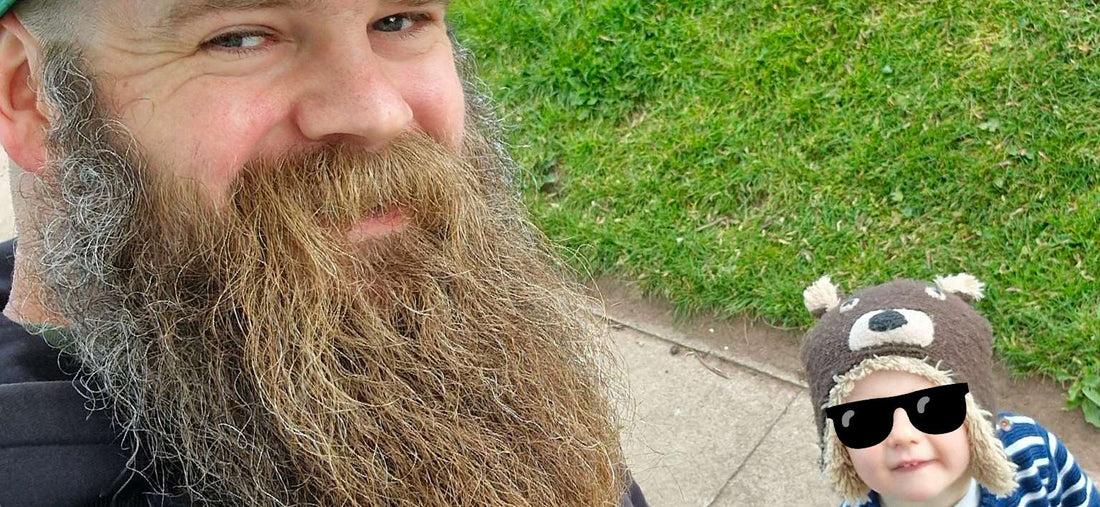 Swimming With A Beard. Advice You Need To Know.
Like most people, I bet you enjoy some time in the pool. Whether it is bobbing around, trying to beat the fastest time on the slide, playing with your kids or simply swimming with a beard, it's great fun! However, the chemicals used to keep the pool clean and sanitised may damage your beard if are not careful.
There is a simple and effective way to make sure your beard is in great condition by the time you leave the premises.
Every week I go to the pool with my son. We splash around, I get dunked and my beard gets drenched in pool water. My facial hair always feels great afterwards because of the preparation and aftercare. The steps are shared below.
Why would a swimming pool damage my beard?
The chlorine and bromine which are added to keep it clean are known to dry out skin and hair. The chemicals strip the natural oils and leave the hair damaged, brittle and leave it feeling uncomfortable.
How to look after your beard to enjoy swimming.
You go swimming to have fun and relax. The last thing you want to be doing is thinking if you are damaging your beard. Here is the method I use every week to ensure my beard is in prime condition as always.
Pre-pool preparation
Take a shower, this is encouraged by every pool premises before entering the water anyway. Stay hygienic people! I keep a towel handy (incase Danny gets cold and needs wrapped). I use this towel to dry my beard after showering and then apply a little Braw Beard oil. Only a little amount is used to act as a barrier against the chlorine. The small amount of oil does not leave excess residue that will wash off in the pool. On a normal day, the excess will soak in gradually doing it's job as a leave-in conditioner.
Post-pool aftercare
Get in the shower as soon as possible to wash your beard with Braw Beard Wash. The ingredients are chosen to clean effectively. I wash my beard thoroughly to remove any trace of chemicals. Any chlorine or bromine left my discolour or damage the hair shaft over time.
Once my beard is dry, I apply my normal amount of Braw Beard oil and brush the hair to evenly distribute it through the hair. This ensures the beard oil's maximum effect.
I use Battle Scar Skin and Stubble Moisturiser on my face afterwards because if I don't, my skin feels really dry later in the day.
One last tip
If you are playing with your kid at the pool and you have a long beard, tie it down. I'm talking from experience on this one too. Trying to launch a child while their toes catch some beard hair on take-off stings.
I hoped this has helped you keep your beard in top condition while enjoying the swimming pool. Have fun!
Thank you for reading.
JJ
Join the #Brawtherhood
Scottish beard care.
Born in Scotland, enjoyed Worldwide.
P.S. Use code – brawblog – at www.brawbeard.com for 10% off
Follow Braw Beard:
Instagram – http://instagram.com/@brawbeardoils
Facebook – http://facebook.com/brawbeardoils/
Twitter – http://twitter.com/@brawbeardoil
Subscribe to the Braw Beard Youtube channel for more videos. https://www.youtube.com/brawbeard
Catch up on the Braw Cast podcast HERE
Youtube – HERE
Spotify – HERE
Apple Podcasts – HERE
Google Podcasts – HERE