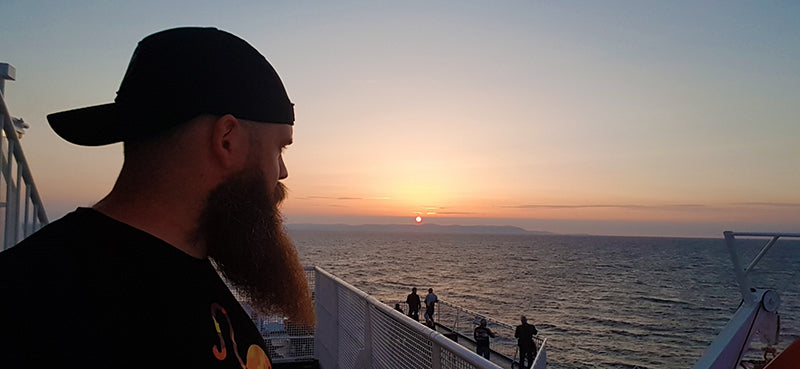 The Beard Life, A Lot Can Happen In 6 Years
First of, thank YOU for your support. If you have bought products, followed the pages, sent us photos, flipped the middle finger at the van or even if this is your first time at
www.brawbeard.com
, THANK YOU. I've always been part of the beard life style since I was 15/16 years old. Check out
THIS BLOG
for more details. I started Braw Beard Oils after breaking my back in a mountain bike accident in 2011. Recovery led to studying sports massage therapy, Tui na and acupuncture. I then began to make massage oils for use on the course, my wife was using hair oil so I made some for her. I had facial hair so I figured it would work on my beard too, it did but it wasn't great so I played with the recipe until I was happy with it. The 1st bottle of beard oil I was happy with would become the recipe now known as
Wulver
. This was made in my living room in October 2012, I never kept track of the exact date because I had absolutely no idea of the impact this bottle would have on my life, my beard life. The reason for this blog post is just to highlight what has happened since making that first bottle of Braw Beard oil. I'm not covering every show, photoshoot, interviews, new stockists or orders, I don't want to bore you. We have a worldwide following now but everyone joins at different stages of the journey so since it's our 6th birthday, I wanted to share the Braw Beard life story so far. From the beginning...
2011
9th July
-
The Crash
23rd July
These photos were taken 2 weeks after the back injury (cracked C7 & T1, and obviously before I made beard oil...). You see, I was training for a 6hr endurance race at Fort William World Cup track when the crash happened. I'd been training for around 12 months for this race and with 2 weeks to go, the doctor told me I can't race or get back on a bike for 6 months due to crushed vertebrae (wedge fractures). I had a race mentality at that point of my life, anyone who races will know what I mean. Nothing was stopping me, and I did race. I finished 31st out of 120! Very stupid in reflection, but it started this whole story. EDIT - On checking the results, I finished 18th out of 133!! The crash must've hit me harder than I thought haha.
August
Started recovery with Richard White (Dr Wu) in Musselburgh.
This was taken in 2017.
November
Signed up to Richard's courses to learn about the anatomy and recovery methods.
2012
July
Raced the 6hr endurance again, finished 11th out of 120
After months of trial and error with natural oils...
October
I made the 1st bottle of beard oil that I was happy with, that recipe became
Wulver
(it's been improved slightly since).
2013
In the months from October building up to June, I'd been giving bottles of Wulver beard oil to friends and family with facial hair. All of the feedback was very positive. I used £300 of my own money to buy ingredients and equipment. At some point, I moved the operation into a wee workshop which was the first BrawLab. I got all the safety assessments and insurance needed to start selling to the public, THAT was a nightmare because no-one knew what beard oil was! Insurance was mega expensive then because they thought it was going to burn folks faces off, it couldn't have been further from the truth but hey ho. Much easier now.
19th June
Launched the original www.brawbeardoils.com with the help of Colin Usher
31st August
Mrs Braw and I drove 7hrs to our first event with our products and set up a stand at Kustom Kulture in Spalding. We were laughed at by some people, the general public had never really heard of beard oil at this point. We made a few sales, not enough to cover costs but we made some friends (Kev Bambra, who still paints my bike helmets) and we had a blast.
29th September
Studio XIII Gallery in Edinburgh became Braw Beard's first stockist! They still stock Braw Beard care products and we can't thank them enough for taking us on.
24th October
Braw Beard Oils partnered with the Glasgow Beard and Moustache Club to produce their club beard oil, which we still do! £2 from every sale goes to Cahonas Scotland charity.
The concept of The Brawtherhood starts as fans of the brand send in photos by email. I added a gallery to the website to showcase The Brawtherhood
2nd November
We shot Braw Beard oils 1st video with Colin Usher, Liam and Stuart (in the mountain bike pic above). We shoot random videos for fun, check our
YouTube channel
although that video isn't on there...
11th December
I had my first newspaper interview . It was with the Edinburgh Evening News, word of this strange product was starting to spread.
At some point
Limp Bizkit's Fred Durst became a fan of the brand
2014
10th January
Second newspaper article, this time the East Lothian Courier.
25th January Dean Reilly becomes the first Braw Athlete.
2nd February
First met Matt Nickerson, who would become a Braw athlete in 2015.
8th February
I'll never forget the phone call. My mum passed away. At this point I was ready to give up on Braw Beard, my world was turned upside down.
15th February
Mum's funeral.
16th February
Limp Bizkit gig at the o2 Academy in Glasgow. Fred had invited Mrs Braw and I along to hang out and watch the show. After discussing with my family whether I should go or not, my dad convinced me of the opportunity and to go, I'm glad I did. That was a crazy emotional 24hrs. Saying goodbye to my mum, then watching Limp Bizkit live with their crew stage side while Fred wears a Braw Beard Flat Out t-shirt on stage! Fred never knew about my mum passing until I visited him in October, he said I seemed quiet at the Glasgow gig, then I told him why...
26th February
The Brotique (now Quarters) in Edinburgh became a stockist.
29th April
East Coast Inc in Sunderland become stockists.
8th June
World Champion mountain biker Brook Macdonald becomes a Braw Athlete
4th July
Fred Durst invited me down to Sonisphere to watch the Limp Bizkit show.
6th July
We shot the
WolverDean Reilly video
with Colin Usher at the Griphouse in Glasgow.
30th August
We return to Kustom Kulture in Spalding with a slightly better set up.
16th - 19th October
Flew out to LA to visit Fred for a few days.
17th November
Released the Grand Eckson 1918 beard oil named after my grandfather after he passed away.
29th November
Braw Beard had a product feature in a local magazine, which I didn't know about until reading the magazine in a cafe!
2015
1st January
The first day of the Braw Beard calendar featuring Braw athletes and fans of the brand. All profits went to the Anti-bullying alliance charity.
26th February
Braw Beard had a 2 page article in the Daily Record.
22nd March
We had a photoshoot with Kenzie Photography where I first met Teeniebash and Katie (still friends now and help out at some events).
21st May
Rock band, The King Lot become Braw Beard ambassadors.
22nd May
My sister (Heaven Floral Design) and I appear as a joint release of front covers on Welcome to East Lothian magazine
At some point here, Lee Johnston becomes a Braw athlete
6th - 7th June
Braw Beard's 1st appearance at Fort William World Cup as a trader with Mohair Barbers.
28th June
Brewdog invite Braw Beard to do a pop-up shop at the brewery in Ellon
17th July
Robert Whiteford becomes a Braw athlete and we go to watch him win at UFC Glasgow the next day.
7th August
We travel to TattooJam in Doncaster to set up the Braw Beard trade stand.
13th September
I went to watch the motorcycle racing at Scarborough and met Jamie Coward for the first time, who later became probably one of Braw's most iconic athletes.
24th October
We teamed up with The Brotique in Edinburgh to host our 3rd birthday party. The party was small and included Braw athletes, friends and family.
13th December
The Delivery video shoot
with Katie, Steven and Colin Usher.
2016
30th January
Tattoo Freeze event
21st February
The Braw Beard Experience became a service at Mohair Barbers and we
shot the video
explaining the treatment.
7th May
I am
interviewed by Eye Entrepreneur
and meet Chas for the 1st time who will later become one of Braw Beard's main camera guys.
14th May
A viking photoshoot with Sean, John and Chas. Footage from that shoot ended up in
Amon Amarth's Raise Your Horns video
- 1.47.
3rd June
Back up to Fort William World Cup with the Braw Beard Experience.
7th June
Appearance at The Ramsey Sprint in the Isle of Man to support Lee Johnston and Jamie Coward.
5th - 7th August
TattooJam in Doncaster again
11th - 14th August
Our 1st appearance at the Ulster GP with The Braw Beard Experience, Lee Johnston ends up wearing the Braw Beard hat on the BBC for an interview.
27th August
Mrs Braw and I get married after 12 years together.
At the start of September, Braw Beard sponsors the Edinburgh Capitals ice hockey team.
Kyle Flemington became a Braw Athlete, he didn't like his beard getting touched, we liked him.
1st October
We shot the
Viking video
with Sean, Kevin and Chas
15th October
Braw Beard was a main sponsor of the British Beard and Moustache Championship. We also hosted the Pre-Party the evening before the event. This is where we first met the Liverbeards and finally put plans in place to host the Braw Beard and Moustache Championships. This would become Scotland's 1st beard and moustache competition. Our annual party, but a much bigger scale than the previous one at the Brotique. We moved the party to February, the end of the year is a busy time in the Lab.
29th October
We took the Braw Beard Experience with Mohair to Manchester Tattoo Convention.
2nd November
I moved the BrawLab into new premises in Musselburgh.
12th November
The Scottish Design Exchange in Edinburgh became a stockist.
1st December
I met Jack Jester at Mohair Barbers and he becomes a Braw Athlete, with his own special label beard oil, Big Kink.
14th December
Limp Bizkit are playing with Korn at the Hydro in Glasgow, Fred invites us along.
29th December
Mrs Braw and I finally get time to go on Honeymoon, we went to Reykjavik in Iceland.....where I ended up getting a stockist haha.
2017
7th January
I upgraded the BrawVan to a Transit Custom, this is the BrawVan Mk3.
28th January
We head back down to the Tattoo Freeze event in Telford.
18th February
The 1st Braw Beard and Moustache Championships takes place at Drygate Brewery and sells out before the event even starts. We have competitors from all over the UK, Netherlands, Germany and Austria. Braw Beard also featured on the contents page of The Scotsman Magazine.
24th February
Myself, Tony Wright (judge) and Iain Walker (category winner) end up on live TV talking about the Braw Beard and Moustache Championships.
At some point, Jamie Coward becomes a Braw Athlete
5 - 6th March
Salon Expo trade show
11th March
Scottish Motorcycle Show with the Braw Beard Experience. Braw athletes Lewis Rollo and Jamie Coward make appearances.
9th May
I get interviewed on the
Red Room podcast with Keep Shotty TV
2nd June
Braw Athlete Jamie Coward gets interviewed on ITV's TT feature and wears his Braw Beard hat.
3th - 4th June
Back up to Fort William World Cup with the Braw Beard Experience.
9th - 13th August
This the first time we ran 2 shows at the same time with full set up. Myself and Tony from Mohair took the Ulster GP in Northern Ireland & Mrs. Braw and our friend Charl took Tattoo Jam in Doncaster.
24th August
Braw Beard were nominated in the online influencer category of the i-on magazine awards. We made it to the finals but never won.
At the start of September, Braw Beard continues sponsorship of the Edinburgh Capitals ice hockey team.
1st September
I get a part as a farmer in the Netflix film Outlaw King. Start filming.
12th September
I get interviewed on the Gies Yer Chat podcast.
24th September
Triumph Glasgow invite the Braw Beard Experience along to their Distinguished Gentlemen's Ride event, then after being impressed with the brand, decide to stock Braw Beard products.
6th October
Ford get in touch to feature Braw Beard in the
first episode of Transit Tales
10th October
I get my 2nd role as an extra in Outlaw King, today shooting as a villager.
12th October
I have my first public speaking gig. Business Gateway ask me along to chat at one of their events.
5th November
Brought the Braw Beard stand to The Urban Market at Drygate Brewery, which would attend very often and still do.
30th November
Natalie Johnston send me a photo of her wearing her Braw Bobble Hat on the Great Wall of China!
8th December
Recorded
episode #001 of JJ's daily vlog
. And meet up with the Brawtherhood members who were at the Stone Sour gig.
14th December
Braw Beard partnered with the Edinburgh Beard and Moustache Club to produce their club beard oil, which we still do! £2 from every sale goes to Cash For Kids charity.
21st December
Christmas market at Triumph Glasgow
28th December
We brew the 1st ever batch of
Brawtherhood Brew beer at Drygate Brewery
, ready for the BrawBMC 2018.
2018
I finally leave my 'real job' to go full-time with Braw Beard. I need to thank my old employers at Eastern Exhibitions for being so cool with me running Braw Beard alongside. They couldn't really stop me out of hours I know, but they did allow me flexibility to finish early or take last minute days off if I needed to. So if you're reading this Ewen and Janet, thank you.
28th January
Davie Wallace becomes a Braw Beard ambassador
At some point the website is re-designed.
24th February
The
2nd Braw Beard and Moustache Championships
, again it sold out before the event day. Entries from all over the UK, Austria, Netherlands, Germany and the USA. James Davis from Portland, USA, proposes to his girlfriend on stage and she said YES. 6th March The Isle of Man TT PS4 & Xbox game is released, Jamie Coward is a playable character complete with Braw Beard helmet!!
18th March
Popup shop at Hillhead Bookclub in Glasgow with Mohair Barbers
24th March
The Boss Beard and Moustache Championships
hosted by the Liverbeards and Braw Beard.
28th March
Braw Beard are voted best beard care company in the world by USA based The Beard Whisperer!
30th March
The first official Brawtherhood meet up in Edinburgh.
19th April
The 2nd batch of Brawtherhood Brew beer is made at Drygate Brewery
22nd April
Sean, Chas and I film the
Braw-rriors video
for a bit of fun. This is the first time we have ever used a script!
29th April
I'd been using the Braw Relax and Recover Bath Salts and tracking my sleep to see the effects, read the
results HERE
. I originally made these before Braw when I was making massage oils but brought them back in 2017 to assist our athletes.
4th May
Released the grey snapbacks
The brand was gathering momentum and order volumes increased...
24th May
Lee Johnston appears on BBC again wearing his Braw Beard Camo hat
25th May
Ninja Warrior Ali Hay becomes a Braw Athlete.
28th May
An Arctic Explorer takes Arctic Explorer to the North Pole!!
2nd - 3rd June
Back up to Fort William World Cup with the Braw Beard Experience.
8th June
Indulgence shop (who stock Braw Beard care products) in the Isle of Man hosts a meet and greet with myself, Lee Johnston and Jamie Coward in TT week.
15th July
We take the Braw Beard Experience to the Scottish Car Show
21st - 22nd July
We take the Braw Beard Experience to the Scottish Festival, this is the 1st time we have used our 2 tents together side by side, it was huge compared to what we were used to!
8th - 12th Aug
Back at the Ulster GP, I've always been a motorcycle racing fan
READ MORE HERE
. I used to stand watching and would be too nervous to ask riders for their autographs. Now I've built friendships with riders and teams, it's crazy. When the Padgett's Team trusted me with Lee's bike, even if it was only for a few minutes, I was a complete fanboy again.
30th September
Triumph Glasgow invited us back for their Distinguished Gentlemen's Ride event.
7th October
The organisers of the Florida Hair and Beauty Expo hear the Braw Beard story and invited me to talk on their stage. My first international speaking gig!
WATCH HERE
26th October
Braw Beard release a new beard oil to celebrate 6 years since the first Braw Beard Oil was made. It's called
Anniversary 18
.
October has been best selling month ever! What a way to round up 6 years so far.
Phew, writing this took way longer than I expected! Once I started looking through my calendar and photos, I realised I was in for a long night. I wanted to write this to share this because we have fans who love following the brand and although that looks like an amazing 6 years, which it was, it doesn't show every event, every product release, every photoshoot, every interview. Up until 31st Dec 2017 I was working another job and running Braw Beard afterwards and at weekends. I've worked 6-7 days a week for probably 5 years. It's only in 2018 I've managed to get a work life balance, even then it's not where I want it to be, yet. I started the brand with £300 of my own money, it's now a 6 figure business, it's never had external investment but Braw Beard is starting to peak people's interest. We'll see what happens. My mountain biking was sacrificed, I used to ride every weekend. This year, I've been out 4 times. I've lost connections with some friends, but I've also made lots of new friends. Everyone I speak to who has had some success go through the same things, I learn along the way. It still makes me laugh when I get called a hipster, when the bearded hipster bandwagon started in 2013-14, I was already 13 years into growing facial hair, cockwombles. If these people took the time to read the background, they'd see the work put into this brand too. I didn't jump on the beard bandwagon, I was quietly crafting Braw Beard beforehand. The Brawtherhood is something special that I could never imagine creating, people who call each other family all over the world! All brought together by their love of Braw Beard products. Wow. Let's see what the next 6 years hold! I want to thank every customer who has ever bought a Braw Beard product, everyone who has helped me out at events, my dad (for convincing me to keep going on the 15th Feb 2014 & motivating me) my family and Mrs Braw for putting up with me and the long hours I work. And thank YOU for reading this, I hope you've enjoyed it? JJ Join the
#Brawtherhood
P.S. Use code – brawblog – at www.brawbeard.com for 10% off
Follow Braw Beard: Instagram –
http://instagram.com/@brawbeardoils
Facebook –
http://facebook.com/brawbeardoils/
Twitter –
http://twitter.com/@brawbeardoil
Subscribe to the Braw Beard Youtube channel for more videos.
https://www.youtube.com/brawbeard
Scottish beard care.
Born in Scotland, enjoyed Worldwide.