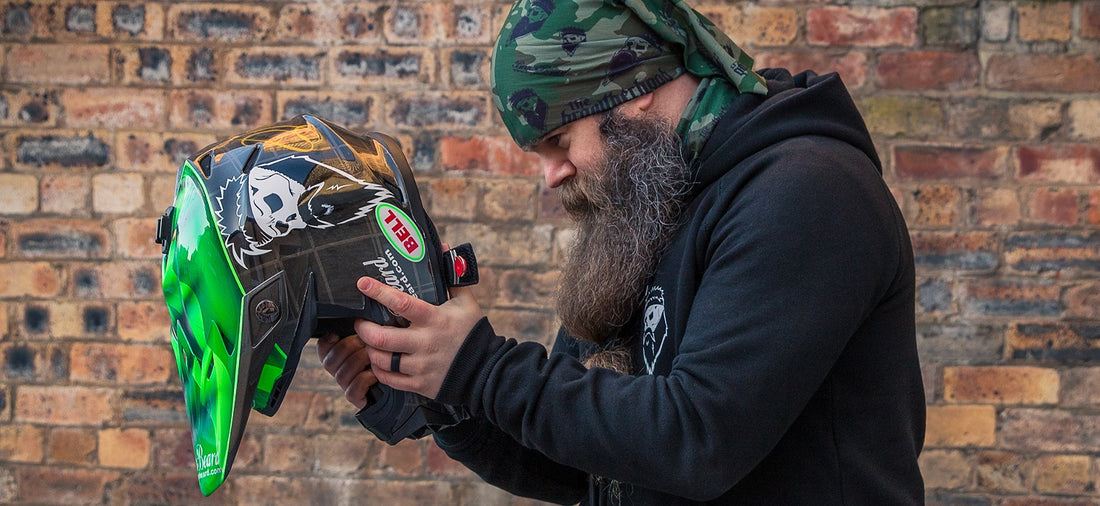 The Brawthersnood. What Is It And Why We Made It.
At the time of writing this, we've been encouraged to wear face coverings in public for around a year. Now there are so many options to choose from in all forms of masks, beard covers etc. The Brawthersnood is NOT a substitute for a surgical grade respiratory face masks. This post is about its use as a general face covering when in public, not a protective mask.
Why we prefer the Brawthersnood
Using a standard paper face mask with a beard isn't ideal, the thing scoots about all over the place because it cannot grip your chin.
The same goes for the material types, they ideally need the shape of your chin to stay put. Plus your beard hangs out the bottom of them, if someone coughs near you, there's a good chance droplets are landing on your beard.
Then there's beard masks, made from longer material with elastic to hook around your ears. These are a great idea to cover the front of your beard but they are a set length. The idea for beard masks is to reduce kinks in your beard that a normal face mask may cause. But if you have a long beard, it's going to hang out the bottom still, then think about the person coughing next to you again...
The benefits as face covering
We prefer the snood because it can cover the nose, mouth and any length of beard, the full thing, not just the front. It's designed as a face covering which we're encouraged to wear on public transport and in the shops. If you have a long beard, tie it down and tuck it into the mask to keep it fairly neat afterwards. Or you can tuck the beard into your t-shirt and when you put the snood on, you'll never see it. I've personally done that several times when I've needed to grab something from a shop and know I have a photoshoot afterwards, it doesn't kink my beard that way. If kinks bother you, carry a comb and some beard butter, it will soon sort it.
Once you are finished using it as a face covering, put it around your neck for warmth.
As well as a beard cover, there are several other uses for the Brawthersnood too such as a bandana, face mask, head band, wrist sweatband, hair tie, neck gaiter and a helmet liner for the bikers.
It's washable, multi functional and is easy carried when not used as a face covering.
Have you ever noticed that the Braw Beard logo has been wearing a multifunctional bandana since day 1? We wanted to wait for the right time to make our own version, now is that time.

The details of the Brawthersnood.
Material: Microfibre
Sizes: 25cm x 50cm – One Size Fits Most
Disclaimer.
This product is not designed or scientifically proven to prevent you from: (1) contracting a virus/disease/illness or (2) passing a virus/disease/illness to someone else.
If you would like to grab one for yourself, they are available HERE
We have just released a collaboration one with Braw Athlete Jamie Coward too.
Thank you for reading
JJ
Join the #Brawtherhood
Scottish beard care.
Born in Scotland, enjoyed Worldwide.
P.S. Use code – brawblog – at www.brawbeard.com for 10% off
Follow Braw Beard:
Instagram – http://instagram.com/@brawbeardoils
Facebook – http://facebook.com/brawbeardoils/
Twitter – http://twitter.com/@brawbeardoil
Subscribe to the Braw Beard Youtube channel for more videos. https://www.youtube.com/brawbeard
Catch up on the Braw Cast podcast HERE
Youtube – HERE
Spotify – HERE
Apple Podcasts – HERE
Google Podcasts – HERE