Regular price
Sale price
$20.00 USD
Unit price
per
Sale
Sold out
Introducing Battle Scar, the Braw Moisturiser for the man who conquers each day.
For those who brave the great outdoors, challenge themselves in the gym, or grind tirelessly in their daily pursuits, your skin is a testament to your unwavering spirit. But with such dedication comes the natural wear and tear on your skin. Battle Scar is meticulously formulated to salute your hard work while ensuring your skin remains at its prime.
Nourished by nature's brilliance:
Shea Butter: The core of our moisturiser. Beyond mere hydration, its anti-inflammatory attributes mend and shield, safeguarding against dryness and the ruggedness of everyday life.
Fragrance-Free: Thoughtfully unscented, ensuring a seamless blend with any other grooming products, making it a perfect choice for every man's regimen.
Essential traits of Battle Scar:
Everyday Protection: Designed to replenish your skin, providing daily nourishment and relief.
Soothes & Calms: Alleviates common skin irritations, whether from a hard day's work or a rigorous workout.
Universally Gentle: Made to suit all skin types, even the most sensitive, allowing every man to benefit from its healing touch.

Contained in a 60ml container, the Battle Scar Moisturiser stands as a beacon of care in the demanding rhythm of life. It promises to be by your side, ensuring your face mirrors the vitality and strength you exhibit every day.
For the man who leaves a mark with his determination, ensure your skin remains as resilient as your spirit. Amplify your daily skincare game. Trust in Battle Scar.
Shipping & Returns

Free Royal Mail shipping on UK orders over £50 & fast international shipping with DHL.

14 days return if you aren't satisfied. See T&Cs
Share
View full details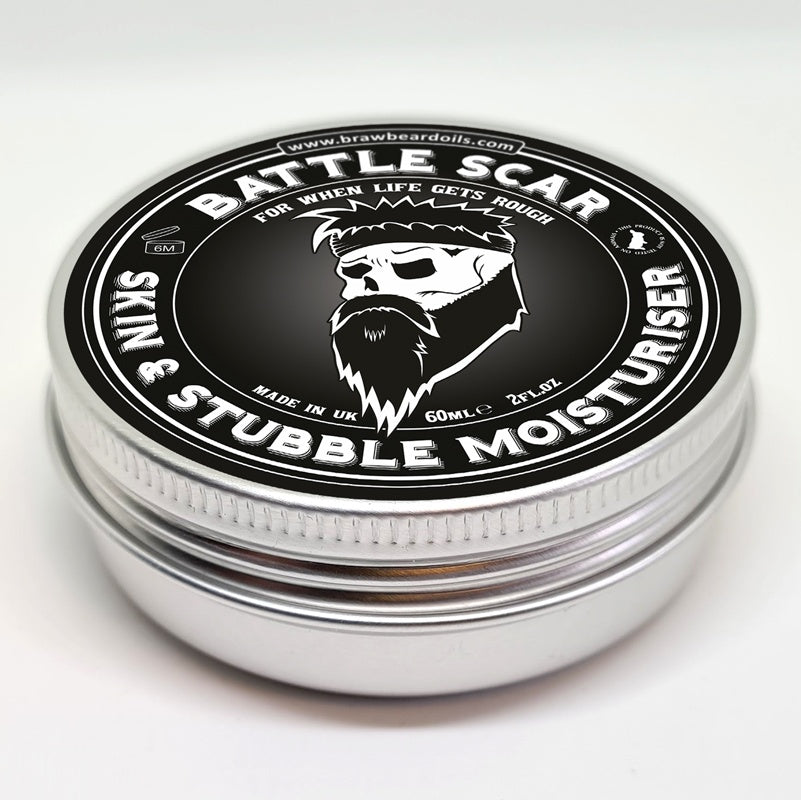 Helps a lot
I use this on a daily basis, as a skin moisturiser, and find it helps my skin after I have shaved. It's not scented and doesn't interfere with my beard oil. Would definitely recommend it
Amazing product for eczema and dry skin
I bought this for my husband who suffers from eczema and dry skin on his face and body. The shea butter has help with anti-inflammatory and healing. It has helped condition, tone, and soothe his skin. It is thick and a little goes a long way. Highly recommend.
Quality product
Shaving around my beard leaves me with an irritation on my throat and neck. First use and the irritation has gone away so I use it on a regular basis now and have not had any problems with it. As it isn't scented I can use my beard oil Jarls Norseman as usual. Great stuff don't be afraid to buy some.
Battlescar Moisturiser
One of the best I've ever used. Even my 21yo laddie pinches it. High praise right there lol
Best moisturiser around
I have been using the Battle Scar skin and stubble moisturiser for a few years now and it is second to none.
Apart from soothing my skin after shaving, it also works well on Psoriasis
Great product from an amazing company, would recommend without hesitation