Regular price
Sale price
$17.00 USD
Unit price
per
Sale
Sold out
Introducing the Braw Beard Brush, a game-changer in beard grooming.
Feel the smooth glide of medium-strength boar bristles as they invigorate your beard, ensuring every strand is treated with respect and reverence.
Nurtured by nature's touch:
Bamboo: The handle is robust yet elegant.
Boar Bristles: Specifically chosen for their medium strength, these bristles ensure no harm comes to your precious beard or the sensitive skin beneath, offering the perfect balance of care and vigour.
Innovative Design: Meticulously curved for a comfortable grip and pocket-sized for the modern nomad, each stroke with our brush feels like a luxurious ritual.
Unique features setting the Braw Beard Brush apart:
Effective Product Distribution: The bristles have been designed to evenly spread your favourite oil or butter throughout the beard, ensuring a consistent and enriched look. Ergonomic Craftsmanship: The curved handle promises a grip that is both comfortable and firm.
Signature Detail: The handle proudly bears the Braw Beard engraving, a mark of authenticity and quality.
Experience an enhanced, fuller looking beard by simply applying your favourite Braw Beard oil or butter and brushing to perfection.
Shipping & Returns

Free Royal Mail shipping on UK orders over £50 & fast international shipping with DHL.

14 days return if you aren't satisfied. See T&Cs
Share
View full details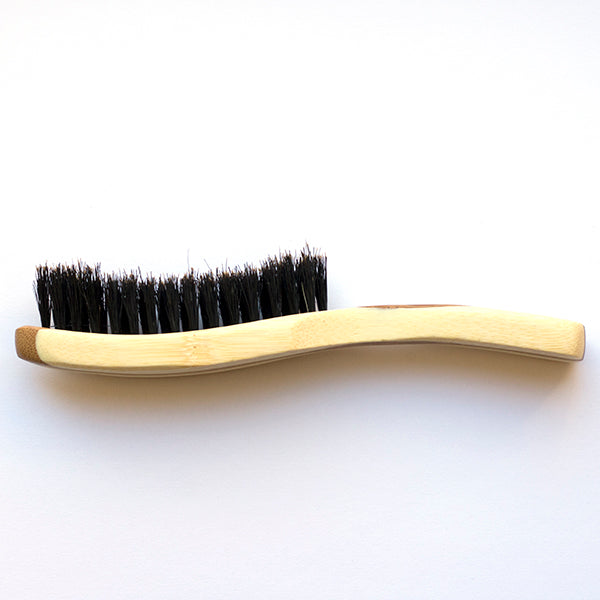 Beard brush
Excellent bit of kit, allways quality products from braw
An essential item for anyone with a beard
Just ordered my second Braw brush as the old one has now been reincarnated as a clothes brush! This is one of the best beard brushes i've tried, the wee handle makes a huge difference compared to the shoe polish style oval brushes and the bristles are just right, not too soft and not too prickly. If you're using beard products regularly, then you'll know that a brush is is a must have item. Definitely worth adding to your grooming kit.
Perfect brush
As a new customer from France, I'm impressed by brawbeard products. Actually having the braw wash, pocket comb, brush, the jarls northman oil and Eckson oil and I'm just impressed by the quality of the beard oils my beard feel so clean, so manageable, so thick, it makes my beard shine, and the brawbeard wash very very good wash honestly. I have also tried from octane company to beardedchap to Johnnie Ray to scotch porter. They are great company don't get me wrong but again I wasn't impressed by their oils, wash ect. Brawbeard is my choice now and will be a 'loyal' customer now. And the pocket comb wow man this is a genius invention (I have the artius man and fibercarbon Chicago comb and I don't like them at all they break my hairs, they are painful to use, the artius man comb is okay but not my thing anymore) . I recommend brawbeard products to anyone.
Brush, butter, and oil
First time using these products, wow what a difference. Oil feels and smells amazing in my beard, and the butter helps keep it all in place. The brush helps distribute the products evenly through my beard. Looking forward to trying your other products.
Nice Beard Comb
Added this to another purchase because I wanted a proper beard comb to use with my new braw products. Nice and soft, comfortable to use.