Regular price
Sale price
$35.00 USD
Unit price
per
Sale
Sold out
Introducing Mrs. Braw's Hair Oil: Your Ultimate Hair Companion.
Crafted with an exceptional blend of lightweight oils and fragrant essences, Mrs. Braw's Hair Oil is more than just a product—it's an experience. Whether you're conquering boardroom meetings, leaving trails on your weekend hike, or dancing under the city lights, let this versatile hair elixir accompany every chapter of your story.
Versatile Magic in Every Drop:
Pre-Styling Protector: Apply on towel-dried hair before blow-drying. Its protective shield combats the heat, ensuring your hair remains damage-free.
Deep Conditioning: For those extra pamper sessions, immerse your locks in this oil while in the bath or shower, unveiling deeply conditioned and revitalised hair.
Stylist's Dream: Whether you're crafting waves, curls, or straight looks, it's the ideal styling partner, ensuring a smooth finish and nourished texture.
Serum Brilliance: Gift your hair a luminescent shine and bid farewell to frizz.
Midday Refresher: For that instant touch-up, let Mrs. Braw's reawaken your style anytime, anywhere.
Why It Stands Out:
Radiant Glow: Revel in a shine that captures attention.
Silk and Smooth: Achieve that frizz-free, sleek look effortlessly.
Nourish and Condition: Envelop your hair in a soft, healthy embrace.
Guardian Shield: Protects against heat and harsh environments.
Scent-sational: Leave a trail of an irresistible fragrance wherever you go.
With an ergonomic pump cap for easy application, every moment with Mrs. Braw's Hair Oil is a breeze. Dive into the world of flawless hair and let every strand narrate tales of elegance and care. Your hair's best-kept secret awaits. Embrace Mrs. Braw.
Available in 3 or Braw Beard's signature scents as chosen by our customers.
Anniversary18 – scented with orange (zesty, tangy, citrus) & juniper (woody, fresh, crisp).
Heather – scented with ylang ylang (sweet, floral) & sandalwood (musk, wood).
Lover – scented with lavender (floral, fresh) & rose geranium (rose, citrus).
The 50ml bottle last 3-4 months depending on hair length.
Shipping & Returns

Free Royal Mail shipping on UK orders over £50 & fast international shipping with DHL.

14 days return if you aren't satisfied. See T&Cs
Share
View full details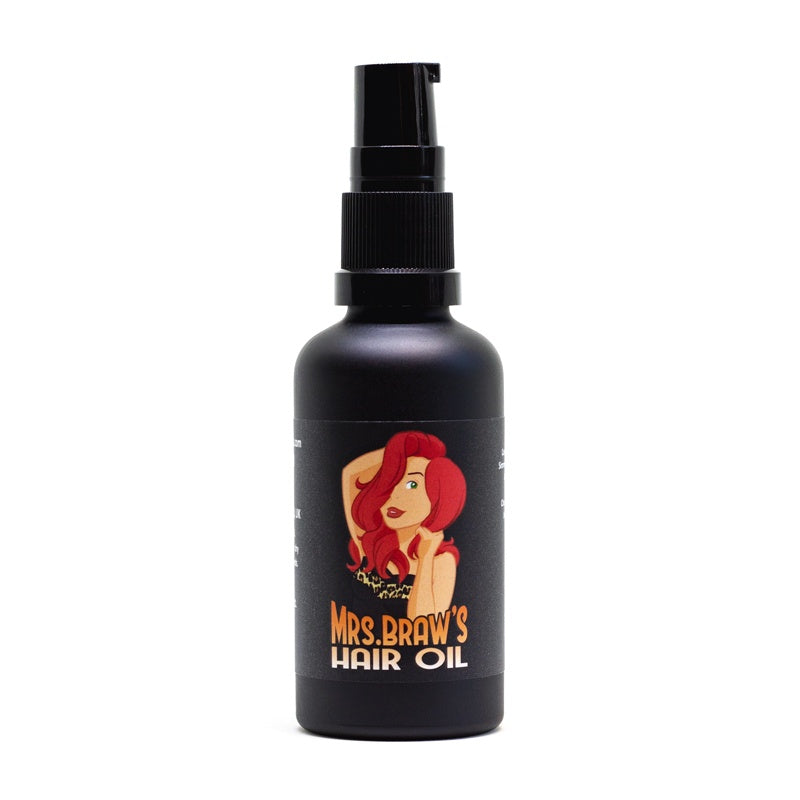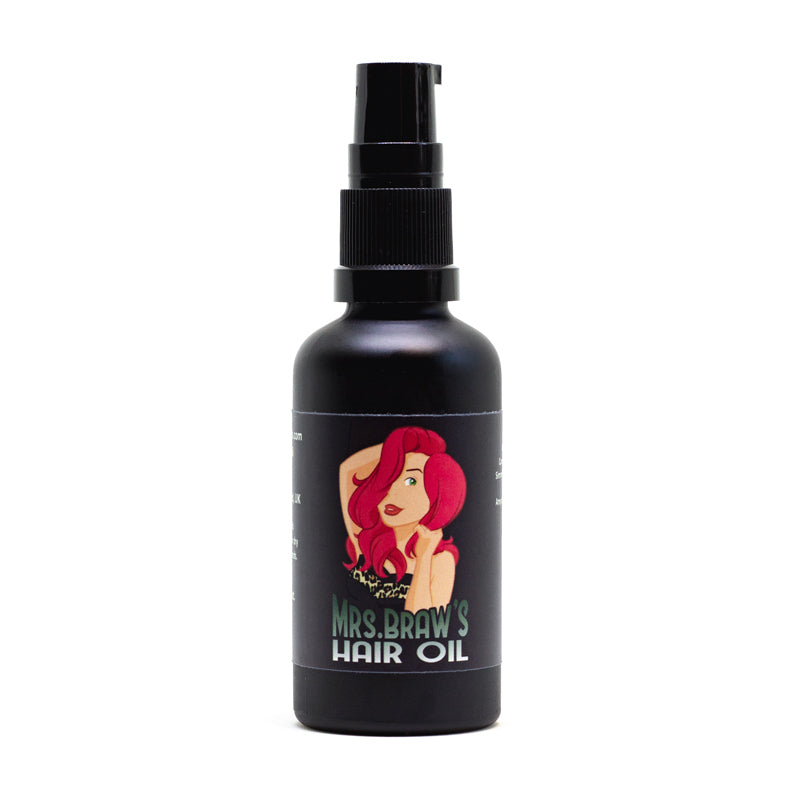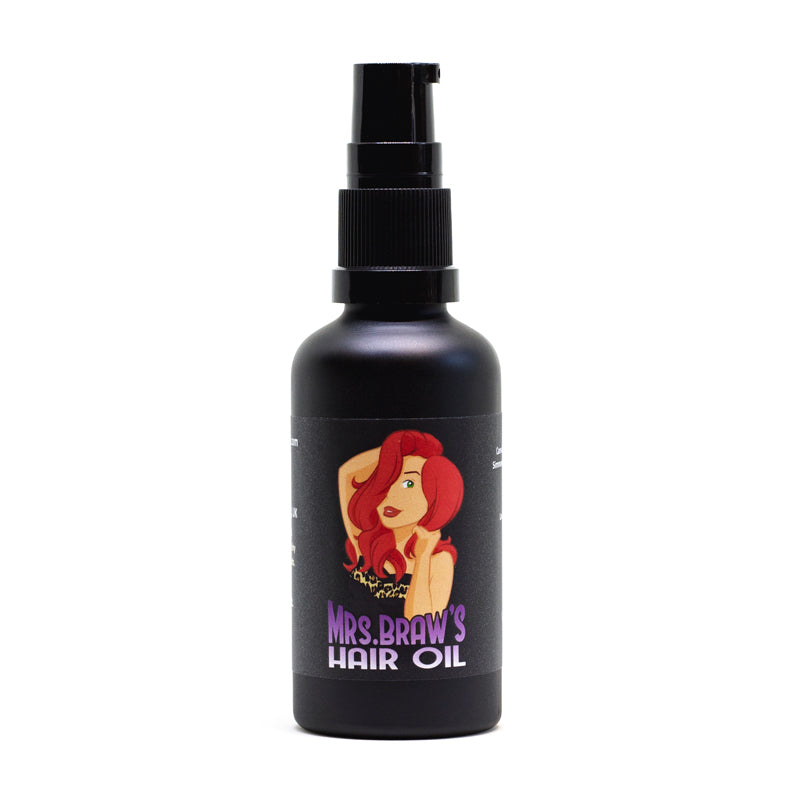 Hair oil to match the beard oil
Been curious about this for a while and I'm a dude with long hair. The missus says it makes my hair even softer than usual, now silky smooth, and the lavender scent lasts for hours, also good for getting to sleep at night. Once I crack open the bottle of Lover beard oil I'm gonna be lavendered out my head, can't wait.
Mary Waite review of Mrs Braws hair oil
This is the second bottle of the Heather scent hair oil my Husband has purchased for me. It is fantastic on my hair and enhances my natural curls and waves. My hair is manageable, and the Heather scent lasts the day—a quality hand-crafted hair conditioner. I recommend this product.
Incredibly awesome
Absolutely loved this oil. Not only is it an amazing feeling and leaves your hair so soft but also is the most incredible smell. Will definitely buy again
Hair oil
Great stuff always use after washing my hair but wish you had your hair paste in stock to keep it all under control the rest of the time 🤦‍♂️🤣👍
Frizz be gone
The boss really likes this for frizz control and the kids have taken a shine to it as well (apparently it's really good for teenage boys with a thick mop of dry hair).