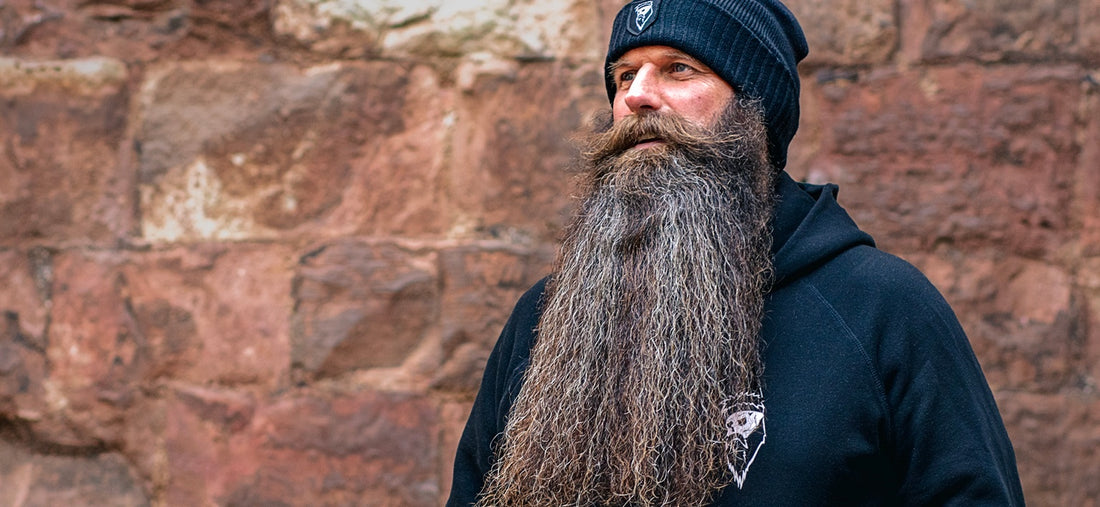 Beard Balm. You Need To See The Results Delivered.
What is beard balm? Do I need it along with beard oil? Can I use both at the same time? These are all questions that come up.
Before we get started, our version of beard balm is called beard butter. The reason for this is, when we created our product back in 2014, the range of balms (and brands) on the market was small. All the beard balms were very waxy and left a tacky residue on the beard. We didn't want to that in our product, so we developed a slightly softer option which felt like butter in comparison. That's where our beard butter name came from. Now there are soooooo many versions on the market from full wax to very soft butters. But Braw Beard Butter does the best of both worlds in one product. It keeps the beard in shape, holds wispy hairs, moisturises the skin below and still leaves your beard feeling soft with no waxy residue.
What is beard balm?
It is a solid state styling product that melts down to an oil in the heat of your hands. Once it is applied to your beard, it sets very slightly to give your beard hold and keep wispy hairs in place. Braw Beard butter is easily distributed throughout your beard by massaging it in, in the same way you would with beard oil. Rubbing it down to the roots and skin will help keep dry skin, dandruff and irritation at bay too.
We have 3 versions;
Thrilla in Vanilla
Chocolate Orange
Unscented.
What ingredients are in it?
Mango butter – packed full of antioxidants, vitamins, saturated and mono saturated fats, it's perfect for those who suffer dry and irritated skin under their beard. The emollience of mango butter seals and protects the hair strand.
Coconut oil – moisturises dry hair, prevents breakage and split ends which can help maintain length. Coconut oil can also stimulate hair growth by penetrating the follicles.
Cocoa butter – again a great hair moisturiser. It has been known to strengthen hair and add volume while making hair more manageable.
Avocado butter – originally used by the Egyptians to promote hair growth and strengthen hair, we had to add this, they build the Pyramids, so they know what they are doing. Avocado butter controls frizz (and wispy hairs), it works very well to nourish dry and brittle hairs, preventing damaged and split ends. This butter is full of proteins, amino acids and vitamins which promote healthy hair growth.
Shea butter – has been known to reduce dandruff, redness and irritation underneath the beard without clogging the pores.
Beeswax – rich in antioxidants, beeswax is a great conditioner for the hair whilst providing hold and can be used to style the hair. This is great for holding wispy and unruly beard hairs in place.
As you can see from that list, we chose the Braw Beard Butter ingredients for a good reason. They work very well together!
How to apply beard balm.
It is a very simple process with very effective results.
First scrape a pea sized bead out with the back of your nail.
Place it in the palm of your hands. Then rub them together to melt it down, then massage throughout your beard. Make sure you massage it down to the skin under your beard too. Braw Beard Butter is a great moisturiser.
We like to brush afterwards with the boar bristle beard brush which even distributes the product from root to tip. The bristles separate the hairs from each other adding volume to the beard, making it appear fuller.
Check out customer reviews HERE, HERE and HERE
Can beard balm be used together with beard oil?
Yes, of course. Some people choose to use beard balm or beard oil but most of our customers with long beards use both. Beard oil provides more coverage than balm so we find the best results come from using Braw Beard oil first, then comb using the Braw Beard comb. The beard oil and the rounded teeth on the comb allow the tool to glide through the beard with ease, detangling knots and snags along the way. Next we recommend applying Braw Beard butter (balm) as above to hold any potential stray hairs in place and give the beard a natural shape. Using the Braw Beard brush will evenly distribute the butter through your beard slightly separating the hairs, adding volume.
I hope the has helped explain what beard balm (beard butter in our case) is?
Thank you for reading.
JJ
Join the #Brawtherhood
P.S. Use code – brawblog – at www.brawbeard.com for 10% off
Follow Braw Beard:
Instagram – http://instagram.com/@brawbeardoils
Facebook – http://facebook.com/brawbeardoils/
Twitter – http://twitter.com/@brawbeardoil
Subscribe to the Braw Beard Youtube channel for more videos. https://www.youtube.com/brawbeard
Scottish beard care.
Born in Scotland, enjoyed Worldwide.