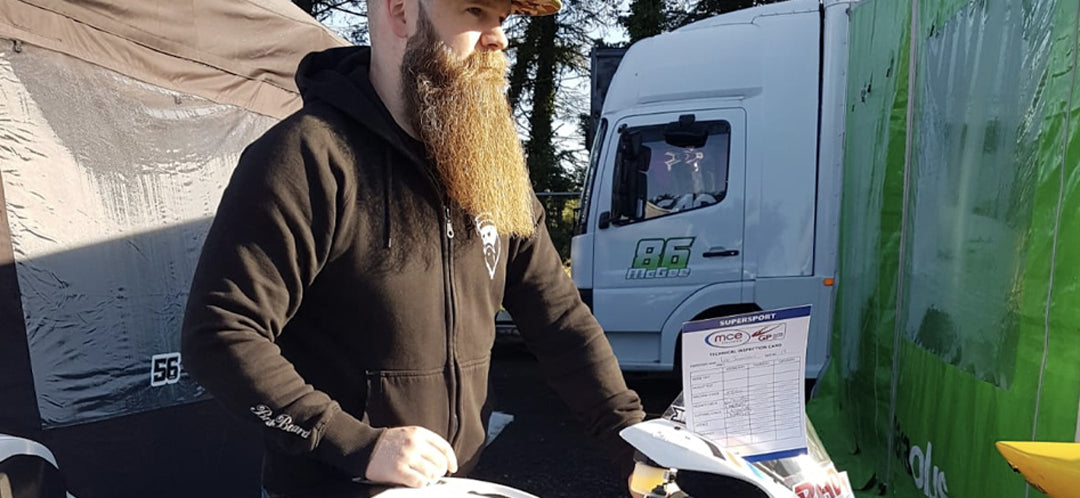 Bikes and Beards, Welcome To Braw Beard's World
Bikes and beards go well together, there's no doubt. You'll have noticed a lot of bikes in Braw Beard's marketing and social media over the years.
I've been called out online in the past suggesting that Braw just use bikes for image and that I've probably never ridden one before. The truth is, I've been riding motorcycles for 33 years (I'm now 36yrs old).
My dad raced motorcycles on and off road before I was born and continued to do so afterwards too.
Dad on his Gus Khun, with a Norton Commando engine and a Seeley frame
When I was 3 years old he stuck me on a Honda QR 50cc and from what I'm told, I could ride a motorcycle before a bicycle. I was fortunate enough to have motorbikes in the family growing up. Even my mum rode motorcycles too, it was inevitable that I'd end up on one.
Mum with the Vincent Shadow at the Manx GP
Spending the majority of my childhood outdoors, I was always riding bikes, they've always been part of my lifestyle. From watching dad race, cousins compete in motocross and road racing to annual holidays to the Isle of Man for the TT races.
I started working at 14 years old and saved to buy a decent mountain bike and eventually various motorcycles. I never had the money to go racing motorbikes (it's an expensive game), instead I chose to race mountain bikes. In my early 20s I started racing downhill (local and the SDA) and enduro mountain bikes. In 2011, I broke my back in a crash at Fort William practising for a race. I continued to race for a few years after that but when Braw Beard started to take off, I sold the bikes because I had no time to ride as often.
In recent years, I've found the bug for trials riding, I'm lucky I can borrow a bike and go, I'm not great at it but it gets me back on a motorcycle having fun, see bikes and beards do go well together.
Braw Beard began in 2012 after recovery from the back injury, I learned sports massage therapy which led to making massage oils for assessments. Then I made natural hair oil for my wife which I started using on my beard at the time. It wasn't great, so after some tweaks and plenty of trial and error, Braw Beard oil was created. As the brand started to grow and take off, I choose to sponsor motorcycle athletes Lewis Rollo, Lee Johnston and Jamie Coward along with downhill mountain biker Brook Macdonald as a way of giving back to the sports I grew up around. The Braw Beard trade stand has made appearances at the Isle of Man, Ulster GP and Fort William downhill world cup. It's been a steady process but I could have never imagined what would happen next!
Bikes and beards - Braw Beard and road racing.
Braw athletes Jamie Coward and Lee Johnston are playable characters in the new
TT Isle of Man - The Game
which is out now! After a successful season for Jamie and Lee in 2019, we are over the moon that they have both been recognised and selected to feature, it's a huge honour. To have Braw athletes make an appearance means way more than you think… To say I am proud in an understatement.
You see, I have a huge emotional connection to the Isle of Man and the TT races. My parents were visiting the Isle of Man for the TT races since turning 16 and getting a bike. They made the annual trip to watch their heroes race on the famous road circuit. Even when my mum was pregnant with me, they were there cheering on the racers from stonewalls and hedges. The Isle of Man would become our holiday destination, usually in the TT fortnight too. Since I was born, I have made the journey there 25+ times, both to visit the island and watch the
Isle of Man TT
races. It has played a huge role in my life.
My auld man and I on the grid at the TT in 2019
My mum passed away in 2014, she had 2 requests before she died. 1. That her ashes were scattered on the Isle of Man. 2. Any money collected from her funeral went to
The Rob Vine Fund
, who are a charity dedicated to providing the best pre-hospital medical and rescue care, equipment and medic training for the Isle of Man's motorsport events. Both were done just as she wished, her last trip to the Isle of Man was on the back of a motorcycle. Damn, that part was difficult to write… Braw Beard signed Lee Johnston in 2015 & Jamie Coward in 2016 and since then, they've both continued to win races, break records...and some bones.
The snow camo hat worn by Lee is available
HERE
Unfortunately the Isle of Man TT 2020 has been cancelled due to COVID-19, so we'll be spinning laps on the game instead until TT 2021.
What Braw Beard products do the riders use?
Jamie and Lee use the Braw Beard oil and Braw Beard Wash to keep their facial hair in prime condition, their beards hit speeds in excess of 200mph, this will strip the natural oils out and pull on the roots. The natural ingredients in our products supplement the natural oils and help care for the damaged hair. In between races, the Braw athletes are using the
Relax and Recovery Bath Salts
to recoup. "I used the
bath salts
at the Ulster Grand Prix after each practice day/race day which helped relax and sooth my muscles, contributing to a great nights sleep" – Jamie Coward, International Road Racer. "The
Braw Beard Relax & Recovery bath salts
helped ease my aching muscles from wrestling the superbike all day. They also helped me get a great night sleep ready for the next days racing. I'll need to get more because my Mrs keeps stealing them, they smell amazing!!" – Lee Johnston, International Road & BSB Racer. You may be wondering why our bikers don't have big beards. These athletes are at the top of their game, world class level, their focus has to be pin sharp where distractions can have disastrous consequences. So they tend to just run with short beards which won't get caught in the helmet strap. You probably have experienced the pain from plucking a hair in a zip, imagine that happening at 200mph on a motorcycle…
From a fan to Isle of Man TT game.
To go from a fan, to now helping racers advance their careers is something I very proud of. Then to have the Braw Beard logo feature in the Isle of Man TT game is something I could never have imagined. I hope this explains the love for bikes and beards within the Braw Beard world? Braw Beard has always been built around my lifestyle, it's what I know. Bikes and beards will always fuel Braw Beard. I hope you enjoyed this insight. Thank you for reading. JJ Join the #Brawtherhood
P.S. Use code – brawblog – at www.brawbeard.com for 10% off
Follow Braw Beard: Instagram –
http://instagram.com/@brawbeardoils
Facebook –
http://facebook.com/brawbeardoils/
Twitter –
http://twitter.com/@brawbeardoil
Subscribe to the Braw Beard Youtube channel for more videos.
https://www.youtube.com/brawbeard
Scottish beard care.
Born in Scotland, enjoyed Worldwide.