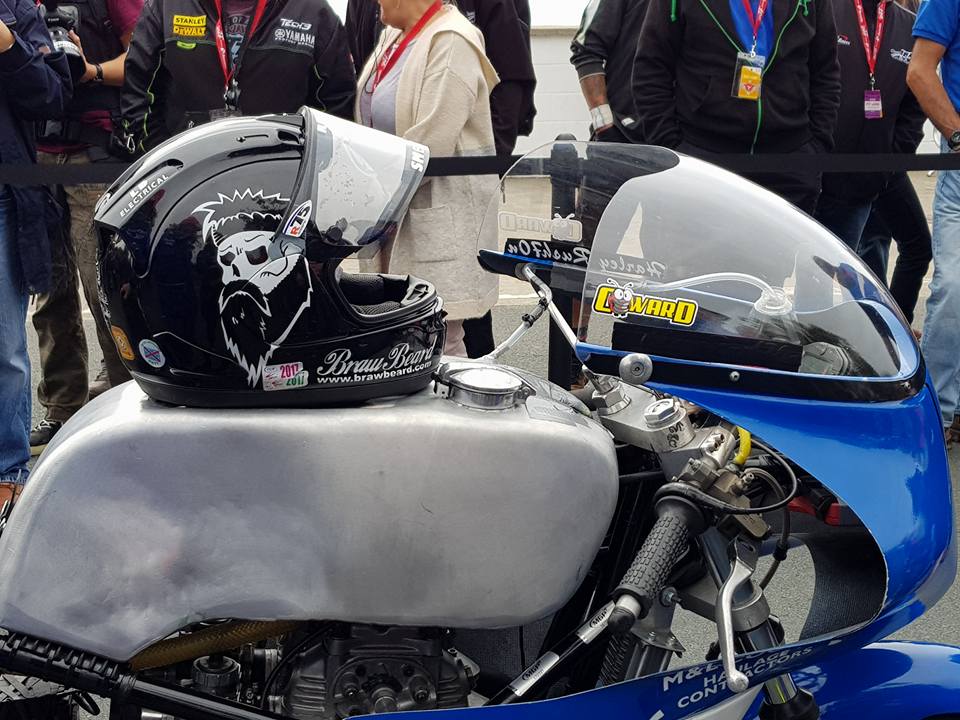 The Manx GP, Breaking records and bones
Celebrate with us, enjoy the heavy discount below courtesy of Jamie and Lee.
The last week has been a successful one for Braw athletes Jamie Coward and Lee Johnston at the Manx GP on the Isle of Man.
Making history at the Manx GP.
On Saturday, Jamie finished 2nd in the Senior Classic TT race whilst making history at the same time on the Ted Woof Norton.
Jamie just became the fastest ever rider on a British single cylinder machine with a lap of 110.057mph at the Isle of Man Classic TT. "I knew the bike was capable of 110mph after what we'd achieved in practice as you always go quicker in the race so I just got my head down and arse up from the word go. The bike was faultless until the last lap when it started to suffer a bit of a misfire so I knew I didn't have the chance of the win but I brought the bike home," said Jamie Coward.
Photo by David Birchall On Tuesday Jamie went on to finish 3rd in the Junior Classic TT just behind Braw athlete Lee Johnston in 2nd.
A heroic effort.
After a successful return to the Ulster GP from injury, Lee Johnston was looking good for the Manx GP. Unfortunately a crash at Jurby airfield in a sidecar left Lee with three broken fingers and two missing fingernails on his throttle and front-brake hand!
Photo by iomtt.com Lee went on to race in the Junior Classic TT anyway on Tuesday and managed to hold the lead for some of the race before finishing in 2nd! A heroic effort!
Celebrate the success of Jamie and Lee with us! Enjoy 17% off everything at www.brawbeard.com until Monday 4th September! Use code - MANXGP17 - at the checkout.
We look forward to the next races at Oliver's Mount in September. Thank you for reading. JJ Join the #Brawtherhood
P.S. Use code – brawblog – at www.brawbeard.com for 10% off
Follow Braw Beard: Instagram –
http://instagram.com/@brawbeardoils
Facebook –
http://facebook.com/brawbeardoils/
Twitter –
http://twitter.com/@brawbeardoil
Subscribe to the Braw Beard Youtube channel for more videos.
https://www.youtube.com/brawbeard
Scottish beard care.
Born in Scotland, enjoyed Worldwide.