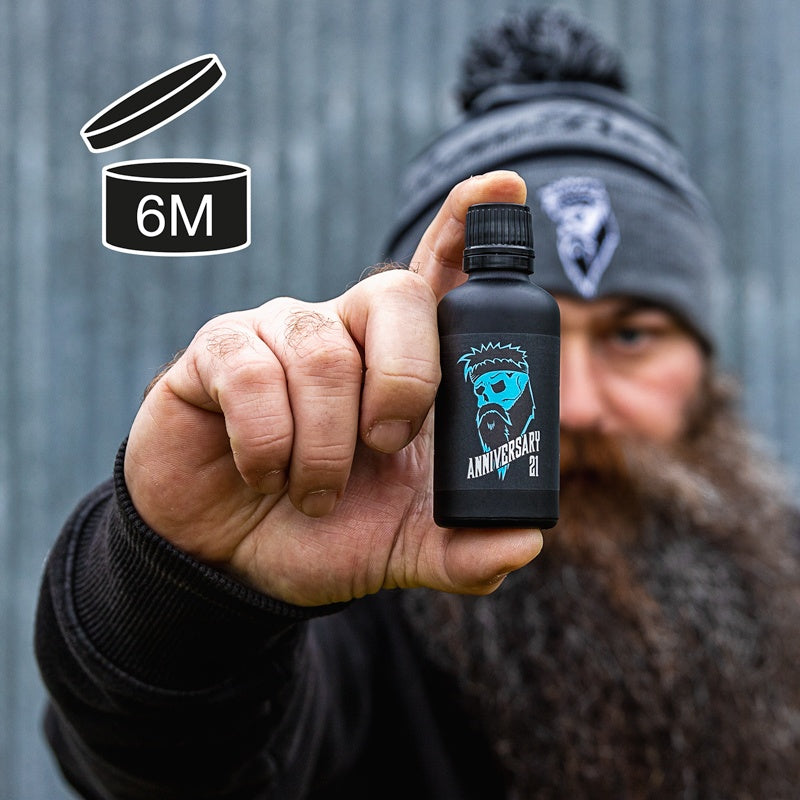 Beard Oil Shelf Life. What Does 6M Mean?
Does Beard Oil Expire?
One of our most common questions is, does beard oil expire? Like most consumables, beard care products have a shelf life.
On the back of Braw Beard care products, you will see the period-after-opening symbol. You will notice 6M on Braw Beard oils, Braw Beard Wash and Battle Scar Moisturiser. Braw Beard Butter is 12M.
But what does this mean? 6M means you should use the product within 6 months from opening the product, 12M means 12 months.
At Braw Beard, we use natural ingredients to make our products in small batches to ensure freshness. We prefer not to add synthetic preservatives to our beard care to prolong shelf life, we'd rather you enjoyed the highest quality natural product possible to care for your facial hair.
If you see beard care products on the shelf of your local high street supermarket, look for the expiry symbol. Anything over 12M is likely to have added chemicals to prolong shelf life. These preservatives can actually dry the beard hair out and cause skin irritation. As tempting as it is to buy cheap beard care products in a supermarket, it is worth investing in natural, small batch options like Braw Beard care. Not only are you supporting small business, but you are getting the highest quality product possible for your money.
I hope this helps answer does beard oil expire?
If you have Braw Beard care products that are over 1 year old, it's maybe time to grab some fresh stock. The oil may still be ok for a conditioner but the scent will have faded. Treat yourself to a refresh.
Thank you for reading.
JJ
Join the #Brawtherhood
Scottish beard care.
Born in Scotland, enjoyed Worldwide.
P.S. Use code – brawblog – at www.brawbeard.com for 10% off
Follow Braw Beard:
Instagram – http://instagram.com/@brawbeardoils
Facebook – http://facebook.com/brawbeardoils/
Twitter – http://twitter.com/@brawbeardoil
Subscribe to the Braw Beard Youtube channel for more videos. https://www.youtube.com/brawbeard
Catch up on the Braw Cast podcast HERE
Youtube – HERE
Spotify – HERE
Apple Podcasts – HERE
Google Podcasts – HERE