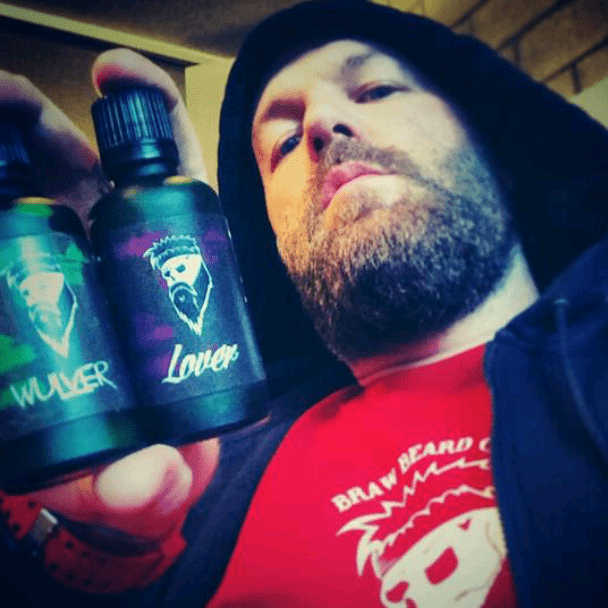 How Fred Durst became a fan.
A'right guys, how are you doing?
John from Braw Beard again.
People are asking about more stories from Braw, because there's quite a cool story up until this point.
So, if you've been watching the videos before, you'll know how the brand started. It started from a mountain bike crash, I broke my neck, and back and it led to making beard oil.
A lot of people who have been following the brand for a while, they know that Fred Durst from Limp Bizkit is a fan of the brand and there's a few good stories behind that as well.
So I just thought I'd talk about that today, but it's not all unicorns and rainbows.
Fred got in contact at the end of 2013. He liked a tweet, I replied, he placed an order for some products and then I sent them out and he loved them, he loved the merchandise, he loved the beard oils and the brand.
T-shirt available HERE
So he invited me over to a gig in Glasgow, Limp Bizkit were playing in Glasgow with Crossfaith as part of the Kerrang Tour. I think that was the 16th February 2014, so he invited me over.
But, in the build up to that, my mum had been really ill and she passed away on the 8th February, the week before the gig. So that week my head was a feckin mess, what do you do? Well I'm trying to grieve and potentially go to this Limp Bizkit gig to meet Fred for the first time. So my mums funeral, that was on the Saturday 15th, the day before the gig. Now that was the lowest point in my life, so far and Sunday could potentially be the highest point in my life, or one of the highest.
So before the funeral and after the funeral I sat down with my dad and said look, should I go to this gig and grab the opportunity and of course he said yes. Then I thought, my mum would want me to do it as well, should just suck it up, quit being a pussy and sitting about the house, just fulfill what you set out to do. So I went to the gig on Sunday, met up with Fred at 2 o'clock in the afternoon, done soundcheck, hung out with him backstage, had dinner with the band, then when the gig came, showtime, we stood at the side of the stage with the crew and Crossfaith and watched the gig.
T-shirt available HERE
It was an awesome experience, but I couldn't fully enjoy it knowing what had happened the day before. Fred never knew anything about this until the end of 2014 when I went over to LA, that's when he found out. So, I think I masked it ok.
Then in July 2014, it was Sonisphere Festival, so Stuart and I jumped on a plane and flew down to the gig, watched the Limp Bizkit set and hung out with Fred again, we became good friends.
In October 2014, Fred phoned me and said "look, I'm just back off tour, do you want to come over for a few days, I'll show you around LA and Hollywood" so I was like, "fuck aye", just jumped on a plane, 8hrs later, I was on a flight to LA, I'm not turning that down.
I dunno, it was a strange experience, like what would you do? Your parents funeral is the day before that gig & opportunity.
I think I done the right thing in going, it's a weird one.
Anyway, I went over to LA in October 2014 and hung out with Fred for 3 or 4 days, he just showed me around the city, went out for meals and stuff. There's a few good stories from that trip but I ain't telling them online.
More recently we met up in December in Glasgow again, it was Korn and Limp Bizkit who were co-headlining a gig, so again Fred invited me over. I took my sister because this was the day before my sister's 30th. So I thought I'd take her for a birthday present, so, we watched the gig and went back to the after party and that went on until the wee hours in the morning.
So, I guess the moral of the story is, if there's an opportunity there you've just got to grasp it no matter what the situation is. People have asked how the Fred Durst thing came about and that's pretty much how it came about. The situation was far from ideal, it was a really shitty situation at the time, but it turned out alright. And it opened up quite a few opportunities so, y'know, you've just got to take these things as they come. I'm sure my mum would be proud, I hope she'd be proud! I hope so.
So yeah, that's the story, we still keep in touch now, Fred and I. That's it, that's it really. Any questions just leave them in the comments below. This video has been a bit of a tough one to do for me. Hence jumping back and forward, it's probably taken about 10 attempts to record this, so thanks for listening.
Cheers, see you later. John Braw Beard