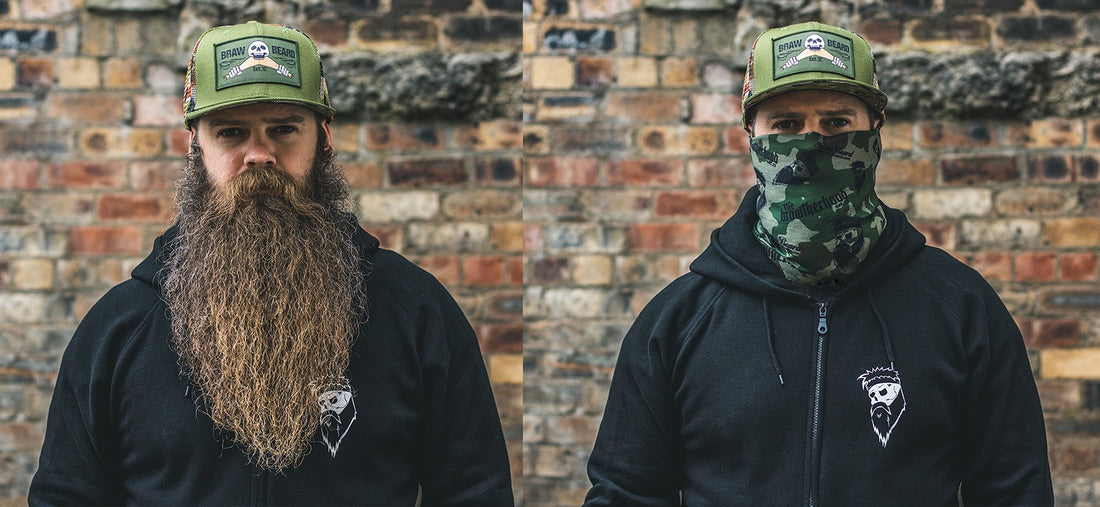 Need A Beard Cover? The New Brawthersnood Is Here.
With the way we interact and go about our daily lives changing recently, now is the time to invest in a beard cover option. The new Brawthersnood has landed at the BrawLab and they are nicer than we imagined. They are available in two colourways, the custom Braw Beard green camo and snow camo. I designed the camo myself and replaced the black with our logos to make it unique, the same design as the camo snapbacks,
Green HERE
and
Snow HERE.
These are NOT a substitute for a surgical grade respiratory face masks. But if you are like us at Braw Beard, your beard hangs way lower than a face mask. The Brawthersnood will cover your beard and fit over your face mask too. They are available NOW,
CLICK HERE
Is it just a beard cover?
No, the Brawthersnood is a multifunctional bandana. It can be used as a beard cover, a bandana, face mask, head band, wrist sweatband, hair tie, neck gaiter and a helmet liner for the bikers.
Have you ever noticed that the Braw Beard logo has been wearing a multifunctional bandana since day 1? We wanted to wait for the right time to make our own version, now is that time.
The details of the Brawthersnood.
Material:
Microfibre
Sizes:
25cm x 50cm - One Size Fits Most Disclaimer. This product is not scientifically proven to prevent you from: (1) contracting a virus/disease/illness or (2) passing a virus/disease/illness to someone else
How to use it as a beard cover.
Simply pull the Brawthersnood down over your head until the top covers your nose and ears, this will cover your sideburns too. Then pull the bottom of the snood as low as it'll comfortably go, depending on the length of your beard, you may need to tuck your beard up under it. If you are wearing a hat, pull the back of the snood up so it tucks under the back of your hat, this will hold it in place for maximum coverage like below
A couple of tips to make things easier for you.
If your beard is long, consider tying it down first, it's an easier way to tuck your beard in. Also, when putting the beard cover on, pull it down from your head to your beard. I recommend against putting it on your neck first and pulling upwards to cover your beard. The reason is, all your facial hair will be pointing up and end up poking through the material. Plus, with the moisture and heat from your breath, your facial hair will be making some interesting shapes when you take it off!
If you would like to get yourself a new Brawthersnood beard cover, Click the link HERE
Thank you for reading. JJ Join the #Brawtherhood
P.S. Use code – brawblog – at www.brawbeard.com for 10% off
Follow Braw Beard: Instagram –
http://instagram.com/@brawbeardoils
Facebook –
http://facebook.com/brawbeardoils/
Twitter –
http://twitter.com/@brawbeardoil
Subscribe to the Braw Beard Youtube channel for more videos.
https://www.youtube.com/brawbeard
Scottish beard care.
Born in Scotland, enjoyed Worldwide.