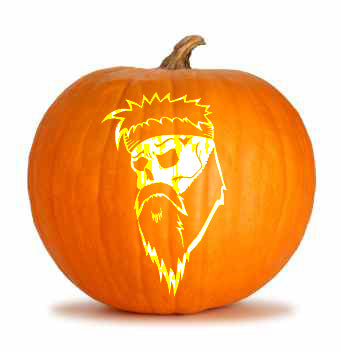 Top Halloween Costumes With Beards To Get Inspiration From
Halloween is not too far away now, it's maybe time to consider top Halloween costumes with beards. You may just love visiting folk dressed up, accompanying your children on their trick n treating or just straight up want to scare anyone who chaps your door on the 31st October. But being a bearded dude, your options can be pretty limited, or so you thought! Let us give you some ideas, some are easy, some are elaborate. It's up to you how seriously you want to take it.
The Top Halloween Costumes With Beards
Tormund Giantsbane - Game of Thrones. Get some Warrior beard oil in the facial hair, brush it to plump out the beard. Apply some Braw pomade in the hair, comb it through then ruffle it up with your fingers and you are good. You may need to find a costumes shop for the outfit though.
Ragnar Lothbrok - Vikings TV show. Some Jarls Northman 1263 in the beard this time, because it's named after the battle of Largs between the vikings and Scots. Again brush it through to give some volume in the beard. There's a couple of hair options, left - zero, zilch, shaved to the bone. or right - long hair tied, although I have seen guys kicking around with top knots trying to pull off this look. You may need to find a costumes shop for the outfit though.
Opie Winston - Sons of Anarchy TV show. This guy was the inspiration for a lot of men growing beards when SOA was on TV. This look is fairly easy to pull off, some beard oil in, again brushing it through for a bit volume. Black beanie, black tee, silver rings on your fingers, leather vest, jeans, boots and a belt with a big buckle.
Chuck Noland - Cast Away. Not alot needed for this, some mud on the face, or makeup, whatever suits. Back-comb the beard a little and get a white football with a face on it to carry around. Easy.
Wolverine - X-Men. If you have a short beard or big sideburns, why not consider going as Wolverine? Too cold to walk around shirtless? Grab a cheap leather jacket and a pair of jeans. If you can't grow claws naturally, maybe nip to the local costume shop, not everyone is gifted like Wolv.
Captain Jack Sparrow - Pirates of the Caribbean. If you have a long goatee, you'll need to pleat it in a fork fashion to achieve this look, the outfit will need to be sourced from a costume shop though.
Alan from The Hangover. Pretty easy to achieve really.
There are some suggestions for top halloween costumes with beards. I hope this has given some inspiration, writing this blog makes me want to watch these shows again. Thank you for reading. JJ Join the #Brawtherhood
P.S. Use code – brawblog – at www.brawbeard.com for 10% off
Follow Braw Beard: Instagram –
http://instagram.com/@brawbeardoils
Facebook –
http://facebook.com/brawbeardoils/
Twitter –
http://twitter.com/@brawbeardoil
Subscribe to the Braw Beard Youtube channel for more videos.
https://www.youtube.com/brawbeard
Scottish beard care.
Born in Scotland, enjoyed Worldwide.