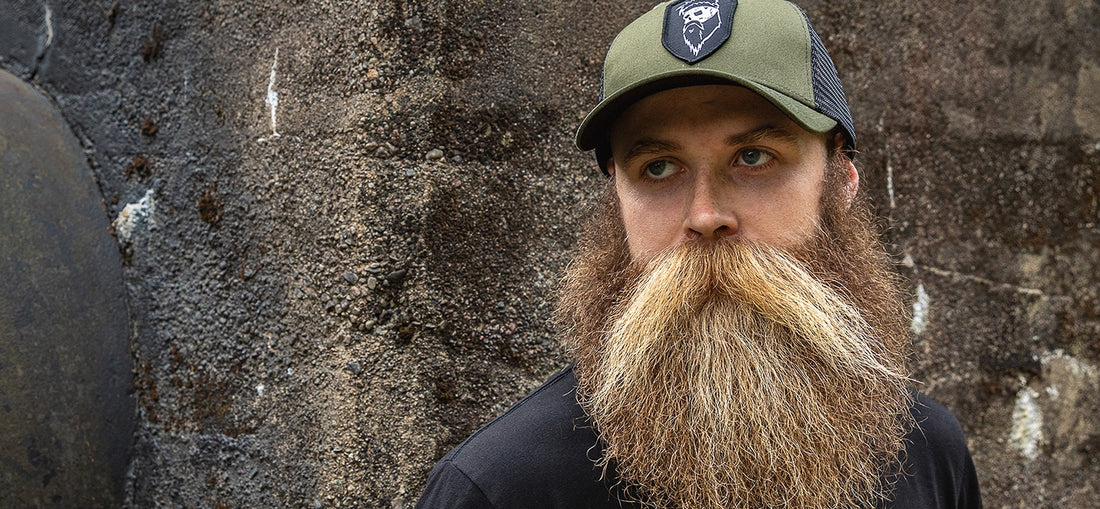 When You Should Start Using Beard Care Products.
What beard length should I start using products at is a question that we get asked often. We recommend using beard care products from the start of growing a beard. I know you'd expect us to say that, being a beard care brand. However, there is good reason. Let me explain below.
What does beard oil do?
Braw Beard oil is an all natural leave-in conditioner that is designed to moisturise the skin underneath the beard. This keeps dry flaky skin at bay which reduces irritation (the main reason guys give up growing and shave). Keeping the skin moisturised from the beginning with make the process of growing more pleasant. Just a few drops of beard oil massaged into the skin with soften the skin and stubble.
– 100% natural conditioning oil to nourish facial hair.
– Hempseed oil base may enhance beard growth.
– Argan oil can reduce irritation, inflammation and itchiness in the skin below under your facial hair..
– Non greasy
– Handmade in small batches in Scotland
It has only natural ingredients, chosen for their beneficial properties.
Which means it nourishes the facial hair from root to tip.
So that you can have an attractive beard that will not itch or leave dandruff on your shirt.
Our 50ml bottles last 3-6 months depending on beard length. Available in 10ml sample sizes too.
What our customers say:
"The oil has kept my beard softer and better looking, than previous oils and balms that I've used before. Definitely give it 5 stars. I would highly recommend this oil to any one with a beard." – Joseph M.
"Braw was the first beard oil i ever used, then i tried some of what the competition had to offer. long story short, Braw have the best beard oil out there. i prefer the natural oil without any fragrance and it keeps my beard soft & helps with skin dryness. get yourself some!!"- Alan B.
Check out more customer reviews on individual oil pages HERE
Read more about Braw Beard oil HERE
What beard length should I start using other products?
Other beard care products that we recommend using are Braw Beard Wash, Beard Butter, a brush and a comb.
When starting out, I'd recommend using a beard brush alongside Braw Beard oil. I know it sounds daft, brushing when there is only short stubble. But as the new hair grows in, dirt and grime in the pores can cause ingrown hairs (READ MORE HERE). Brushing daily will help keep the pores clear to let the hair grow as intended.
– Made from bamboo
– Medium strength boar bristles to avoid damaging hair & skin below
– Bristles evenly distribute product throughout the beard
– Curved handle for comfort
– Pocket size
– Braw Beard detail engraved in the handle
We have been getting great results with this brush for a fuller looking beard.
Just apply oil or butter to your facial hair then brush for best results.
What our customers say:
"Bought the beard brush and the arctic explorers 1813 beard oil n chocolate orange beard butter.all I can say that in 30years growing a beard the best products I've used by a country mile" – Jonathan P.
"So after leaving my cheap beard brush in a hotel I decided to buy one from braw. At first I seen it and thought it's half the size of my last one. After the first use I was amazed at how well it worked. The shape just fits really well into you hand and contours your face well." – Lee L.
Check out more customer reviews HERE
Read more about the Braw Beard brush HERE
What Beard Length Should I Use Braw Beard Wash?
Once your facial hair is a bit longer, around 1+ inches, now is the time to incorporate other products including beard wash. It is our shampoo that is designed for coarse facial hair.
– Specially formulated organic shampoo for coarse hair.
– Added aloe vera soothes dry and itchy skin.
– Unscented to avoid interfering with your favourite Braw Beard Oil scent.
– Leaves facial hair feeling soft instantly.
– Only a small amount needed.
– Flip cap for easy use.
It has aloe vera added and is made with organic ingredients.
Which means it helps reduce dandruff while cleaning your beard effectively.
You will have smooth, soft and manageable facial hair, ready for some Braw Beard oil conditioner.
Available in full size 250ml bottles & travel size 100ml bottles.
What our customers say:
"Excellent beard wash, leaves it soft & looks fuller. Definitely recommend it." – Mark D
"Having tried a few so called beard shampoos over the years I have finally found one that I always go back to. Cleans up well and leaves beard feeling fresh and does not leave any residue which can cause dry skin. Comes in travel size too so no excuse for a manky beard even on your travels." – Paul S.
Check out more customer reviews HERE
Read more about Braw Beard Wash HERE
Braw Beard Butter
This product is designed to maintain beard shape while keeping it soft, it is a great skin moisturiser too.
– Provides hold for unruly beards whilst maintaining a natural look
– Made with natural ingredients
– Has a soft feel once applied (not waxy)
– Holds wispy hairs in place.
– Only a small amount needed.
– New and improved recipe.
Available in vanilla, chocolate orange or unscented.
It is made with natural ingredients, chosen for their beneficial properties.
Which means it nourishes the facial hair from root to tip,
while gently holding stray hairs in place to maintain a neat looking beard.
Sure to turn heads, this smells so damn good. Please don't eat it though!
What our customers say:
"Smells ace and helps control those stragglers!" – Alasdair S.
"I love the Thrilla in Vanilla beard butter. The scent is amazing and keeps my beard smelling great all day, and the butter helps keep my beard under control and looking great." – Andrew M.
Check out more customer reviews HERE
Read more about Braw Beard butter HERE
Braw Beard Comb
Once your beard is at a length of 2+ inches, it may feel knotted, the beard comb will be useful to detangle your facial hair.
A beard comb is something that you need to get right.
– Made from sandalwood
– Ideal teeth spacing to detangle coarse beard hair
– Rounded teeth edges to avoid hair damage
– Pocket sized for everyday carry
– Comes with protective pouch
– Strong and sturdy
What our customers say:
"Wide teeth and keeps my beard in tip top shape. Excellent product." – Gary C.
"Very good, keeps the beard neat and gets the tangled hairs out, loving the products!" – Chris T.
Check out more customer reviews HERE
Read more about the Braw Beard comb HERE
I hope this article has helped explain the products a little better for you.
Thank you for reading
JJ
Join the #Brawtherhood
Scottish beard care.
Born in Scotland, enjoyed Worldwide.
P.S. Use code – brawblog – at www.brawbeard.com for 10% off
Follow Braw Beard:
Instagram – http://instagram.com/@brawbeardoils
Facebook – http://facebook.com/brawbeardoils/
Twitter – http://twitter.com/@brawbeardoil
Subscribe to the Braw Beard Youtube channel for more videos. https://www.youtube.com/brawbeard
Catch up on the Braw Cast podcast HERE
Youtube – HERE
Spotify – HERE
Apple Podcasts – HERE
Google Podcasts – HERE