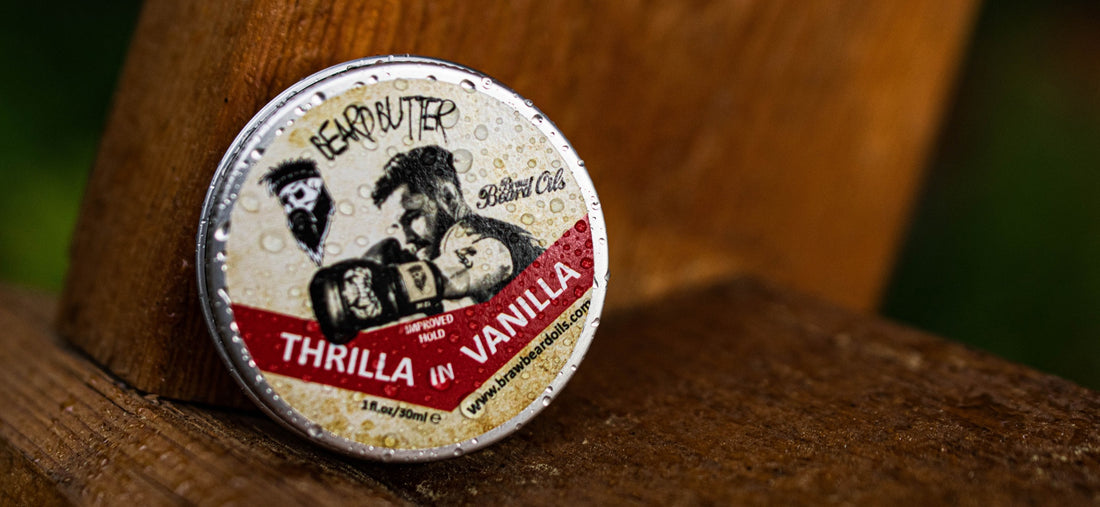 Beard Balm vs Wax. What is the difference?
Beard Balm vs Wax. What is the difference? There are several options of beard styling options on the market. We have 3 different types available, beard butter (our version of beard balm), moustache wax and matt paste.
Everyone who has a beard knows that stray wispy hairs are often annoying. You have your beard sitting nice, then PING, a random hair has broke rank and doing its own dance. Or even more annoying, several hairs have joined the party and are flapping around.
That's where the beard styling products come in.
Beard Balm vs Wax.
Beard Balm/Butter
Before we get started, our version of beard balm is called beard butter. The reason for this is, when we created our product back in 2014, the range of balms (and brands) on the market was small. All the beard balms were very waxy and left a tacky residue on the beard. We didn't want to that in our product, so we developed a slightly softer option which felt like butter in comparison. That's where our beard butter name came from. Now there are soooooo many versions on the market from full wax to very soft butters. But Braw Beard Butter does the best of both worlds in one product. It keeps the beard in shape, holds wispy hairs, moisturises the skin below and still leaves your beard feeling soft with no waxy residue.
– Provides hold for unruly beards whilst maintaining a natural look
– Made with natural ingredients
– Has a soft feel once applied (not waxy)
– Holds wispy hairs in place.
– Only a small amount needed.
– New and improved recipe.
Available in vanilla, chocolate orange or unscented.
It is made with natural ingredients, chosen for their beneficial properties.
Which means it nourishes the facial hair from root to tip,
while gently holding stray hairs in place to maintain a neat looking beard.
Sure to turn heads, this smells so damn good. Please don't eat it though!
What our customers say:
"Smells ace and helps control those stragglers!" – Alasdair S.
"I love the Thrilla in Vanilla beard butter. The scent is amazing and keeps my beard smelling great all day, and the butter helps keep my beard under control and looking great." – Andrew M.
Check out more customer reviews HERE
Read more about Braw Beard butter HERE
We have built a moustache wax to keep your upper lip in top form. Again, only using fine natural ingredients, our hand-made tash wax is blended with pride.
Available in an unscented version, these tins are 30ml, so they will last a while!
It is only made with beeswax and jojoba oil so it has a strong, thick consistency.
How to use.
Scrape a small bead of wax with the back of your nail, roll it between your index finger and thumb until it becomes very soft. Begin to work it through your 'tash, making it Braw. Apply more if needed. This is a much thicker wax than the beard butter. A small bead can be rubbed between your hands until it becomes a waxy paste, then applied gently over your beard. This is designed for styling your moustache but can be used lightly on your beard if required.
What our customers say:
"I like this wax as it lets be control and style my tash without leaving it hard and greasy and does not dry it out either." – Robert C.
"Been using this for years now and it keeps my tash in a manageable state and stops me eating it with my food" – Leigh P.
Check out more customer reviews HERE
Can beard balm be used together with beard oil?
Yes, of course. Some people choose to use beard balm or beard oil but most of our customers with long beards use both. Beard oil provides more coverage than balm so we find the best results come from using Braw Beard oil first, then comb using the Braw Beard comb. The beard oil and the rounded teeth on the comb allow the tool to glide through the beard with ease, detangling knots and snags along the way. Next we recommend applying Braw Beard butter (balm) as above to hold any potential stray hairs in place and give the beard a natural shape. Using the Braw Beard brush will evenly distribute the butter through your beard slightly separating the hairs, adding volume.
I hope this has helped show the difference between beard balm vs wax.
Thank you for reading.
JJ
Join the #Brawtherhood
P.S. Use code – brawblog – at www.brawbeard.com for 10% off
Follow Braw Beard:
Instagram – http://instagram.com/@brawbeardoils
Facebook – http://facebook.com/brawbeardoils/
Twitter – http://twitter.com/@brawbeardoil
Subscribe to the Braw Beard Youtube channel for more videos. https://www.youtube.com/brawbeard
Scottish beard care.
Born in Scotland, enjoyed Worldwide.