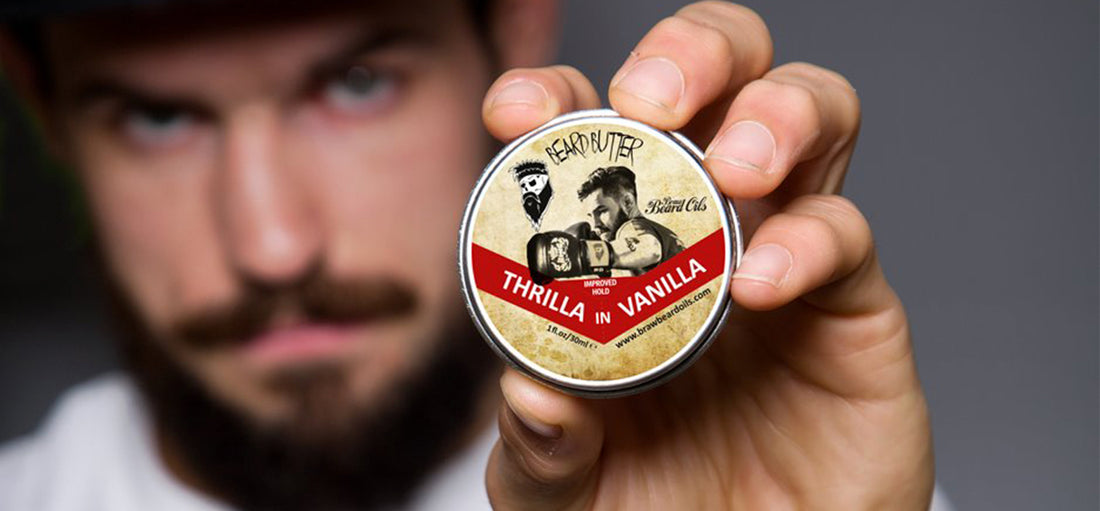 Beard Butter That Works & Why It Can Help Your Beard
What is beard butter and why is it so good? Beard butter is similar to beard balm, it has a waxy element designed to tame stray hairs, to keep them pointing in the right direction. When we designed our product we found that existing beard balms were to waxy for our liking. They left a horrible residue which seemed to transfer everywhere. So we started from scratch, making ours softer than normal but it still had a nice hold while keeping the beard feeling soft. In hindsight, it was maybe a little too soft. In 2018, we altered the recipe a little to add more hold while maintaining the softness in the beard hair. It doesn't feel waxy or leave a greasy residue, WIN! So our version of a beard balm is, beard butter because it's softer....like butter.
What is the purpose of beard butter?
It's a solid state product which is melted down with the heat in your hands. Once it becomes liquid, you apply it to your beard just like you would with beard oil and it will set slightly which gives the hair some hold. Ideal if you have a naturally messy beard or spend a lot of time outside.
How to use beard butter.
If you had used our previous version of beard butter you will notice that the new improved product has a firmer feel in the tin. Some of the ingredients react to the cold, so if the balm feels harder than normal, it will still scoop out and melt in your palms as normal, it may just take a few seconds longer.
Just follow the instructions on the label as before. First scrape a pea sized bead out with the back of your nail. Place it in the palm of your hands. Then rub them together to melt it down, the apply through your beard.
We like to
brush
afterwards with the
boar bristle beard brush
which even distributes the product from root to tip. The bristles separate the hairs from each other adding volume to the beard, making it appear fuller.
What's in it to make it so good?
We changed our recipe totally on the new product, if we had just added more beeswax, it wouldn't have given the desired results. As I mentioned before we wanted to have a stronger hold but maintain the soft feeling left afterwards. Mango butter – packed full of antioxidants, vitamins, saturated and mono saturated fats, it's perfect for those who suffer dry and irritated skin under their beard. The emollience of mango butter seals and protects the hair strand. Coconut oil – moisturises dry hair, prevents breakage and split ends which can help maintain length. Coconut oil can also stimulate hair growth by penetrating the follicles. Cocoa butter – again a great hair moisturiser, it has been known to strengthen hair and add volume while making hair more manageable. Avocado butter – originally used by the Egyptians to promote hair growth and strengthen hair, we had to add this, they build the Pyramids, so they know what they are doing. Avocado butter controls frizz (and wispy hairs), it works very well to nourish dry and brittle hairs, preventing damaged and split ends. This butter is full of proteins, amino acids and vitamins which promote healthy hair growth. Shea butter – has been known to reduce dandruff, redness and irritation underneath the beard without clogging the pores. Beeswax – rich in antioxidants, beeswax is a great conditioner for the hair whilst providing hold and can be used to style the hair. This is great for holding wispy and unruly beard hairs in place. As you can see from that list, we chose the ingredients for a good reason and they work very well together! Our beard butters come in 3 blends.
Unscented
Thrilla in Vanilla
- Scented with vanilla.
Chocolate Orange
- Scented with a very small amount of synthetic chocolate orange fragrance.
Here's what our customers say...
"Still the best product on the market, Braw"
- Josh Dickens-Hayman
"I'll never buy anything else. The vanilla smells amazing, works best when you work it through with the bristle brush to really spread the wax and help shape your beard."
- Declan M
"Great scent and fantastic hold without being too firm , would recommend 100%"
- Mark W
"Hands down the best Beard styling product I've ever used. Easy to use, smells incredible, remarkably non-greasy, and will actually melt to clear in your hands unlike some other styling products which stay white and weird no matter how much I rub. I am a convert. And the wife likes it too!"
- Innes RH
"Excellent product. As someone who suffers with eczema and struggles to find products to use. I've been using this product for over a year and have had no issues at all. A small drop goes a long way and the scent is not to strong. Highly recommended" - Les