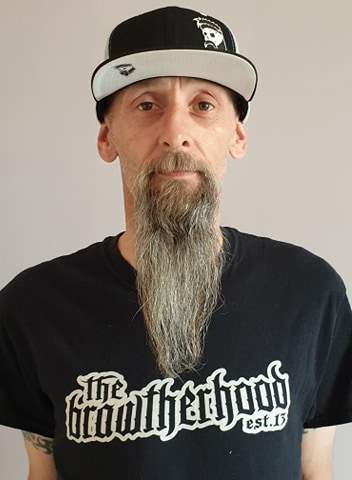 Growing a long goatee? Our 5 step guide will help you.
Do you prefer a partial beard over a full beard? A long goatee is a style favoured by many. Although, without the bulk of a full beard behind it, they often need a good beard care routine. A goatee is a partial beard when the moustache flows into the beard, with the sideburns shaved. 
There are 2 ways to get a goatee started. If you are starting clean shaven, let your facial hair grow out for a few weeks. Then shave the sides to leave you with heavy stubble around your moustache and chin area. Use that as a template to shave to going forward. Or, when guys are going for the long goatee, they often prefer to grow a lengthy beard first. Once the sides are shaved off, this leaves an impressive goatee length.
Our 5 tips to look after a long goatee
1 - Just like you would for a full beard, use a
high quality beard shampoo
, like
Braw Beard Wash
. This keeps your beard and skin clean, moisturised, soft and soothed. The added aloe vera in
Braw Beard Wash
is an anti-inflammatory which soothes irritation while keeping dandruff at bay. Read more about
Braw Beard Wash HERE
Shave...
2 - Shave the sides regularly which will keep it looking sharp like Les Robertson below. Then after washing with Braw Beard Wash, it's a perfect time to shave and neaten up your sides. Your skin and facial hair will be softer after washing with warm water, this added with
Battle Scar Moisturiser
 will allow the razor to glide easier for a closer shave. 
3 - Then use a high quality natural beard oil to condition the hair. Braw Beard oils are 100% natural and are designed to keep your beard soft and moisturised throughout the day, they smell great too! Untreated beards can feel dry, wiry, tender and drop a lot of dandruff or beardruff as it's know in the beard world. Using Braw Beard oil daily avoids nasty white skin flakes on the chest of your t-shirt. CHECK THIS ARTICLE to use Braw Beard oil properly.
4 - Apply Braw Beard butter to your long goatee. Without the bulk of a full beard behind a goatee, they can sometimes look a little messy or sparse. The waxy element of Braw Beard butter will help add some shape. CHECK THIS ARTICLE to use Braw Beard Butter properly.
5 - Finally, comb or brush it regularly. If you have a long goatee, consider using a comb to detangle the hair after applying Braw Beard oil. Then a brush will be useful on any length of goatee, the bristles will separate the hair while evenly distributing product, adding volume which can make the goatee look thicker.
I hope these 5 tips will help you on your journey to getting your long goatee.
Thank you for reading.
JJ
Join the #Brawtherhood