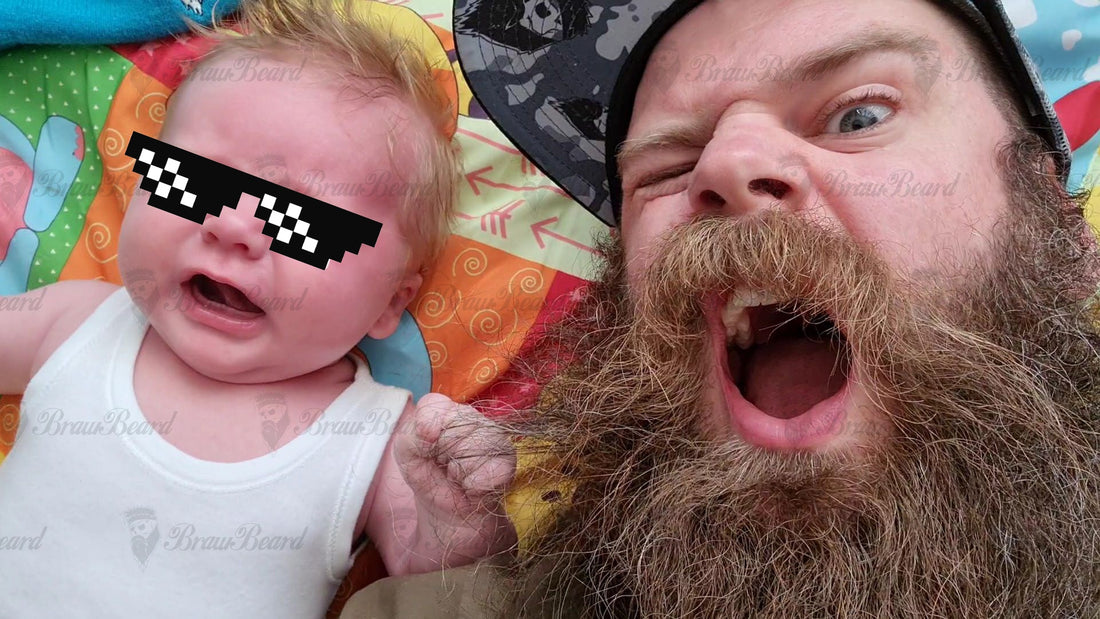 Have you ever seen a baby with a beard?
Have you ever seen a baby with a beard? No? Us neither, but have you ever seen a baby near a beard?
I became a dad for the first time in April 2020 and it really is life changing. There are so many things that change to accommodate the new arrival. However, one thing I was determined to leave as is, was my beard. The thought of trimming it down did cross my mind but I thought I'd see how I get on first.
It's going well, so far.
Being around a baby with a beard is entertaining
When I am at home, my beard is tied down for 99% of the time at the moment. When I am feeding him, Danny likes to reach out and touch my beard and occasionally he does pull at it with a loose grip. It's a comfort thing for him, he's not doing it intentionally, if a couple of hairs come out, that doesn't matter to me. The photo in this article is an exception, I was lying next to him on a family lockdown call, he kicked off and had his arms flailing, which happened to collect my beard.
Everyday he has woken up to see my face with a beard and and at this early stage of his life, I'm pretty sure that's how he recognises me. It'll be interesting when he starts asking "why that man doesn't have face hair" haha, "the same reason daddy doesn't have head hair kid, everyone is different".
No doubt when he gets a little older, I'll get roped into letting him put christmas tree lights and glitter in my beard to keep him entertained.
Even though my beard is tied down at home (smaller surface area for less to grab), I still keep it moisturised with beard oil. He likes the different scents of the oils as well. I think the citrus of Anniversary18 is his favourite. I wonder if he'll grow a beard when he's older?
This is just a short wee article that was in my head as becoming a new dad and having a beard, it's short with not a lot of information but I hope you enjoyed the read.
Thank you for reading.
JJ
Join the #Brawtherhood
P.S. Use code – brawblog – at www.brawbeard.com for 10% off
Follow Braw Beard:
Instagram – http://instagram.com/@brawbeardoils
Facebook – http://facebook.com/brawbeardoils/
Twitter – http://twitter.com/@brawbeardoil
Subscribe to the Braw Beard Youtube channel for more videos. https://www.youtube.com/brawbeard
Scottish beard care.
Born in Scotland, enjoyed Worldwide.