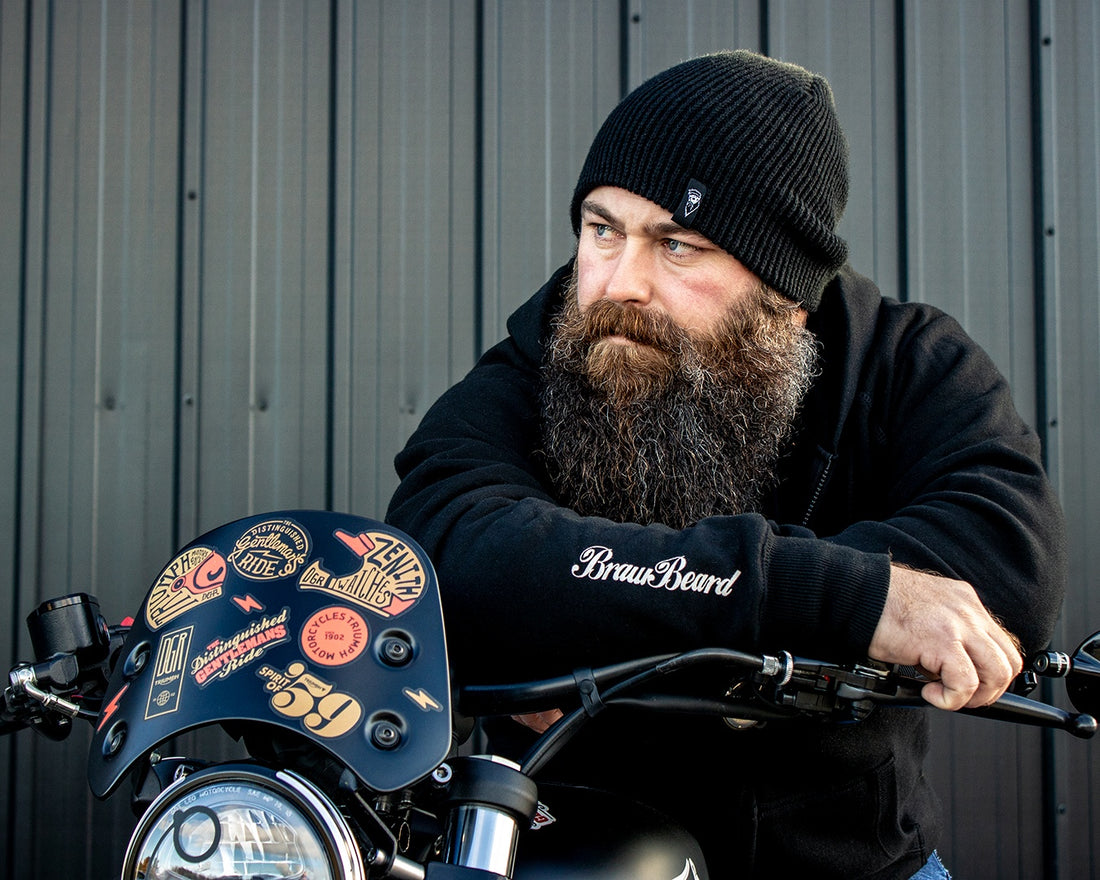 If Your Beard Is Dry, Here's How To Fix It.
As we begin to get into the summer months, you may start to notice that your beard is dry. The hot weather can make your facial hair feel dry and wiry which can lead to it feeling itchy. Also, if you sweat, the build up of dirt and grime may cause irritation and spots.
Things to consider if your beard is dry.
First thing's first, if your beard is dry, it may be because you are dehydrated? Are you drinking plenty of water throughout the day? Although the amount of water needed to function properly varies for everyone, the NHS recommend drinking 1.2 litres per day. For those in warmer climates or exercising, more is required. Drinking plenty of water will flush out toxins which helps your body run smoothly, every cell, organ and tissue requires water to operate properly. Your hair follicles need hydration for optimal performance, dehydration will stall hair growth.
Using a decent beard oil?
Nowadays, beard oil comes in various forms, from 100% natural to 100% synthetic (unnatural). A lot of the high street shops sell beard oil that are full of synthetic ingredients to prolong shelf life. However, these ingredients can actually dry out the hair, some leave the hair feeling very greasy and some are even sticky!
Braw Beard oils are 100% natural and always have been. We use the best ingredients we can to provide the best results possible. Braw Beard oil is designed to moisturise the skin below and leave the hair feeling nourished and soft.
The natural ingredients are chosen for their benefits:
Hempseed oil – which may stimulate hair growth. The oil promotes blood circulation on the scalp too, it's easily absorbed by the hair which can help strengthen the hair, reducing breakages.
Jojoba oil – is rich in vitamins and minerals. This oil is great as a moisturiser which is good for the scalp to reduce dandruff, itchiness and irritation.
Vitamin E – the antioxidants in vitamin E oil may repair damaged hair follicles and hair shafts. It is a deep moisturiser for your hair and skin which therefore reduces dry skin and irritation. Vitamin E oil may protect your hair from the elements too.
Argan oil (not in Grafter, Lover or Wulver) – is known as liquid gold, argan oil helps repair damaged hair and split ends. It is a great leave-in conditioner (which our beard oil is anyway) which can help reduce irritation, inflammation, sores and itchiness in the skin below under your facial hair.
The fragrances are built with essential oils (plant based) rather than fragrance oils (synthetic).
Clean regularly with a good beard wash
As your beard gets longer, start to use Braw Beard Wash in the shower to wash your facial hair. Sure, you can use your partners hair shampoo but beard specific shampoo is specially formulated to soothe itchiness and fight beardruff (dandruff).
During the process of creating Braw Beard Wash, we wanted to add aloe vera. Aloe vera has been to known to have skin repairing qualities, which can help reduce dandruff. It can also promote hair growth and make it smooth and shiny. It is also very soothing on irritated skin.
Also included is coco glucoside, this is natural and biodegradable, obtained from coconuts. It is a natural conditioner and surfactant which lathers up without the need for chemicals which are often found in high street shampoos.
Organic hibiscus flower extract is great for its moisturising and deep conditioning benefits. It is rich in amino acids and vitamin C which may combat hair loss too.
Sodium coco-sulfate is from the fatty acids of a coconut. It does a great job of breaking down dirt and grease to leave a extremely clean beard.
The reason for this is so that you can use any Braw Beard oil to scent afterwards. We have customers who prefer no fragrance at all, we also have customers who have a large collection of Braw Beard oils. Why would you want to have a shelf full of different scented shampoos to suit each oil? So we made it unscented for full flexibility.
Have a good beard care routine if your beard is dry
Keeping up a good beard care routine with high quality products will help while you grow a beard too.
• Washing your beard keeps it clean from dirt and grime which can block pores and prevent hair growth. Read more about beard wash HERE
• Using a good beard oil will keep the skin under your beard moisturised to prevent dry skin and irritation. It will also leave your beard feeling soft and smooth. Read more about beard oil HERE
• Combing will detangle any snags. This will reduce the chances of tugging hair which can damage or remove hairs. Read more about combs HERE
• Beard butter is also a moisturiser for the skin and hair. It is a styling product but has great skin benefits too. Read more about beard butter HERE
• Brushing daily will help reduce snags too but also exfoliate the skin below to keep pore clear. this will give them the best chance of growth. Read more about beard brushes HERE
If you'd like to read more about my daily beard care routine, check out THIS ARTICLE
We hope this helps if you suffer a dry beard, hydration and regular beard care can make all the difference.
Want to read more?
There are customer reviews on each of the product pages at www.brawbeardoils.com
Thank you for reading
JJ
Join the #Brawtherhood
Scottish beard care.
Born in Scotland, enjoyed Worldwide.
P.S. Use code – brawblog – at www.brawbeard.com for 10% off
Follow Braw Beard:
Instagram – http://instagram.com/@brawbeardoils
Facebook – http://facebook.com/brawbeardoils/
Twitter – http://twitter.com/@brawbeardoil
Subscribe to the Braw Beard Youtube channel for more videos. https://www.youtube.com/brawbeard
Catch up on the Braw Cast podcast HERE
Youtube – HERE
Spotify – HERE
Apple Podcasts – HERE
Google Podcasts – HERE