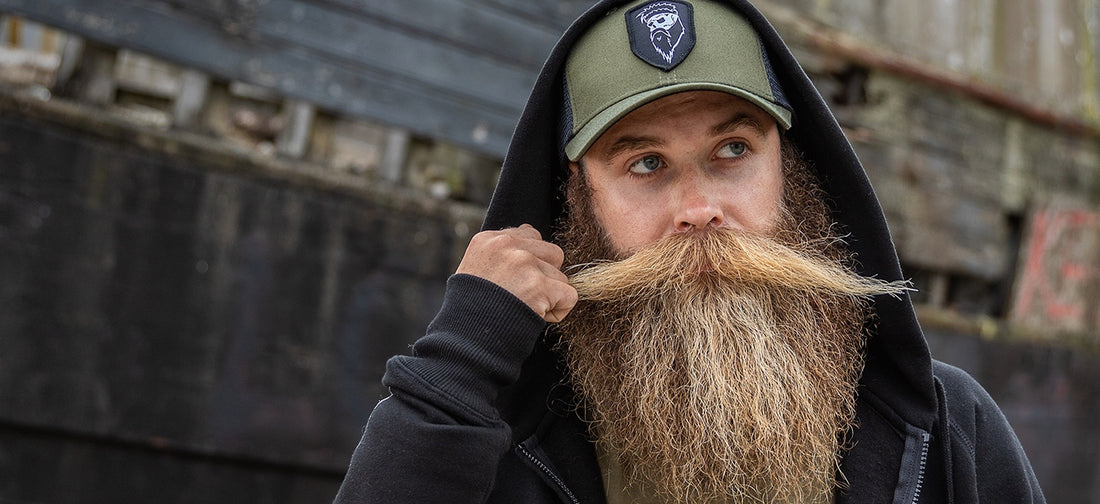 Is Beard Oil Necessary? Here's The Truth
We see the arguments online daily, is beard oil necessary? The short answer is no. Beard oil is not essential to growing a beard, it's a luxury. Are shoes necessary for walking? No. But, they'll make the process much more enjoyable.
Let me explain.
I've had various forms of facial hair since I was 15, big sideburns, goatees, full beard, short beards etc. I had never heard of beard oil before, it wasn't really a thing.
Below is a photo of me in 2011 (2 weeks after fracturing 2 vertebrae, hence the neck brace).
Look at that thing, it's dry, wiry and weak. After this race, I took months off to recover from the back injury then that's when Braw Beard was born. You can read more about the journey HERE
So, is it necessary?
As you can see, beard hair will grow just fine without beard oil. But beard oil makes a huge difference in appearance, comfort and manageability.
Below is a recent photo
See the difference? Other than the length obviously. The hair looks much nicer, healthier and vibrant.
What does beard oil do?
Braw Beard oil's purpose is to moisturise the hair and skin underneath to reduce the itch and irritation that comes with growing a beard. Although there are cheap alternatives out there, Braw Beard oil is a 100% natural product.
Braw Beard oil will leave your beard feeling softer, smoother and more manageable. The blend ratio of ingredients work to reduce irritation and dry skin which can cause dandruff (beardruff).
Would you be happy getting close to someone knowing your head is flaking dandruff everywhere? No? It's the same scenario with your beard. You want that thing nice, smooth, clean and flake-free, no-one wants to snuggle a furry snowstorm.
When growing a beard, you may have experienced dry skin, irritation and beardruff, which is usually is enough for someone to shave their facial hair off. However, using the correct beard care products, all that can be dealt with easily.
If you have a new car or bike, you look after it, you keep it clean because you are proud and want to show it off. Why should the hair sitting on your face be any different? Treat it with care.
Never used beard oil before?
If you have never used this product before, you can read more about it HERE. We do sell 10ml sample sizes of the beard oils if you'd like to try before committing to a bigger bottle. To apply, all you need to do is dispense a few drops into the palms of your hands and massage down to the roots of your beard. This will moisturise the hair and skin, reducing itchiness and irritation while leaving your beard feeling super soft.
Here's what our customers say:
"Best scent, best for dry skin! Second time buying the Heather beard oil, for me it's the best for dry/itchy skin! Buy the brush also!" - Nicky A.
"WOW, what a wonderful scent love the feel in the beard, the hint of the orange, and the cinnamon, just enough not over powering, got a winner here, great oils JJ you knocked this one out of the park, great job...." - Darryl H.
"This is my favourite beard oil. I have been using Braw Beard Products for years and would certainly recommend their oils over any other brand. I certainly know the difference on my beard and skin if I forget to apply it." - Alan D.


"As always, these guys are great. Quality product at a good price. Easily the best beard oil I've used; good for skin and beard." - Dermot O'C.
""I have been using Braw Beard wash and oil products for several years now. Unlike other products, I have never had any problems with skin irritation and my beard feels in great condition. Only natural ingredients are used in all the products and are keenly priced compared to similar products. Shipping from the manufacturer (based in Scotland) is very quick and direct prices are better than elsewhere. Highly recommended and I will continue to use this company for as long as I have my beard!!" - Richard P.
"My favourite beard oil yet. A slightly thicker/heavier oil which works really well in my beard, which is white and quite dry. This oil tames it superbly and keeps it looking sleek and shiny, rather than dry and frizzy. The scent is also brilliant. Brilliant product. Five stars." - Kenneth P.
There are far more customer reviews on each of the product pages at www.brawbeardoils.com if you'd like to read more.
I hope this has helped.
Thank you for reading.
JJ
Join the #Brawtherhood
P.S. Use code – brawblog – at www.brawbeard.com for 10% off
Follow Braw Beard:
Instagram – http://instagram.com/@brawbeardoils
Facebook – http://facebook.com/brawbeardoils/
Twitter – http://twitter.com/@brawbeardoil
Subscribe to the Braw Beard Youtube channel for more videos. https://www.youtube.com/brawbeard
Scottish beard care.
Born in Scotland, enjoyed Worldwide.