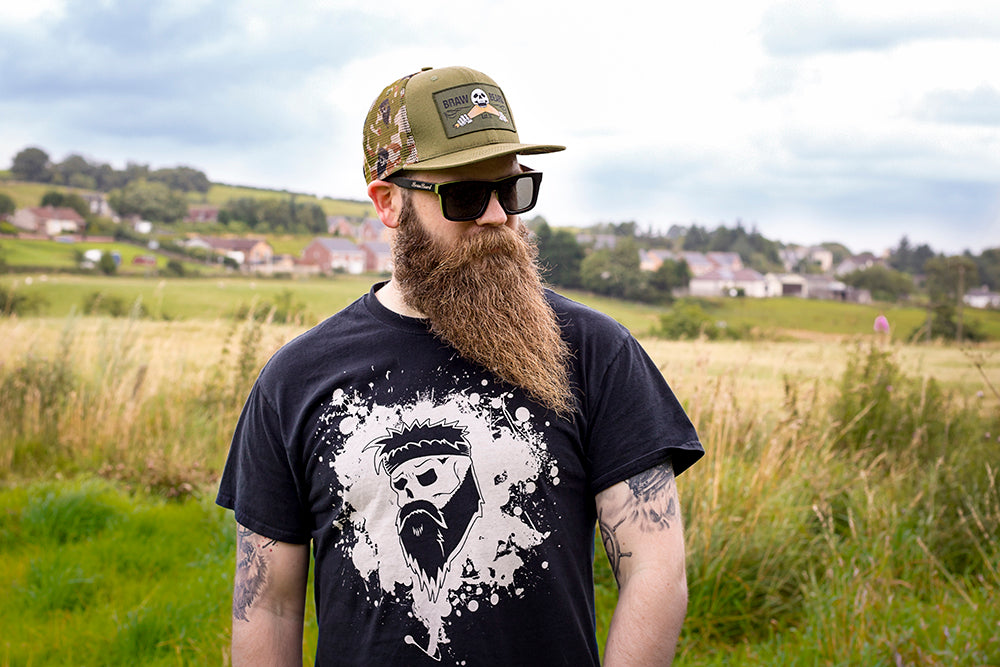 Why Do Men Grow Beards? Here's My Story And Why I Grew One
Initially when asked, why do men grow beards? Our answer is, because It Grows For A Reason - like it said on our t-shirt!
But I guess there is a little more to it than that. Men have an abundance of testosterone which in turn, fuels the facial hair follicles, producing thicker hair. Everyone has facial hair, men and women, but men usually produce thicker, darker facial hair due to high levels of testosterone. Beards were seen as a sign of a more masculine male back in the day, someone of status, a hunter or a feared warrior. But in the modern day, with mobile phones, skinny jeans and supermarkets to get your food sources from, beards don't have the same significance as they did hundreds of years ago.
So nowadays, why do men grow beards?
Many men grow facial hair for different reasons today, some like the unshaven look or designer stubble, a 5 o'clock shadow, some grow a moustache or beard for charity. Some guys grow facial hair to attract a partner. But a lot of people I know, just plain and simple, LIKE BEARDS. As I always say, it grows for a reason, if you like it, let it grow. If you don't, shave it. I am interested to hear your reasons for growing your beard.
Why do YOU have a beard?
Too lazy to shave? To hide your chins? To make you look 'tough'?
For me personally, I was always surrounded by people who had beards, my parents loved rock music, naturally my choice in music became rock. Almost every band had someone with facial hair in the lineup. Many of my family members also raced motorcycles. There were always bearded bikers hanging around in the pits. I seen these people on a daily basis, cd covers, magazines, posters or in person. Beards were normal but I was too young to grow one. What I am about to say may sound 'sad' to some folk but as I've said before
#
zerofucksgiven
. It worked out well.
I remember my Granny and Grandad (who the Grand Eckson 1918 beard oil is named after) took my sister and I for a day trip into Edinburgh. I was about 12-13 yrs old. We travelled on the train from Longniddry to Waverley in Edinburgh. As you approach Waverley, there is a long dark tunnel, when we went through the tunnel something happened. I noticed my reflection in the window, the light in the train versus the dark tunnel outside let me see a shadowy reflection of myself in the glass. The distorted light and shadows made my jaw dark and highlighted my cheeks. Add in teenage imagination and it look like I had a short beard!
I was committed
I stared at it for a while and I liked what I saw in my imagination. As soon as I can grow facial hair, I thought, it's happening. And it did, at 15 I had sideburns, then a goatee which was shit! I was committed. I stuck with it, growing it in various shapes and styles for fun. Having only been clean shaven 3 times since, twice were for Movember. The 3rd time I ballsed up my beard trying to trim it, nightmare!! It wasn't until 2011 that I discovered natural oils and their benefits. Then I started to experiment and produce products to make my beard healthier looking and more attractive.
In 2012 I started what is now Braw Beard. A brand enjoyed worldwide by people I looked up to. How fucked up is that?? Musicians, actors, bike racers!
Fred Durst - Limp Bizkit As a brand we have built a community we are proud of - The Brawtherhood. We started it in 2013 and it is a group of beautiful humans who all share 2 things in common, appreciation for beards and the Braw Beard scene. Braw Beard threw a brand party in 2017, it was Scotland's first ever Beard and Moustache Championship. A true celebration of all things beard.
Facial hair has always been part of my lifestyle, even before I could grow it. I am grateful I am now able to make it my job and share Braw Beard products with likeminded people. A huge selection of Braw Beard products and accessories can be found at
www.brawbeard.com
Thank you for reading my thoughts on Why Do Men Grow Beards. JJ Join the #Brawtherhood
P.S. Use code – brawblog – at www.brawbeard.com for 10% off
Follow Braw Beard: Instagram –
http://instagram.com/@brawbeardoils
Facebook –
http://facebook.com/brawbeardoils/
Twitter –
http://twitter.com/@brawbeardoil
Subscribe to the Braw Beard Youtube channel for more videos.
https://www.youtube.com/brawbeard
Scottish beard care.
Born in Scotland, enjoyed Worldwide.