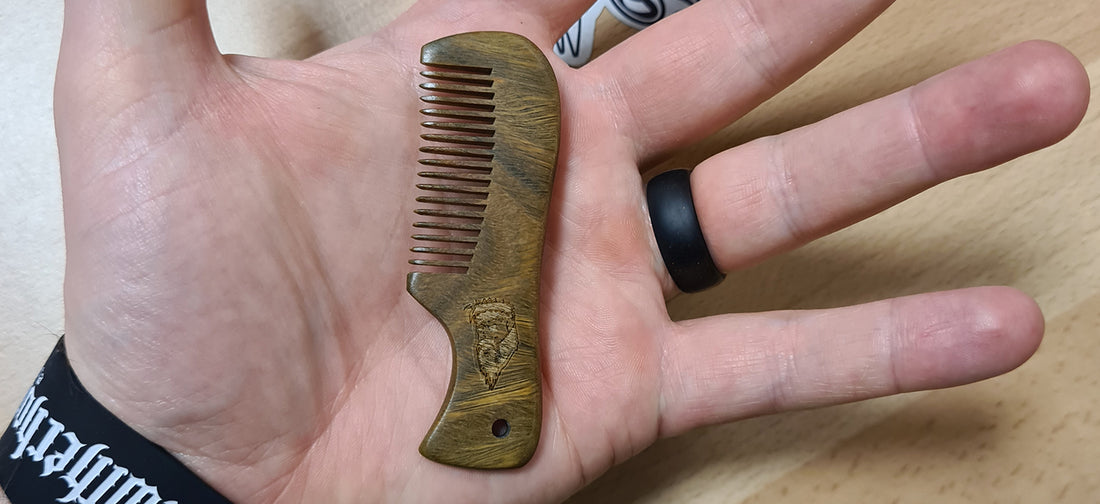 Moustache comb. Choosing the right one for you.
A moustache comb is a lot different to regular beard combs. There are many different features which I will explain in this article. We are a little late in adding a moustache comb to our line-up but the reason is, we wanted one that would compliment our current beard comb. The Braw Beard Comb is made from sandalwood, is wedge shaped, has rounded teeth and smells great!! We wanted to make sure the moustache comb held the same properties. It does.
The differences between the beard comb and moustache comb
The Braw Beard comb is a great tool for detangling long beard hair. It is made from sandalwood and we designed it with some key features that many other beard combs lack. First, the teeth spacing is a key feature. Beards are more coarse than head hair, so if the teeth on your beard brush are too close together, they will snag and damage the beard hair. If the teeth are far too wide apart, they'll miss the majority of hairs and not comb as in tended. After trial and error, we settled on spacing that performed best for us. Next, rounded teeth. Many cheaper combs have square edges on their beard comb teeth. Sharp edges can slice and damage beard hair as the comb glides through, we rounded ours to prevent that. Lastly, the Braw Beard comb is pocket sized. Because you take your beard everywhere you go, you should be able to easily carry your comb too. If your long beard gets caught in the wind, rain or is just feeling a bit straggly, a pocket sized beard comb is the tool you need. This comb comes in a handy wee protective pouch too.
The Braw moustache comb is small at 75mm x 25mm and has narrow teeth spacing designed to tackle moustache hair. It works great on short beards too. Due to your top lip being a relatively small surface area, the Braw Beard comb won't work effectively there. This is where the moustache comb comes in. Moustache hair is generally straight in comparison to beard hair so narrow teeth spacing works well on the moustache. The small size of the comb allows easy access to your top lip under your nose. Plus, the handle on the comb helps for manoeuvring too. Like the beard comb, the teeth on the moustache comb are slightly rounded to avoid damaging the hair when combing. Also, we added a curved profile to the teeth ends to add comfort when combing your top lip. On the handle is a 3mm hole which can be used to attached to a keyring if required, although the comb is actually small enough to fit in your wallet for safety. It is made from sandalwood too and is very sturdy.
Why use a moustache comb?
This comb is ideal for evenly distributing product through your moustache. It exfoliates the skin below too, reducing dandruff and dead skin. If you are looking to train your moustache or style it with moustache wax, combing daily will help point it in the direction that you desire. Start from the middle of your top lip, just under your nose, then comb down and outwards towards the edge of your mouth. Sometimes people will experience tender moustache hairs if they becomes tangled with other hairs. Combing will detangle and leave it feeling smooth, soft and fresh.
Using moustache wax.
If you choose to style your moustache with wax, use the comb before applying product. This will detangle and prepare the hair. After applying the wax, use the comb again to help distribute the wax throughout your moustache evenly, then use your fingers to adjust the hair's shape as desired. I hope this article has helped provide useful information on moustache combs. Get your Braw Moustache comb
HERE
Thank you for reading. JJ Join the #Brawtherhood
P.S. Use code – brawblog – at www.brawbeard.com for 10% off
Follow Braw Beard: Instagram –
http://instagram.com/@brawbeardoils
Facebook –
http://facebook.com/brawbeardoils/
Twitter –
http://twitter.com/@brawbeardoil
Subscribe to the Braw Beard Youtube channel for more videos.
https://www.youtube.com/brawbeard
Scottish beard care.
Born in Scotland, enjoyed Worldwide.