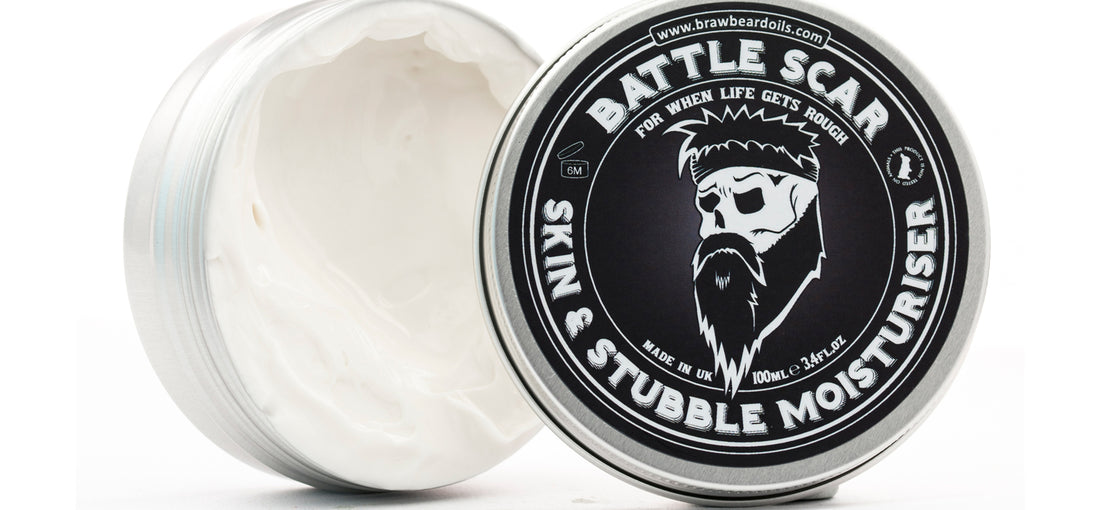 Skin and Stubble Moisturiser. Does it work?
Did you know, at Braw Beard, we have our very own skin and stubble moisturiser? Our original brand strap line was For Stubble To Skiffin' Rubble. Meaning our products are for use on any facial hair from stubble to beards scraping the ground. One of those products is our skin and stubble moisturiser,
Battle Scar.
We picked that name after the amount of nicks and scars we and the Braw athletes pick up from various sports. If your beard looks in prime condition, we believe that your skin should too.
What is it and what does it do?
Our light fragrance free Battle Scar skin and stubble moisturiser cream rehydrates the outer layer of your skin. Which helps you avoid dry, flaky and tired looking skin. Skin moisturisers' function is to help treat dry skin and prevent it from drying out again by holding moisture in the outer layer of skin. It also acts as a barrier against the weather elements to reduce irritation and itchiness. If you are just starting a Yeard (a year long beard), have stubble or shave areas of your beard for shape, you'll no doubt suffer some sort of itch or irritation. With stubble coming in, the hair is breaking through. Your skin can get inflamed and cause irritation, leaving you itching that red blotchy skin. Or if you shave parts of your beard to shape it, you may suffer shaving rash. Our Skin and Stubble Moisturiser cools and soothes the inflammation while moisturising the irritated skin. Battle Scar is a great face moisturiser too. Your face is exposed to the elements daily, the weather can dry out the skin leaving it tired, dry and blotchy. The Braw athletes' skin gets punished almost everyday. Whether it's the wind hitting the road racers at 200mph or various forms of impact on our contact athletes faces. Battle Scar skin and stubble moisturiser helps rehydrate the dried out skin.
When is the best time to use it?
We recommend using Battle Scar Skin and Stubble Moisturiser in the morning. After washing your face, dry your skin with a towel and apply a small amount of the cream, massaging it in. If they have spent a day outdoors, some of our customers like to apply a little before going to bed too. Winter months are the most harsh on skin so consider using it more often in the colder weather to rehydrate your skin.
If you suspect that you may have eczema, other skin conditions or cosmetic allergies, consult a doctor for treatment and testing.
What are the benefits of the ingredients?
The main ingredients are: Helianthus annuus (sunflower oil) is rich in calcium, iron, magnesium, zinc and vitamins A, K and E. Sunflower oil is used effectively against inflammation and general irritations of the skin. It contains a high amount of vitamin E, which acts as an emollient trapping in moisture and keeping skin well hydrated. Glycerin is an oderless, colourless liquid that comes from plants. It can slow the evaporation of moisture from your skin to combat that winter dryness. Glycerin is a humectant, meaning it attracts water to the skin. Borago officinalis (borage seed oil) has demonstrated its effectiveness in reducing redness and soothing damaged & irritated skin tissue. Prunus amygdalus dulcis (sweet almond oil) acts as a lubricant on the skin surface, which gives the skin a soft and smooth appearance. Aloe barbadensis (aloe vera) has a high water content (99.5 per cent) means it's very hydrating, soothing and cooling. It's also a powerful anti-inflammatory and can treat skin conditions including psoriasis, sunburn, acne, dry skin.
What our customers say
"The best by far! Quite simply an amazing moisturiser. I suffer from dry skin but this keeps my skin silky smooth all day and my stubble feels much better too. Even the other half has commented on what a difference it's made to my skin." - Chris. "Skin as soft as a......... Great product, love the fact it's fragrance free so doesn't interfere with other scents. Looks great too!" - Mark D. "Love it. At first I was a bit nervous about using this as I have very sensitive skin and most things will set it off. But this cream has helped my skin feel so much softer and smoother and looks a lot better as well." - Kayden B. "Having to work outdoors and especially this time of year my skins gets a hard time from the elements and becomes very dry. I have tried some other products that just didn't hit the spot and then I discovered battle Scar. Easy to apply, non scented and has made my face a happy place again. Highly recommended along with their entire range. Keep up the good work." - Paul S.
Try it for yourself and enjoy 10% off using code
BRAWBLOG at
https://brawbeardoils.com/product/battle-scar-skin-moisturiser-100ml/
Thank you for reading. JJ Join the #Brawtherhood
P.S. Use code – brawblog – at www.brawbeard.com for 10% off
Follow Braw Beard: Instagram –
http://instagram.com/@brawbeardoils
Facebook –
http://facebook.com/brawbeardoils/
Twitter –
http://twitter.com/@brawbeardoil
Subscribe to the Braw Beard Youtube channel for more videos.
https://www.youtube.com/brawbeard
Scottish beard care.
Born in Scotland, enjoyed Worldwide.