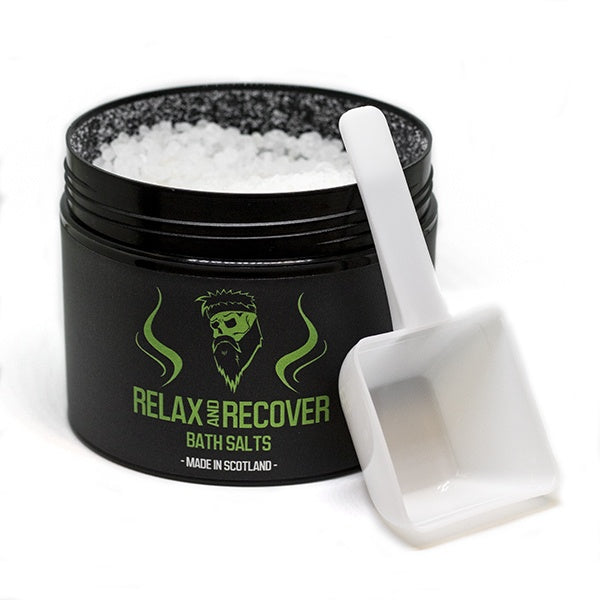 Testing The Bath Salts For Sleep Benefits
You may or may not already know but we make our own
relax and recovery bath salts
. Recently, I have been VERY busy behind the scenes and I was struggling to sleep due to my mind being active all the time. I decided that was probably a good opportunity to test the bath salts for sleep benefits.
Why does a beard company like Braw Beard produce recovery bath salts? It doesn't make sense.
Normally that would be correct. But we have a very good reason. In the period of time between breaking my back and Braw Beard being a thing, I was learning the benefits and art of using essential oils. I was still training and mountain biking after healing, so I started making
recovery bath salts
& beard oil for use after riding my bike because I'd be sore and my beard would be like straw. Several high level athletes enjoyed using the
recovery bath salts
I was making but when Braw Beard began to gain momentum, I forgot all about them! It was a few years later, Mrs Braw suggested bringing them back through Braw Beard. She had been using the recovery bath salts for sleep. We have several athletes representing Braw Beard so it made perfect sense to bring them back. Many athletes use them for muscle and tension recovery after training and competing.
Some testimonials from athletes
"The
Braw Beard Relax & Recover bath salts
played a huge part in my recovery during training camp this season. It helped take out the soreness and fatigue the next morning and get me back on the ice and in the gym. It also helps with sleep, which is super important. I am a huge fan!"
– Matt Nickerson, Ice Hockey Defenceman
"The
Braw Beard Relax & Recover bath salts
helped ease my aching muscles from wrestling the superbike all day. They also helped me get a great night sleep ready for the next days racing. I'll need to get more because my Mrs keeps stealing them, they smell amazing!!"
– Lee Johnston, International Road & BSB Racer
"As a professional athlete I have found
Braw Beard Relax & Recover bath salts
to be very helpful in recovery from sore and painful muscles. Recently I was recovering from a lower body injury which kept me from exercising regularly. When I returned from the injury and training my lower body regularly, it wa
s painful and tiring. The Braw bath salts made me feel much better and even helped me sleep when normally it is uncomfortable trying to sleep with a sore back and legs. I was pleasantly surprised by how well the salt baths helped me, sleeping was great and waking up the next day feeling refreshed and ready to train again.
I would highly recommend the Braw salts to anyone with sore and tired muscles, even for someone just looking to relax and get a good night sleep. Everyone could use a little help sleeping, I think these salts even just relax the mind and create a less stressful environment"
- Zack FitzGerald, Ice Hockey Player
Using the bath salts for sleep
As well as muscle recovery, the perfect blend of essential oils are ideal for promoting a great sleep. Something we all benefit from.
Lavender:
May be useful for treating anxiety, insomnia, depression, and restlessness. Lavender is used to help relieve pain from headaches and sprains.
Marjoram:
Reduces the pain associated with colds, inflammation, overexertion of muscles and headaches.
Cajaput:
Is a known decongestant, it also reduces aches and cramps in muscles. It can also help improve circulation.
Pine:
it helps to flush out toxins and accelerate cell regeneration to relieve pain at its source. Pine is a natural analgesic and anti-inflammatory agent. When I made the recipe, I choose essential oils that would help me sleep, lavender, marjoram, cajaput and pine, the mix works very well. Because I'd train in the evening, I'd find my mind very active afterwards and I'd struggle to sleep. The evening after biking was the same, although physically tried, my mind was still switched on from trying not to wrap myself around trees....again. So I figured anything that would help me sleep, naturally, was a bonus. From then I just used them in the bath without actually thinking about it, they'd help me sleep, so that's all I was bothered about. Was it a placebo? I didn't think so. Now everyone I speak to who has tried them, love them. That tells me they work. But I wanted to try a test for myself.
So I experimented with bath salts for sleep success.
Wednesday 11th April - Sunday 15th April Monday 23rd April - Saturday 28th April I used
Relax and Recover Bath Salts
on Wed 11th, Thurs 12th, Mon 23rd, Thurs 26th and Sat 28th. The other dates noted, I had a bath without them. The dates in between the 15th and 23rd, I used the shower. I have a sleep tracking app which I used to see my sleep quality with using the bath salts and without using them. The results are below. Without bath salts
WITH using
Relax and Recover Bath Salts
As you can see from the graphs above, using the
Relax and Recover Bath Salts
had me enjoying a deeper sleep than without. There are less spikes and restlessness. I woke up feeling refreshed and in a better mood too. There are a number of factors that can affect your sleep but I certainly found the salts helped me relax and I will be using them more often when I am feeling stressed or restless. If you'd like to try them,
Relax and Recover Bath Salts are available HERE
This is another article on Relax and Recovery Bath Salts
I hope you have enjoyed this article, I enjoyed the process using bath salts for sleep. Thank you for reading. JJ Join the #Brawtherhood
P.S. Use code – brawblog – at www.brawbeard.com for 10% off
Follow Braw Beard: Instagram –
http://instagram.com/@brawbeardoils
Facebook –
http://facebook.com/brawbeardoils/
Twitter –
http://twitter.com/@brawbeardoil
Subscribe to the Braw Beard Youtube channel for more videos.
https://www.youtube.com/brawbeard
Scottish beard care.
Born in Scotland, enjoyed Worldwide.